Seeking solutions for the post-COVID office space, ADECIA installed in executive meeting rooms.
Seeking solutions for the post-COVID office space, ADECIA installed in executive meeting rooms.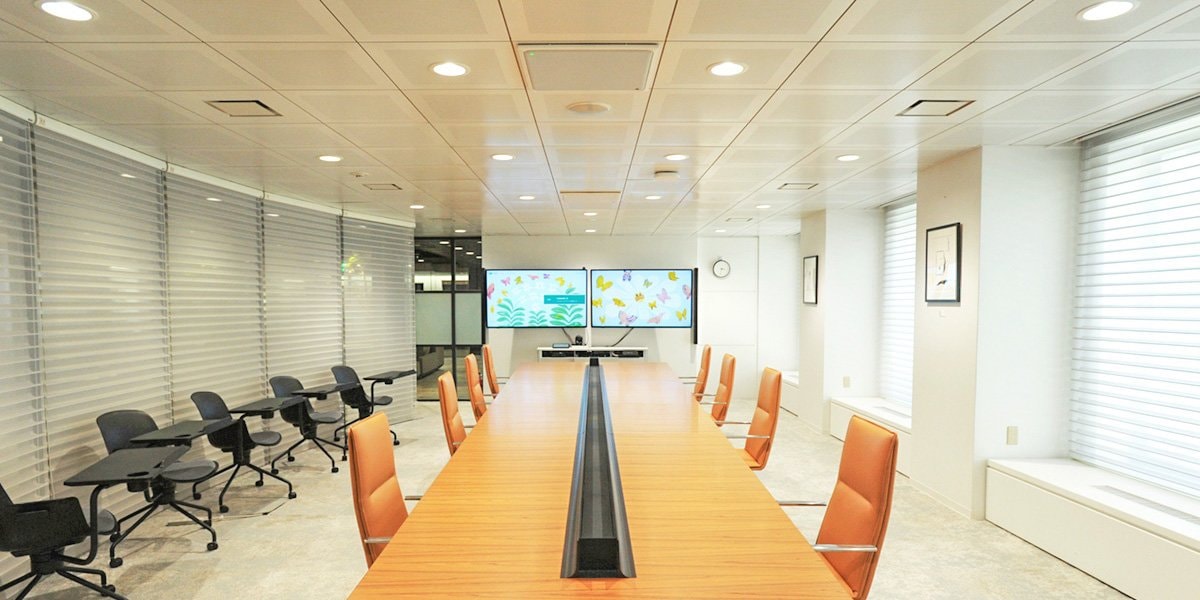 Seeking solutions for the post-COVID office space, KOKUYO introduces ADECIA in its executive meeting rooms
KOKUYO's Furniture Business Division provides a wide range of office furniture such as desks, chairs, and storage, as well as furniture for education, medical care, and public facilities, in addition to solution-oriented services such as office relocation. Although many Japanese companies have been hastily introducing measures to address the recent COVID-19 pandemic, KOKUYO is seeking to soon introduce new ways of working and office styles that are mindful of protecting against infectious diseases. Yamaha's ADECIA* one-stop sound solution for remote conferencing has been introduced in the conference rooms and multipurpose spaces of KOKUYO's Shinagawa Live Office, which reopened in February 2021 after renovations. This time, in the Shinagawa Live Office meeting room where the ADECIA system was actually installed, we were pleased to talk with Mr. Jun Nagai, General Manager of the DX Strategy Department, Manufacturing Headquarters, Furniture Business Division of KOKUYO about the reasons for introducing ADECIA and opinions of the system after its introduction.
* ADECIA is an audio system equipped with all the equipment required for remote conferencing. This solution is based around the RM-CG Ceiling Array Microphone and the RM-CR Remote Conference Processor, incorporating the PoE-compliant SWR2311P-10G L2 Network Switch and Dante/PoE-compatible VXL1-16P line-array speakers.
The Shinagawa Live Office reopened in February 2021 after renovations
General Manager Jun Nagai, DX Strategy Department, Manufacturing Headquarters, Furniture Business Division, KOKUYO
With the COVID-19 pandemic, clients seek to achieve the right balance of employee safety and security with communication.
Has COVID brought about any changes in needs in terms of client visits to your Live Office or showrooms?
JN: Our point of view (perspective) when looking at products and solutions, and framing priority points and themes, has changed. I do feel that our interests are shifting. Before the COVID pandemic, work style reform (notions such as optimizing work-life balance) was a major theme, but now it's more about employee safety and security, and coordinating between remote work and office work.
Could you share any points of interest in regard to the renovation of your Shinagawa Live Office?
JN: Originally, the renovation plan was moving ahead regardless of the COVID-19 pandemic, but as a response to COVID-19 after the spring of 2020, we decided to rapidly implement some plans to ensure safety and security while striving for innovation through promoting collaboration. One key point was the AIRTRIEVE airborne droplet suction table for meeting rooms (orders started in December 2020), which were installed in several meeting rooms, including this board meeting room.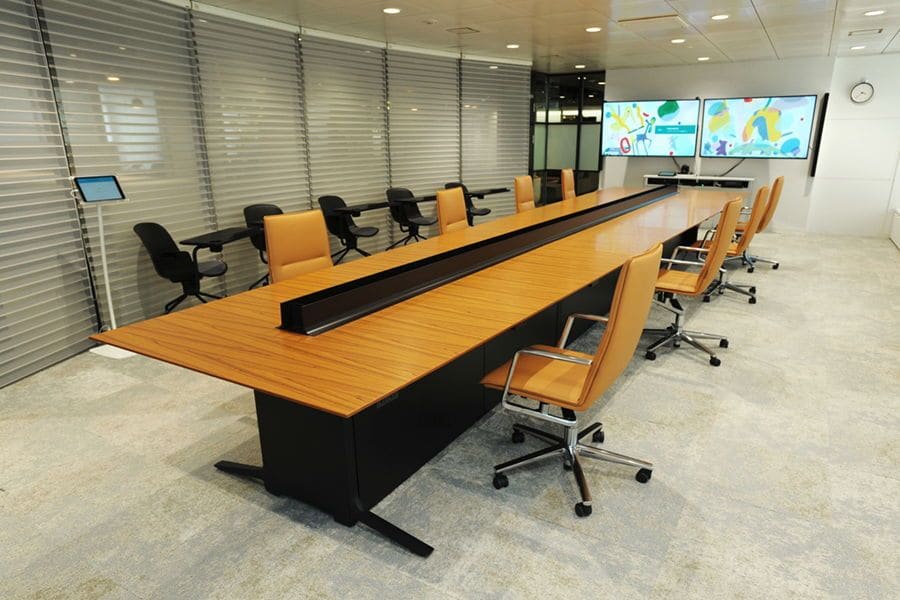 Yamaha's one-stop ADECIA audio solution for remote conferencing has been installed in three meeting rooms at Shinagawa Live Office. Could you tell us why?
JN: In addition to this boardroom, we've also installed the ADECIA system in two visitor meeting rooms (Meeting Room 3 and Meeting Room 5). The boardroom is a place where board members gather to discuss important company matters, and our meeting rooms for visitors are where we meet VIPs of crucial importance to our business, such as our clients and business partners, so they require appropriate equipment enabling all attendees to concentrate on the conversation in comfort. In the case of meeting rooms used only for communication among employees, it's not too much of a concern if online conferencing microphones and cables are placed randomly onto tables, but this approach is simply not suitable for really special places of communication. Our main reason for introducing the ADECIA, which features panel-shaped microphones installed on the ceiling, was that it keeps the tabletop as clear and clean as possible.
We've heard that you contacted us immediately after ADECIA was released for sale.
JN: That's right. We've used Yamaha products before to design office spaces for various projects, but when I heard about the newly-released ADECIA system, I though this product could solve our problems. Our information systems personnel immediately went to visit Yamaha, viewed the actual equipment, and confirmed its functions and effectiveness in demonstrations, and a decision was made to introduce it immediately.
The ADECIA Ceiling Microphone creates spaces that allow you to concentrate on conversation
And if you use the AIRTRIEVE system, which features an air inlet right in the center of the table, the layout of LAN and microphone cables also has to change, right?
JN: That's right. Most recent conference tables are designed to be installed such that cabling is as inconspicuous as possible by taking out cables from a cabling space installed in the central section of the tabletop—however, when using the AIRTRIEVE system, the air intake port occupies that position, so cables need to be put between attendees for that reason as microphones need to be placed on the table, which creates hindrances for attendees and does not look attractive. Thanks to ADECIA, we were able to achieve the ultimate clean look without microphones or connection cables being visible in any way.
AIRTRIEVE is equipped with an air purification unit that can reduce airborne viruses in meeting rooms by about 99% in 5 minutes.
RM-CR Remote Conference Processor and SWR2311P-10G L2 Switch installed on a shelf below the monitor (brought out for photography)
You don't have to turn the microphone toward the speaker every time someone speaks, so you can concentrate on the meeting, right?
Mr. Nagai: Yes, I think the effect is significant. Since the purpose of a meeting is to watch facial expressions and read the spaces between overt remarks in order to achieve deeper communication, an environment such as this meeting room, where the table is free of clutter and you don't have to stay constantly aware of the position and distance of the microphone, is simply ideal. I like its outstanding design qualities. Not only is it installed out of sight on the ceiling—it also blends into the ceiling without calling attention to itself.
It seems that ADECIA's built-in microphone function was useful for you.
Mr. Nagai: Yes, and I also really like ADECIA's noise reduction function. The AIRTRIEVE system, which is equipped with a powerful air purification unit, inevitably generates some intake and exhaust noise. Put simply, there will be more sources of noise in the meeting room than just the air conditioning. The high-performance noise reduction function of ADECIA is effective in reducing this sort of low-frequency noise to a much less noticeable level, while clearly conveying conversational voices.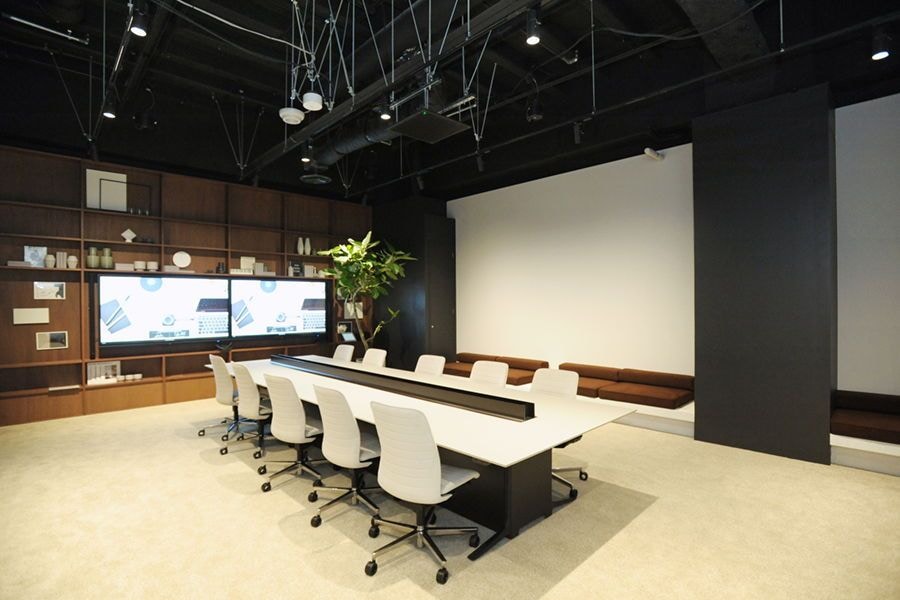 Introducing ADECIA has greatly improved the voice quality and practical usability of remote conferences.
You've only recently introduced the system, but could you tell us your impressions and opinions of actual use?
JN: The boundary microphones that we used previously had some problems picking up sounds, and it was difficult to hear people with soft voices or who were distant from the microphone. We constantly had to physically hand the microphone around among speakers, turn to face the microphone, stay aware of the position of the microphone, and so on. We got used to it and it became quite normal, but every time a board meeting was held, I really wanted to avoid this sort of situation. This was one of the reasons we decided to introduce ADECIA.
To what extent have the voice quality and usability issues actually been resolved?
JN: With ADECIA, the microphones installed in the ceiling instantly and automatically detect the direction of the sound source and pick up the sound, so meeting attendees can concentrate on the conversation without being aware of the microphone at all. There's also the noise reduction effect that I mentioned earlier, as well as an auto gain control that distinguishes the human voice and adjusts the volume precisely. I believe that everyone present is able to hear clearly, regardless of seating position or speaking volume. I'm also very satisfied with the speakers, as their excellent performance allows other people's voices to be heard naturally.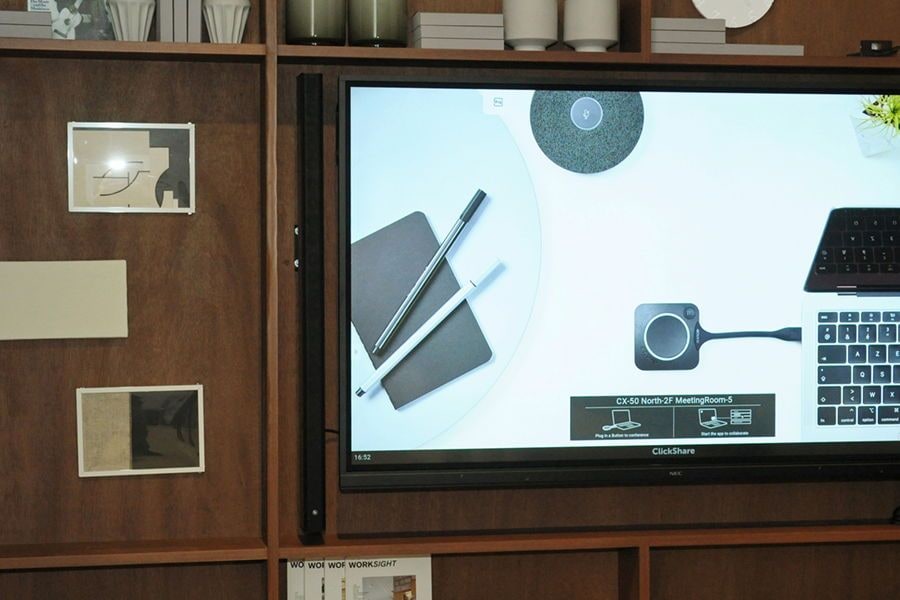 You have also introduced the ADECIA system into a multipurpose meeting room. Can you tell us why?
JN: Yes, we also introduced ADECIA in a multipurpose space (Meeting Room 3) that contains no meeting table. Small-scale seminars and training will be held here, and with ADECIA, we don't need to adjust the arrangement or layout of microphones according to the number of users, and there's no need to worry about anyone tripping over cables when arranging the room layout. Thanks to the microphones that actively track multiple sound sources, sound can be picked up clearly no matter where the speaker is seated, which is a major advantage in a space like this.
Wide view of Meeting Room 3
Enlarged ceiling detail of photo at left: RM-CGB ceiling microphone suspended from skeleton ceiling with wire
We like to propose this two-part solution with synergistic effects to our clients.
ADECIA is very compatible with AIRTRIEVE, and there seems to be a need for a total solution comprising these two approaches.
JN: That's right. To clients who visit this conference room and take an interest in ADECIA, I like to explain their synergistic effect and recommend them together as a set.
Thank you for taking the time to talk with us today.
[Layout of ADECIA system arranged by KOKUYO]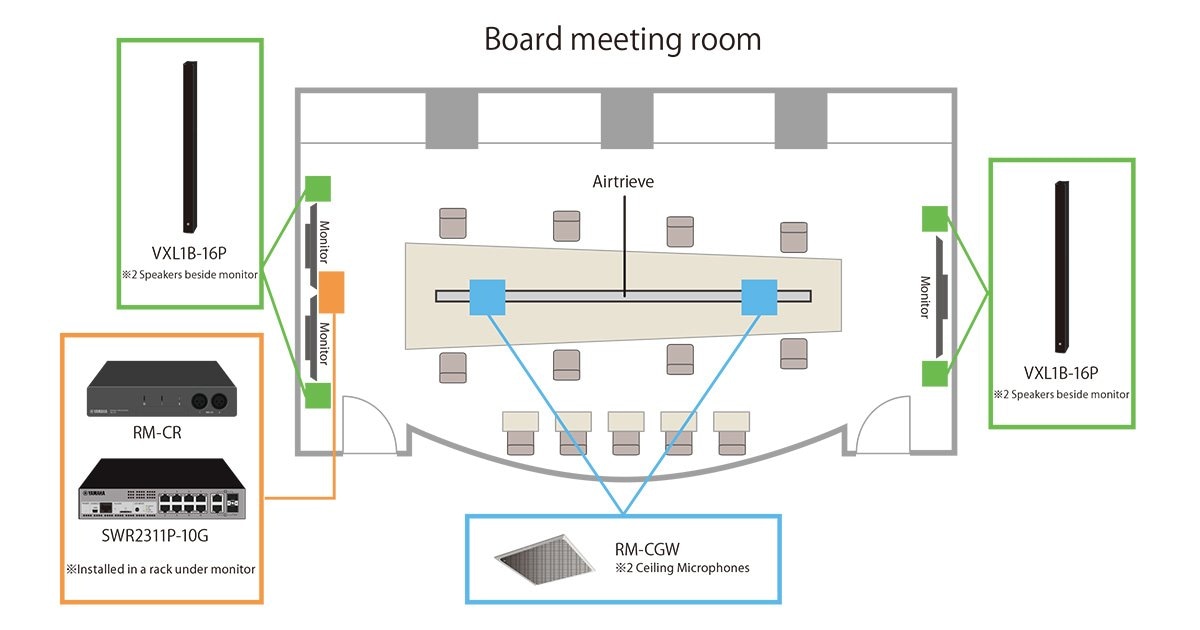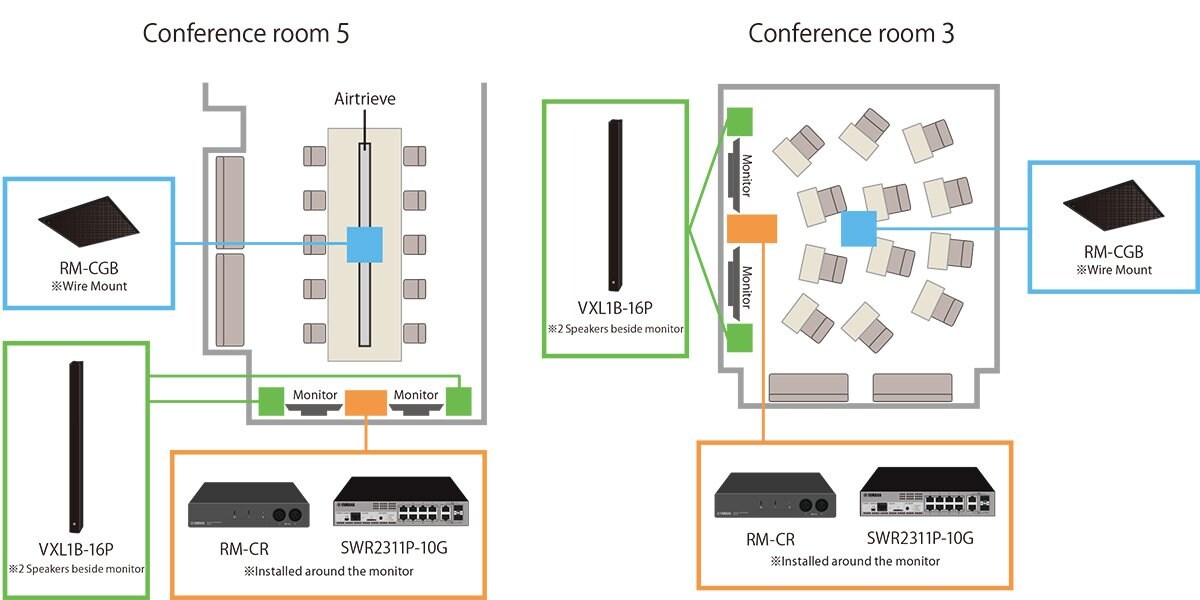 Furniture Business Division, KOKUYO
AIRTRIEVE (airborne droplet suction table)
Seeking solutions for the post-COVID office space, ADECIA installed in executive meeting rooms.