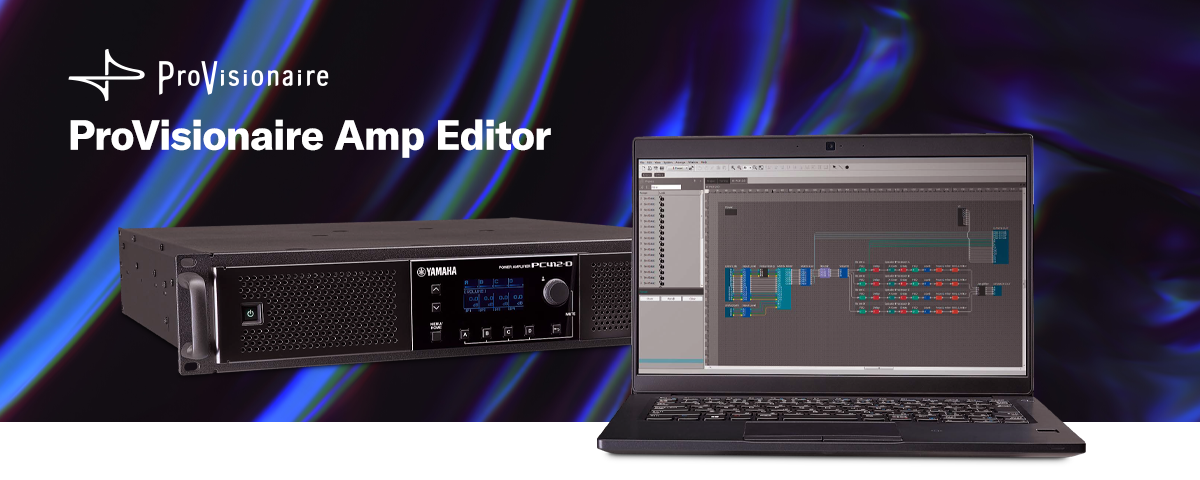 ProVisionaire Amp Editor

Utgått
ProVisionaire Amp Editor is a Windows application that provides all-in-one setup, control, and monitoring capability for Yamaha PC and XMV series power amplifiers. In addition to a comprehensive graphical interface that contributes to easy design and efficient workflow, ProVisionaire Amp Editor provides linear-phase FIR filters for CZR series speakers used with PC series amplifiers, plus a large selection of preset libraries that make it easy to optimize the performance of other Yamaha speakers. ProVisionaire Amp Editor makes the process of setting up and tuning systems for top-quality sound smooth and easy.
ProVisionaire Amp Editor can be used in conjunction with the ProVisionaire Control computer and ProVisionaire Touch tablet applications for comprehensive control of any project, from system design and setup to everyday operation and management. Editor widgets can be dragged and dropped into ProVisionaire Control, allowing parameters to be easily assigned to the ProVisionaire Control KIOSK and ProVisionaire Touch KIOSK applications as well.
Compatible Devices (Power Amplifiers)
PC Series:
PC406-D/PC406-DI/PC412-D/PC412-DI
XMV Series:
XMV4140/XMV4140-D/XMV4280/XMV4280-D/XMV8140/XMV8140-D/XMV8280/XMV8280-D
1. Fine Tuning and Efficient Workflow
The ProVisionaire Amp Editor is a powerful tool for sound engineers and system integrators.
Not only does it allow detailed control of a comprehensive range of amplifier and speaker parameters, but individual amplifier channels can be linked/grouped as required, and related EQ, delay, and other parameters can be linked as well. All of this can contribute to smooth setup of finely-tuned systems.
Device sheet screen (PC Series)
Device sheet screen (XMV Series)
Speaker processor editor screen (PC Series)
Individual amp channel link/group configuration
2. Central Monitoring for Overall System Management
ProVisionaire Amp Editor supports the system monitoring function (ProVisionaire Monitoring Service), allowing central monitoring of all compatible devices connected to a network. Operating status and device temperatures are viewable in real time while alerts and other information are logged to a computer, significantly reducing the time and effort required for troubleshooting.
* The PC series amplifier firmware must be updated to version 1.0.2 or later in order to use the ProVisionaire Monitoring Service. PC series amplifier firmware can be updated via the ProVisionaire Amp Editor application. Refer to the ProVisionaire Amp Editor Setup Guide for details.
* XMV series amplifiers do not support the ProVisionaire Monitoring Service.
Devices that Support System Monitoring
Product
Model
Signal Processor
MTX3, MTX5-D, MRX7-D
Digital Mixing Console, Digital Mixer
QL1, QL5
CL1, CL3, CL5
CS-R3, CS-R5, CSD-R7, CS-R10S, CS-R10
Power Amplifier
XMV4140, XMV4140-D, XMV4280, XMV4280-D, XMV8140, XMV8140-D, XMV8280, XMV8280-D
PC406-D, PC406-DI, PC412-D, PC412-DI
NEXO Powered TD Controller
NXAMP4x1 MK2, NXAMP4x2 MK2, NXAMP4x4 MK2
I/O
Rio1608-D2, Rio3224-D2
Select the function to be monitored from the network device list
Basic info for the selected device
Operation status and history monitoring for the selected device
3. Control of Subnet Devices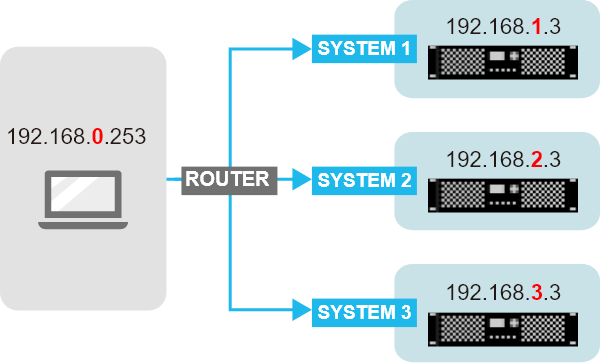 ProVisionaire Amp Editor allows control of devices on different subnets. This means that a single computer can provide all necessary control in multi-purpose facilities such as theme parks and shopping malls where multiple zones on multiple subnets must be operated independently.
Farger og finish som vist kan variere fra de aktuelle produktene.