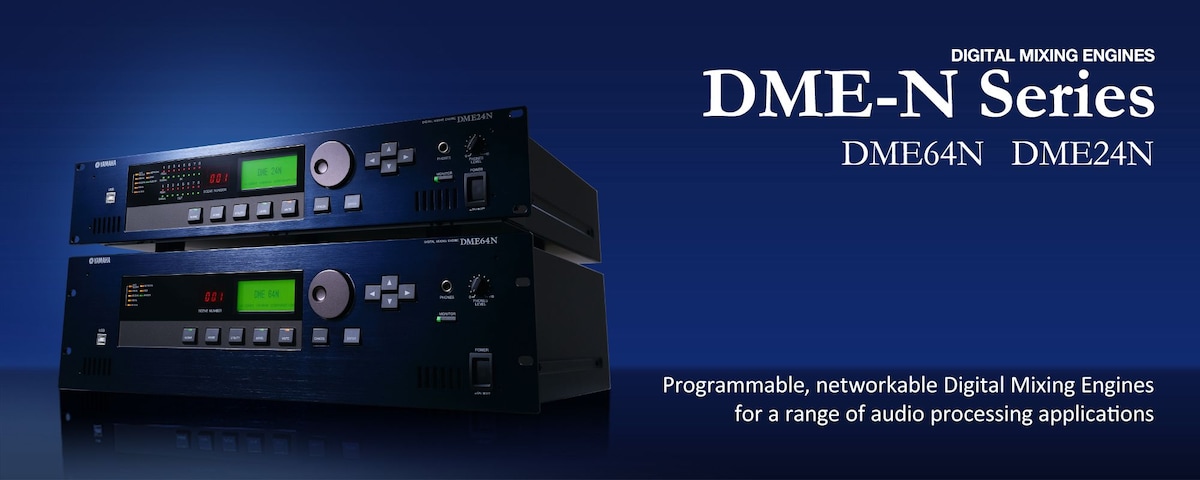 DME24N, DME64N
Digital Mixing Engine
DSP Power that Rivals Advanced Digital Mixers
The DME64N and DME24N employ Yamaha's original DSP6 and DSP7 signal-processing LSIs for extraordinary audio processing power and quality. The DME64N offers processing power that is on a par with Yamaha's DM1000 Digital Mixing Console, and the smaller DME24N has about half that processing capability while offering built-in analog I/O for simple, more compact systems. In either case you get a remarkable amount of processing capability that allows complex systems to be built around a single DME unit and fine tuned for optimum performance in concert halls, multi-purpose halls, event spaces, institutions, and a wide range of other applications. Plenty of DSP power also means that advanced configurations that previously required multiple hardware units can now run comfortably on just one DME64N or DME24N. All of this translates into significant time, energy, and cost savings for the design, installation, and operation of DME-based systems.
24-bit 96-kHz Processing and Circuitry Designed for Superior Sound
It's no secret that Yamaha digital mixing consoles are favored by leading professionals for live sound and studio recording applications. Yamaha DME mixing engines benefit from the same cutting-edge audio technology and attention to details that make a real difference in sound and performance. Both the DME64N and DME24N deliver faultless precision and reproduction fidelity with optimally-tuned 24-bit, 96-kHz digital processing, and the DME24N also features high-performance analog head amplifiers that equal the sound and quality of those found in top-line mixing consoles.Note: Configurations created for 48-kHz operation will require half the processing power of configurations created for 96-kHz operation.
Exceptional I/O Flexibility and Expandability - Cascade Up to 8 DME64N Units for 512 Inputs and 512 Outputs
The DME64N has four rear-panel expansion slots that accommodate Mini-YGDAI I/O cards, and the DME24N has one expansion slot. Each slot supports up to 8 analog inputs or outputs when fitted with precision A/D or D/A cards, or up to 16 channels of digital I/O in AES/EBU, ADAT, or TASCAM format. With it's four expansion slots the DME64N can support up to 64 channels of I/O, while the DME24N has a single slot plus 8 channels of built-in analog I/O for a total of 24 channels. For even larger systems up to eight DME64N units can be cascaded to provided a massive 512 digital inputs and 512 digital outputs, or 128 analog inputs and 128 analog outputs.
Control Integration with the PM5D Digital Mixing Console

Selected DME64N and DME24N parameters can be directly controlled from the PM5D Digital Mixing Console for seamless, efficient operation. This capability is particularly useful in situations where the DME unit is located away from the optimum listening position, allowing parameters to be adjusted without having to leave the main console position.
Eight Analog Inputs and Outputs on the DME24N
The DME24N provides eight built-in analog inputs and outputs via Euroblock terminals on the rear panel. The analog inputs and outputs feature precision 24-bit, 96-kHz A/D and D/A converters that deliver top class audio performance.
Ethernet Control
A network of up to 16 DME64N, DME24N and ICP1 Intelligent Control Panel units can be interconnected via their RJ45 connectors and 100Base-T CAT5 type Ethernet cables. Ethernet connection makes it possible to set up a control network quickly and easily, and with minimum cost.
GPI, RS232C/RS422, USB, and MIDI Interfaces
Both the DME64N and DME24N offer a comprehensive selection of control interfaces for use with a wide variety of equipment. The DME64N has 16 GPI input and output terminals while the DME24N has eight to facilitate interfacing with other GPI-equipped devices. RS232C/RS422 ports allow direct connection to remote control units and computers, USB ports allow direct hookup with most modern computers, and MIDI terminals can be used for synchronization and control with musical instruments, sequencers, and lighting controllers.
Large LCD Display with Comprehensive Panel Controls
Large, easy-to-read LCD display panels and a comprehensive selection of panel controls make the DME64N and DME24N easy to operate. The front panel even includes a headphone jack and level control for convenient monitoring. The DME24N additionally provides signal and peak LEDs for its eight analog inputs and outputs.
Scene and Function Names in 5 Languages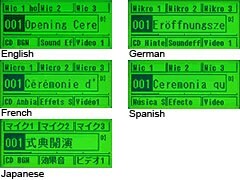 The DME64N and DME24N, as well as the ICP1 Intelligent Control Panel, can display scene and function names in 5 languages: English, Japanese, French, German, and Spanish. All three models offer a user-friendly interface for smooth operation regardless of the user's level of skill or experience.
Matrix Mixer
A number of matrix mixers with up to 64 x 64 matrix mixing capability are included. There's also a Delay Matrix Mixer that provides delay parameters for each matrix point, enabling level control and time alignment in a single convenient component.

Speaker Processing

Speaker processing can be essential for achieving maximum performance from professional speaker systems as well as for delivering optimum sound quality throughout the listening area. DME processors include everything needed for precision speaker tuning and room matching: versatile crossover processors with APF (All Pass Filter for phase control), horn EQ, delay, limiter functions and more.
Room Combiner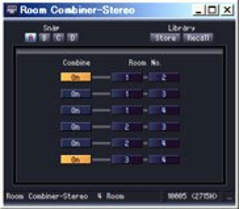 The Room Combiner component adds multiple audio signals to "virtually" combine the acoustic spaces of multiple rooms. Mono and stereo components that combine 4, 8, 12, or 16 rooms are available. This component provides an effective solution for situations in which several rooms or areas can be physically partitioned or combined to handle different types of events or numbers of participants. Sources and outputs can easily be switched as required, and the processing for multiple areas can be handled by a single DME unit.
Auto Gain Control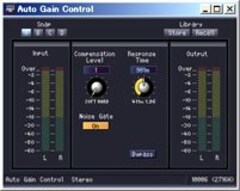 This function automatically adjusts gain to maintain a consistent level even if the volume of a speaker's voice varies, for example. An indispensable function for meeting rooms and conferences.
Auto Mixer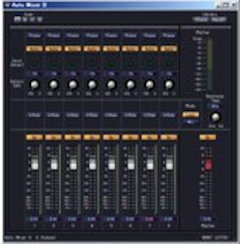 The Auto Mixer II component provides an over-ride function and automatic output level control make it possible to create "intelligent" systems that provide automated control for applications that don't require the presence of an experienced operator.
Program Ducker


The Program Ducker component features significantly longer attack and release times. Mono and stereo types can be flexibly configured to accommodate a wide range of applications. The Program Ducker offers all the versatility required for installations ranging from banquet halls to theme parks, while additionally providing camera tally link capability for broadcasting - a field in which the DME series is finding increasing acceptance.The Program Ducker can be triggered from an oscillator. This makes it possible to use the output of a single oscillator to simultaneously trigger multiple channels for 5.1 surround, for example.
Ambient Noise Compensation

The Ambient Noise Compensator component can be used to measure ambient noise levels and automatically and dynamically adjust the program level for optimum balance and intelligibility. This function can be useful, for example, to optimize the level of announcements at shopping malls at which the ambient noise level may vary greatly depending on the time of day or day of the week.
SPX
Yamaha SPX effects are recognized as being some of the best and most "musical" in the industry. In the DME processing engines you have full-featured SPX multi-effect processors that are on a par with those provided in top-line Yamaha production and live sound consoles.
Event Scheduler & Wav File Player
As their names imply the Wav File Player component plays specified Wav audio files, and the Event Scheduler can be used to trigger it at predefined times and repeating cycles. This could be used to play opening and closing themes for a retail outlet or mall, for example. Event Scheduler triggering is not limited to Wav File Player operation, however, and it could be used to schedule a GPI output that could start an external CD player or other device, for example. Programming the scheduler is easy, and can be done by the end user simple via wall-mounted remote control units or other remote controllers. Playback level and on/off switching can also be accomplished via the same type of controller.
Caution: The hardware specification for DME Firmware V3.5x or earlier differs from the one for Firmware V3.8x or later. Therefore firmware V3.5x or earlier cannot be upgraded to V3.81 or later (including V4.0). If you need to upgrade your DME from V3.54 or earlier to V3.81 or later (including V4.0), please contact your Yamaha dealer.
New Component of DME V4.0
Acoustic Echo Canceller Component (*MY4-AEC card is required to use this component)
This new component reduces Acoustic Echo caused in a teleconference and offers better quality of sound for your meetings and conversations.
What's an Acoustic Echo?
In a teleconference, sound is exchanged in both directions through communication lines. When the voice of the person speaking in room A is transferred to room B through communication lines and reproduced by a loudspeaker, that voice can be heard in room B. However the microphone in room B also picks up the voice of the person speaking in room A and sends that voice back to room A. Because of this, in room A, the voice of the person speaking is reproduced by the loudspeaker as an echo. This is referred to as acoustic echo. In addition to hindering conversation, it can cause feedback. To have a smooth conference, it is necessary to reliably suppress acoustic echo.
Partial Recall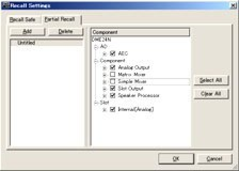 "With V4.0, Scenes now have a partial recall capability. So Scenes can be created that only recall one or more components
Configuration Replication
This function helps to reduce the time needed to create flexible control setups (MIDI / GPI / Remote Control Setup List) on multiple Scenes. If a Scene needs different MIDI or User Defined settings for example, then a new Configuration must be made. In V3.x, you need to duplicate the complete setup manually even if you want to change only a couple of parameters compared to the previous Configuration. Now there is a short-cut to replicate the configuration.