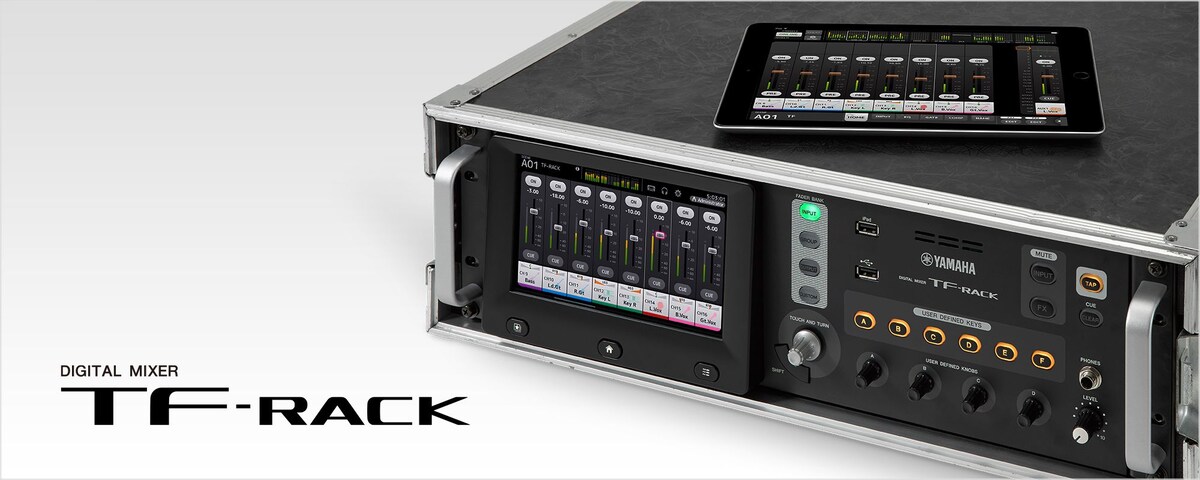 Dante is an audio networking technology developed by Audinate. Dante devices on the same network automatically detect each other. This can make setting up a system simpler and thus reduce complexity and potential errors. In this sense, Dante can be thought of as a plug-and-play network technology.
This guide focuses on network design rather than the basic specifications of individual products and Dante network.
Sound Engineer Testimonial
Russ Long a highly regarded audio engineer, equipment reviewer, and author describes his first experience with the new Yamaha TF5 Digital Mixing Console.
Russ talks about how the intuitive design of TouchFlow Operation™ allowed him to have one of his quickest soundchecks ever. In his testimonial, he describes the benefits of QuickPro™ Presets, GainFinder™, 1-knob EQ™ for vocal, and the multi-touch screen.
Yamaha TF Series Digital Mixing Consoles - Sound Engineer Testimonial
Yamaha TF Series: 5-piece Mix in 5 Minutes
This video will show you how mix for a 5-piece band in less than 5 minutes using the TouchFlow operation and QuickPro presets in TF.
TF Series Tutorial Videos
Welcom to the TF Tutorial Videos. Andy Cooper is going to talk you through the TF series lineup, and show you the main points that are going to help you achieve more polished and professional results, without having to spend days reading a manual.
* English subtitles are available.
1. Introduction
How Yamaha's unrivaled digital mixer heritage has shaped the core concepts of the new TF series.
2. Overview
TF consoles may be compact, but they are overflowing with new features and tech. It's time to find out more!
3. Output Tuning
Find out how TF can make this important but time consuming job easier and faster!
4. Sound Check and Rehearsal
TF has many new features to speed up a sound engineer's workflow. Pick up some tips with this video.
5. Monitor Mixing
Musicians will be impressed with how quickly TF allows them to get a comfortable sound on stage. Find out how in this video.
6. Powerful Processing
Find out how to use the eight effect units of TF to transform a good sound mix into a professional one!
7. Recording and Playback
Stereo or multi-track, recording or playback, virtual sound-check or background music. TF makes it easy.
8. Editors and Apps
TF works with a number of helpful apps: find out how TF Editor, TF StageMix™ and MonitorMix can enhance your workflow, bring freedom and fun to your mix.
TF Series Hints and Tips Video
Once you have watched the Tutorial Video and understood how to use the TF Series, browse through our collection of Hints and Tips videos which show you how to get the most out of TF Series consoles, TF Editor and more. It sure will help increase productivity and your overall mixing experience.
1. Channel Labeling
Here is a useful tip for labeling each channel name. Please have your channel chart spreadsheet ready on your PC.
2. DCA Rollout
Find out how to effectively roll out the DCA channels on TF1 and TF3 (with less channels) by using TF StageMix.
3. Foot Controller
Are mixers supposed to be operated with hands only? By using Yamaha FC5 foot switch, you can also operate TF Series with your (or someone else's) foot.
4. Fix Your Faders
This Vlog gives you handy maintenance to keep your TF, CL/QL, and RIVAGE PM mixing consoles working well. When the motor faders get out of alignment with each other, you can use the fader calibration function to correct the misalignment. This is a quick and easy solution to most fader behavior issues.
5. How to set up the applications
TF is featuring three applications that work seamlessly with the console: TF Editor, TF StageMix, MonitorMix. This video shows how to connect & set up these apps with wireless Wi-Fi using DHCP technology. These apps are using with different devices as following. "TF Editor" with PC, "TF StageMix" with iPad, "MonitorMix" with iPod.
6. Live Recording with Nuendo Live
This video shows how quick and easy it is to achieve a high quality, live multi-track recording using a Yamaha TF series digital mixer, the software of Steinberg Nuendo Live, and a computer.
7. Version 2.0 New Features
Discover and explore the key new features for Yamaha TF Series Version 2.0. This includes new effect types, new routing possibilities and several new shortcuts. See another video to learn about the Quick Config for Tio1608-D I/O racks.
8. Version 3.5 & 4 New Features
Yamaha's TF mixer has been a wise choice for these last few years for sound engineers requiring high quality sound with professional features while maintaining ease of use for new operators. And recently, there have been some good updates, so let's take a look at what's new.
9. Version 4.5 New Features
Yamaha TF series mixers have kept on getting better and better throughout their life. And now, the TF series has been updated to V4.5. This update brought us Audix mic presets as well as USB and networking enhancement. In this video, we will focus on the USB and network functions.