Rockin' 1000 That's Live Grows Again With Yamaha RIVAGE PM series
Rockin' 1000 That's Live Grows Again With Yamaha RIVAGE PM series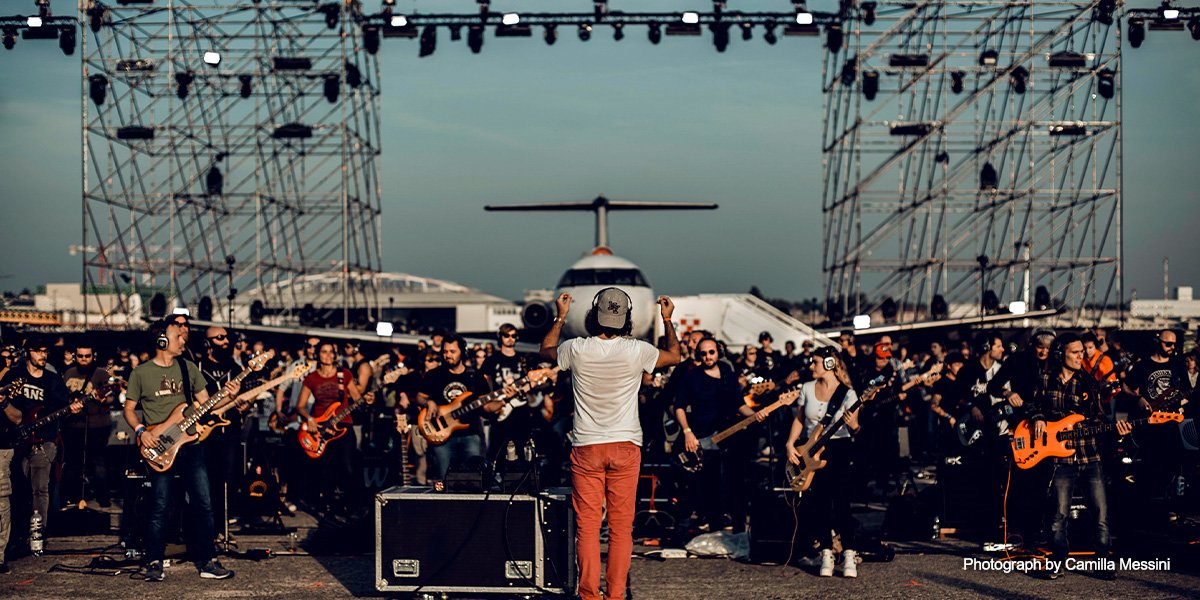 Every October for the past five years, over a thousand musicians have gathered together in Italy to perform as the 'biggest rock band in the world'. Yamaha digital mixing has featured each time, with a RIVAGE PM10 digital mixing system making its debut in 2018. This year the event moved to Linate Airport, Milan, where a RIVAGE PM7 system was added for the first time.
The first Rockin' 1000 That's Live was held to get the attention of Foo Fighters and convince them to play a gig in Cesena, Italy - a mission which proved successful. But it proved so enjoyable for the participants that it has become an annual event and has since spawned similar gatherings in other European countries.
After two years at Stadio Artemio Franchi in Firenze, this year the Italian event had grown again, becoming such a national phenomenon that it took place on the runway of Linate airport, Milan - more than 600km from Cesena.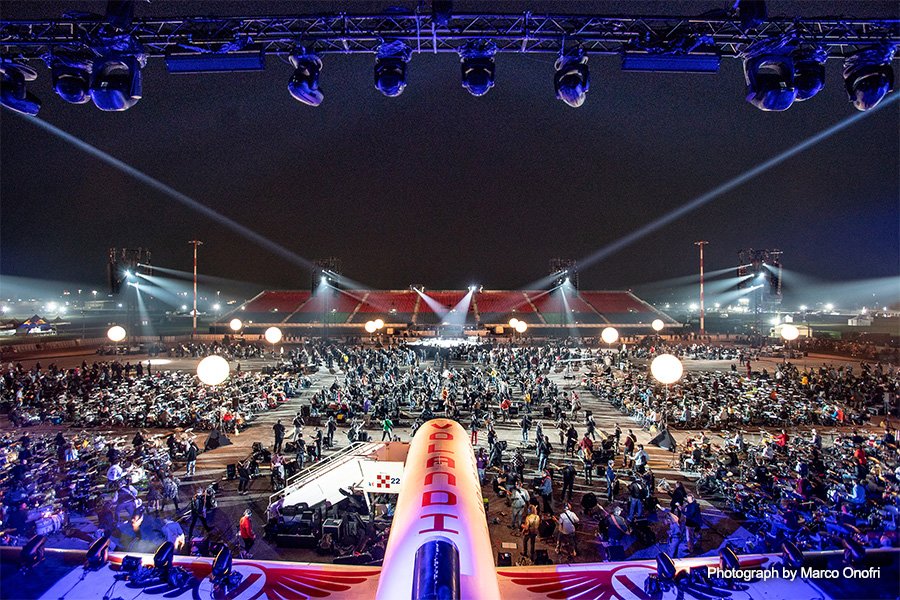 The scale of Rockin'1000 That's Live means that the sound has to be managed by a highly professional team. Yamaha Music Europe's Italy branch were on site in Milan as technical partners, with Alessandro Arturi, Marco Giovanetti and the rest of the crew facing the major task of mixing Front of House and monitors for over a thousand singers, guitarists, bass guitarists, drummers, keyboard and wind players.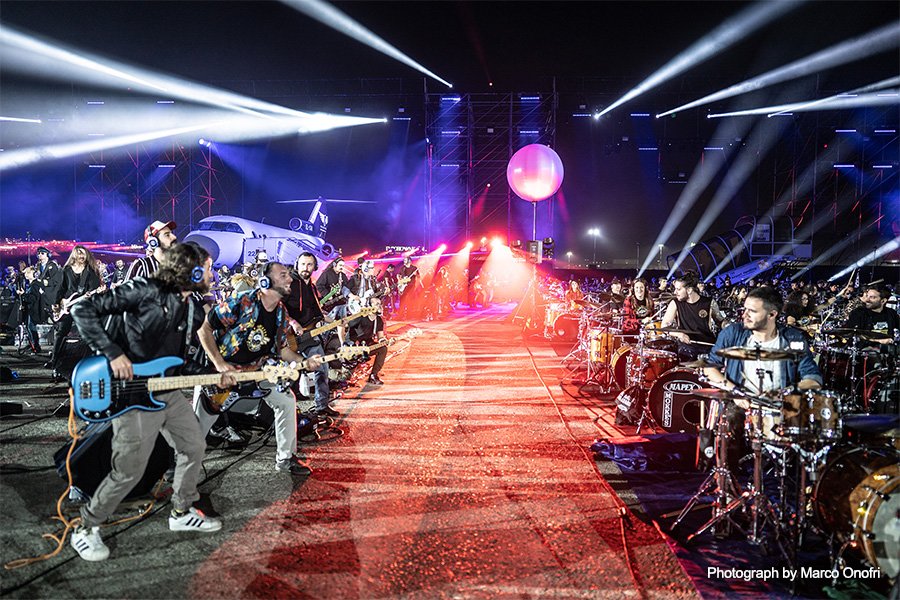 The event's biggest digital mixing system yet comprised a RIVAGE PM10 with CS-R10 and CS-R10-S control surfaces to manage the Front of House mix. A RIVAGE PM7 system was used for the monitor mixes, with five RPio622 I/O racks providing 304 inputs and 96 outputs. The system was based on a TWINLANe network, with Dante distributing the audio to the PA amplifiers and to multitrack recording via two RMio64-D Dante/MADI I/O racks. A QL1 digital mixer was also provided for the conductor, who was busy keeping all the musicians in time.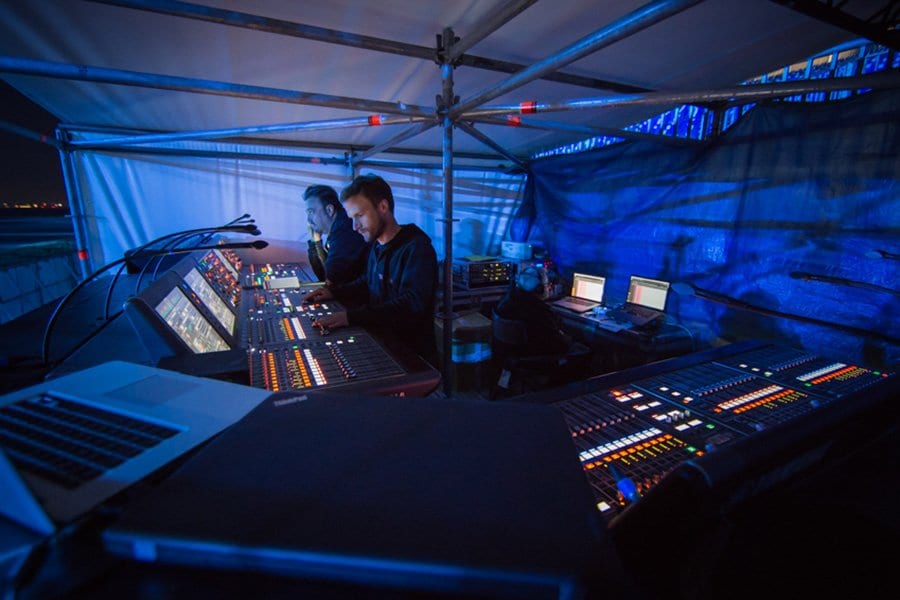 Groups of each type of instrument were assembled symmetrically throughout the space to provide an even soundfield and avoid spill or feedback as much as possible. Inputs to the system were from a large number of microphones - either close miked or one microphone between two or three instruments, while the singers had one microphone between two. Each group of instruments had its own monitor mix, fed to the individual musicians via wireless headphones.
"Rockin' 1000 That's Live is a unique event and Yamaha RIVAGE PM systems are ideal to manage the sound because of their high channel count, flexibility and reliability," says Alessandro.
"They deliver excellent sound quality, combined with the straightforward user interface that means such a complex production is manageable. The production and sound engineers were all very happy with the great sound and really appreciated the flexibility of the system."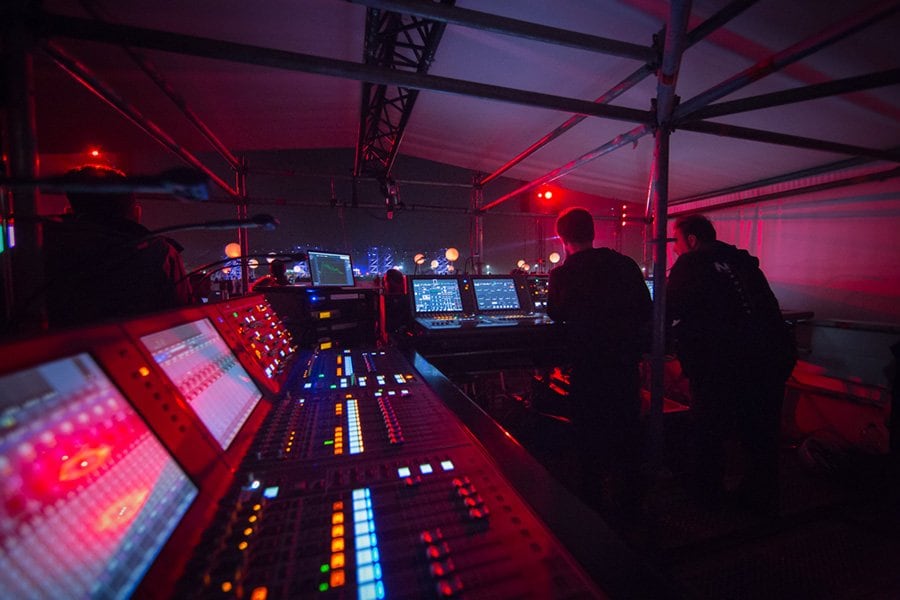 Rockin' 1000 That's Live Grows Again With Yamaha RIVAGE PM series