Wine, Wireless and Song: Eleven Yamaha Digital Mixing Systems Ensure 'Once A Generation' Swiss Spectacular Enjoys A Vintage Year
Wine, Wireless and Song: Eleven Yamaha Digital Mixing Systems Ensure 'Once A Generation' Swiss Spectacular Enjoys A Vintage Year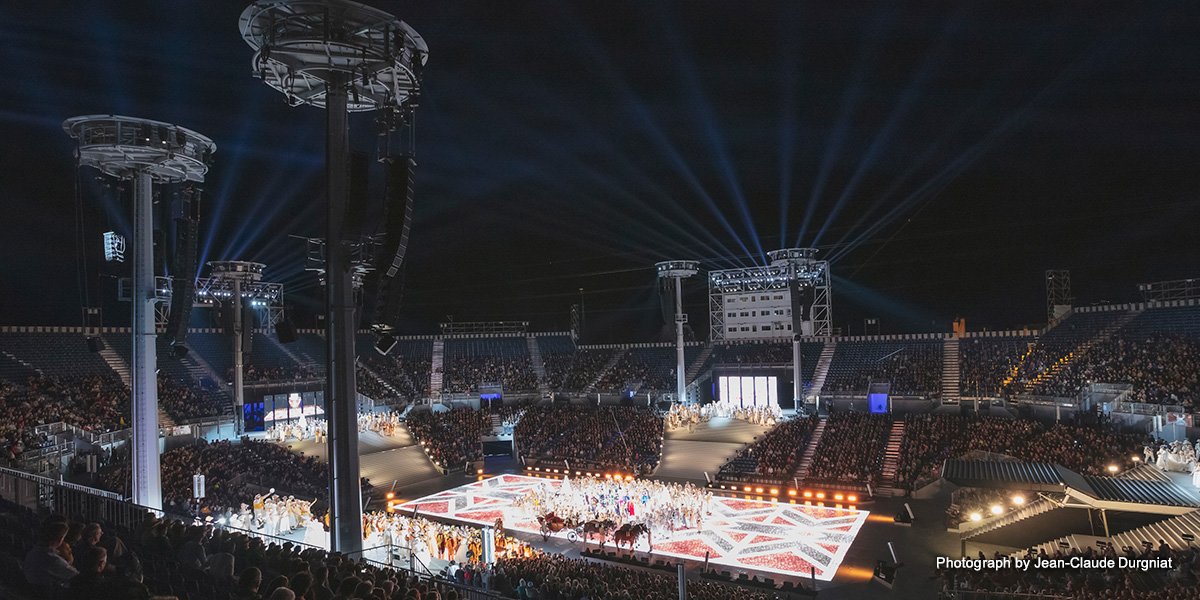 Approximately every 20 years, the 'once in a generation' Fête des Vignerons takes over the Swiss town of Vevey for a month in July and August. Featuring 6,400 performers, musicians and singers, 2,000 lighting fixtures, 612 loudspeakers and over 300 channels of wireless microphones, 11 Yamaha digital mixing systems were needed for the centrepiece production of the 2019 event.
Fête des Vignerons has taken place since 'the dawn of time' ("or more likely the 17th century", say the organisers, Confrérie des Vignerons). A spectacular event which pays homage to the centuries-old wine making traditions of the Lavaux region of Switzerland, it's the first living Swiss tradition to have been recognised by UNESCO.
The centrepiece production takes place in a temporary arena, built on the town's market place, on the banks of Lac Léman (Lake Geneva) and depicts a year in the life of the vineyard over 20 scenes.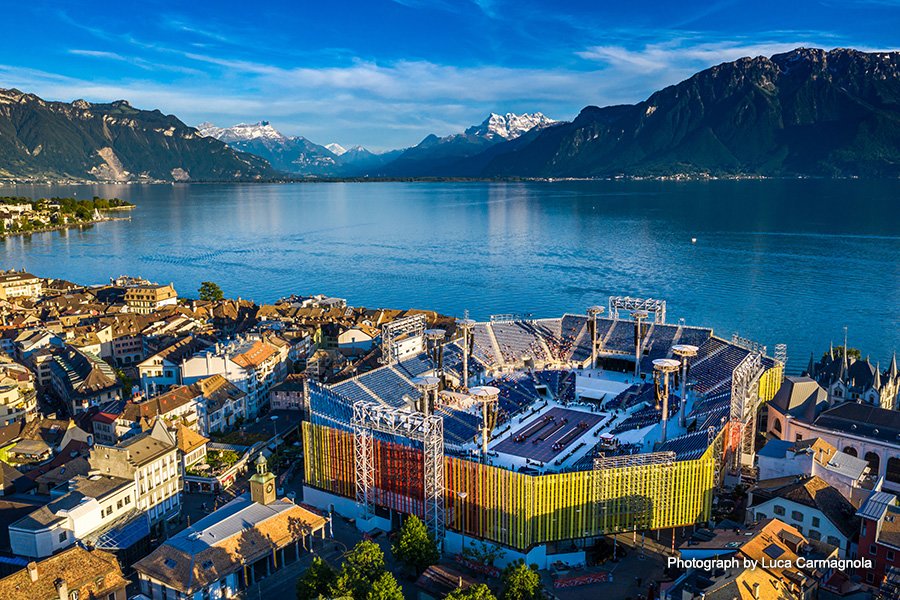 Taking place from 18th July to 11th August, this year's production comprised 23 shows, plus the Coronation of the Vigneron-Tâcheron (wine-grower's hand), traditionally regarded as the 'keeper of the immemorial know-how'. It saw a quantum leap in the staging and production since it last took place in 1999, with today's technology meaning the audio production could surpass the highest audience expectations.
Martin Reich, head of Swiss company Audioconsulting AG, was in charge of the production's audio concept and system design, working closely with Gregor Baumann.
"I was approached by the show's technical director François Mottier around two years ago," says Martin. "The show design was for five stages - one in the centre, plus one on each side of the arena - so sound coverage was a complex issue. For the previous event there was an audio system on a single tower in the middle, so all of the sound came from one point. Audiences were not satisfied and François wanted to make sure that the mistakes from last time weren't repeated."
A vital part of the technical planning was to improve the sound localisation, something which the event's artistic director Daniele Finzi Pasca was also very keen to address. In the world of professional audio, 2019 is of course a world away from two decades ago. This time digital networking could make sound distribution a very different proposition to what it was in 1999.
"I decided that each of the five stages should have its own PA system that would cover the whole arena, to really nail down the audio at that position," continues Martin. "It could have been done with a lot of small speakers on a lot of small poles, but there would have been the problem of obstructing sightlines. So I chose to combine eight main PA towers with speakers all the way around the outside and the centre of the arena, plus subwoofers under the seating. This was the best solution in a situation where any part of the PA can be 130 metres from the furthest audience point."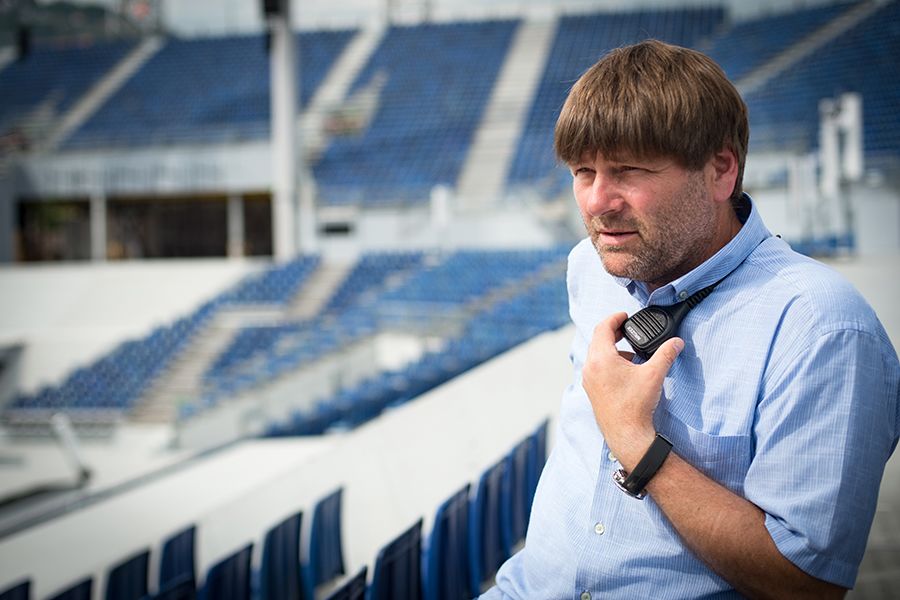 Yamaha and Dante
When it came to mixing and routing the many channels of audio that Martin knew would be required, he only had one choice - Yamaha and Dante.
"We chose Dante because of its flexibility," he says. "I realised it would be a very creative process to put everything in place once we were on site, because we wouldn't necessarily have the information we needed up front. We had to be able to react at short notice to the production demands. Dante would allow that, because it only needs a click of a mouse to change something quickly and reliably."
The audio production featured two parallel Dante networks - one for the live audio inputs to the audio mixers and from them to the PA, with the second for playback of backing tracks, live recording and virtual soundchecking.
Martin also spoke to Arthur Koll of Yamaha Music Europe to discuss how to achieve his aims using Yamaha RIVAGE PM digital mixing systems. "The advantages of RIVAGE PM were the sound quality, flexibility and the high channel count available on Dante - here we had 288 inputs on each system," says Martin. "Another was that Yamaha has worked with Dante for years, so there is a high degree of integration between the two. And with these advantages also came great reliability. With Yamaha we knew exactly what we would get."
For 2019, the organising committee wanted to work with a single dry hire material provider, with French group Dushow winning the tender. In April 2019 Dushow's Swiss partner Hyperson SA hosted an in-depth technical seminar for the audio crew, with Yamaha's Andy Cooper, Delphine Hannotin and Jean-Pierre Decollogny also training engineers on the RIVAGE PM systems. Also in April part of the crew travelled to Dushow's Paris Roissy premises where a full audio network buildup and test took place.
Martin's choice of three Yamaha RIVAGE PM10 and six PM7s was a practical answer to dealing with over a thousand singers and musicians across five stages.
"I wanted the mix engineers to be controlling the sound at all times and it's important that if an engineer moves a fader, he hears what he is doing. Five stages meant that I needed five engineers, so we put a RIVAGE PM7 on each one, with a second PM7 on the main stage," he says.
"However, the sheer number of inputs - including 324 channels of wireless microphones - meant that pre-mixing was essential to reduce the individual workloads. So I included two RIVAGE PM10s for mixing the choirs and a third PM10 for mixing the brass band. The premixed stems were then routed to the PM7s, where the engineers mixed them with the live signals from each stage.
"Having multiple PM7s also gave us a failsafe," he adds. "We set it up so that each one and its engineer acted as a backup for the one to the left. If there was any problem, the backup could take over."
Yamaha Rio3224-D2 I/O units were installed with each PM7, used as distributed microphone preamps and as system outputs to in-ear monitoring transmitters and the distributed loudspeaker system.
"The idea was to reduce the workload for the mix engineers, so they could really concentrate on the overall sound from each stage," confirms head of premixes Julien Fehlmann. "We acted as 'reducers', also sending stems to broadcasters."
It was the first show on a RIVAGE PM10 system for former touring engineer Julien, but he was impressed at how familiar it is for engineers used to other Yamaha digital mixers. "It was really reassuring that the layout is so familiar. With PM10 you are in known territory, which it makes it much faster to learn. In my touring years I used a lot of products, but Yamaha was always the most reliable. With so many inputs and outputs on a complex show like this, the reliability made us that bit more relaxed."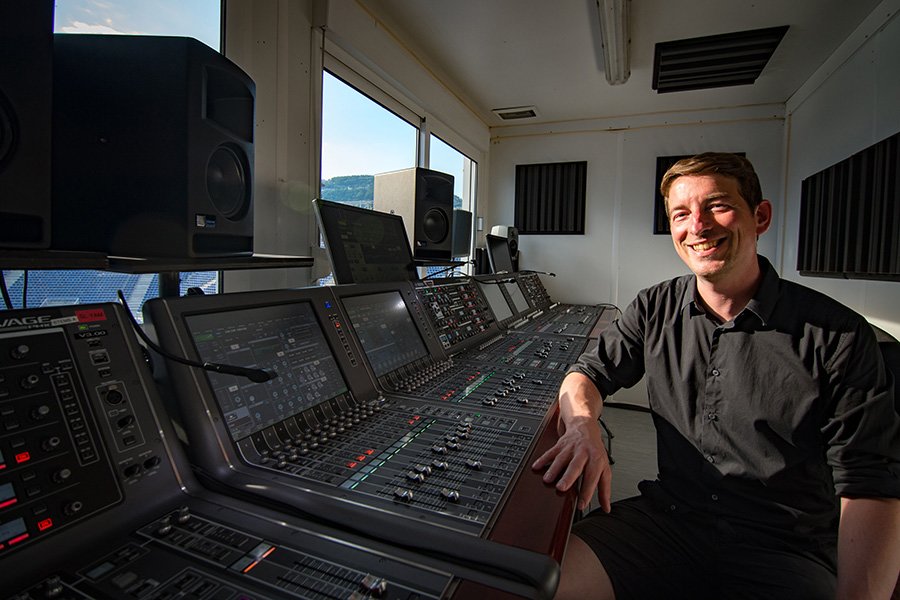 Virtual soundchecks
"With so many wireless microphones, the idea of splitting the Dante network into two was to use the functionality of the RIVAGE PM7s and PM10s to allow virtual soundchecks," adds Gregor Baumann. "We put a second HY144-D Dante interface card in each system and had two Nuage systems and four 128-track recorders as a recording pool, which we could assign dynamically per production day. It gave us flexibility of choice and having the parallel production and recording networks running on the same physical layer was no problem."
"The virtual soundchecking really was a breeze," adds Julien. "The way the system was set up we could, for example, independently record the brass band, then come in here the following morning and work with the recording, without anyone needing to play it back from elsewhere."
He continues, "The RIVAGE PM systems saved us a lot of time. The copy and paste functions are close at hand for any type of setting - with hundreds of channels, that was a huge time-saver. I believe that's a major point of being in the digital environment, yet is something that some brands don't seem to have thought about too much. For us it was immediate and really cool."
Talking of cool, Julien was also very impressed by the quietness of the systems. "Sitting with three mixing surfaces in a booth at the height of summer, I was wondering if fan noise would be an issue, but they were totally silent," he says.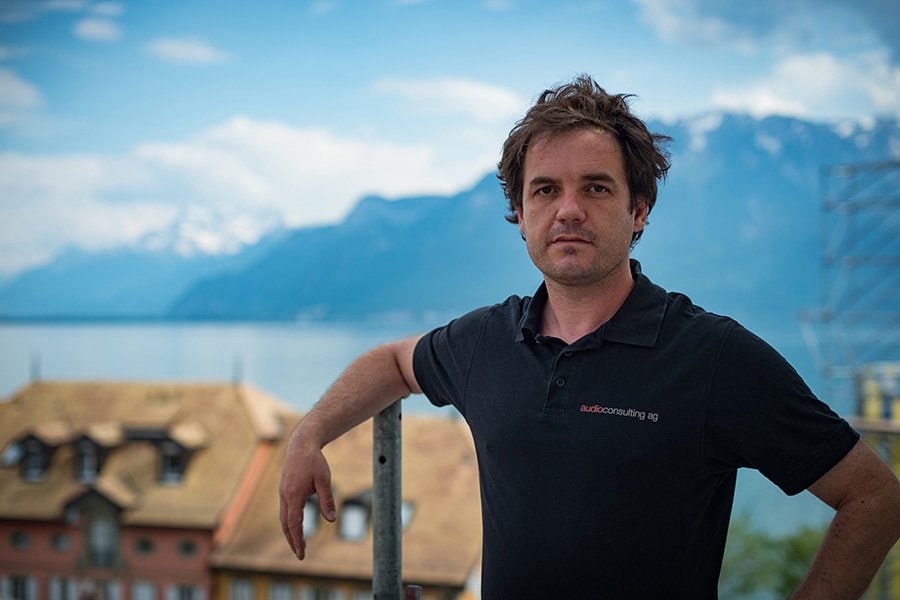 Nuage
Nuage had been a core part of the production from the beginning, being used to record the orchestral score. "We pre-recorded the Gstaad Festival Orchestra, because we were not able to move it fast enough from one stage to another during the production," smiles Martin. "We could have put it under the stage but we felt that, if you cannot see it, you might as well pre-record it."
Used for the live playback of the orchestral score and sound effects, as well as recording and playing back rehearsals for the virtual soundchecks, another advantage of using Nuage was, like the RIVAGE PM systems, its close integration with Dante.
"Nuage and Nuendo really became the studio tools of the Fête," says the head of SFX and virtual soundcheck David Weber. "The design of the audio system meant that we could use a lot of surround sound for effects. Also, as the show developed during rehearsals, timings changed and I was able to make some pieces of the music shorter or longer."
The Nuage system was also used to create alternative monitor mixes, where the dynamic sound of the orchestra was needed for playback, but for some of the performers' in-ear monitors it was better to have a less dynamic mix.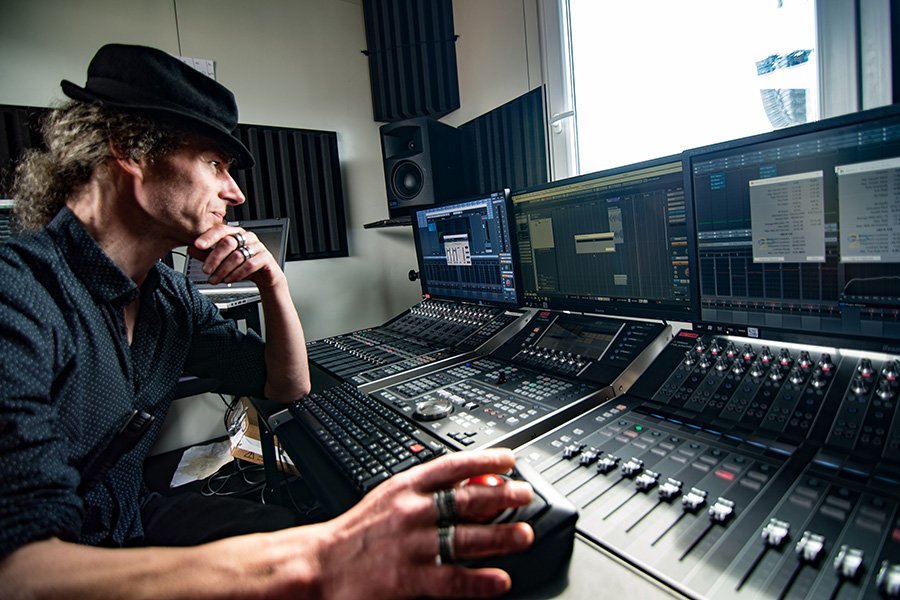 Sleeping soundly
By the end of July, three weeks into the month-long run of the 2019 Fête des Vignerons, Martin's confidence in the audio system had already been well-rewarded. "It really was like a huge matrix, where we just did the clicks where we needed the sound," he says.
"My main concern was about the network, but we used it 24/7 for all the sound, as well as all the communications, and we didn't have a single hitch. Greg did an incredible job, he built software to overview the system and he could see everything that was happening anywhere on the system. It meant I was able to sleep at night!"
With the Yamaha RIVAGE PM and Nuage systems also running faultlessly (and continuously) for several weeks, the complex audio production was certainly a world away from that of 1999. We can only wonder what more advances will be made in professional sound over the next 20 years, when Fête des Vignerons returns to Vevey in the late 2030s.
2019 Fête des Vignerons: Selected production statistics
Five stages in a 20,000 seat, 4,000 m2, 30m high temporary arena made from 700 tons of steel.
11 months to construct and another three months to remove.
Six Yamaha RIVAGE PM7, three RIVAGE PM10 and two Nuage digital mixing systems.
10 Yamaha R-series I/O units.
324 channels of wireless microphones.
Eight main PA towers, each with between 48 and 54 line array loudspeakers.
204 additional loudspeakers for sub-bass, surround, fills and monitoring.
2,000 lighting fixtures.
870 m2 LED floor and four 50 m2 LED screens.
35 kilometres of fibre optic for audio networking.
Cast of 5,500 actors.
Over 1,200 musicians and singers, plus the pre-recorded Gstaad Festival Orchestra.
Production crew of 170 plus 150 volunteers.
Wireless challenge
A major challenge faced by the audio team was the 324 channels of Shure Axient wireless microphones needed for the production. "I don't think even Shure had ever seen so many Axient receivers on one production," says Martin. "We needed all the bandwidth from 400 to 700mHz, including some receivers in the upper bands which were not too easy to find in Europe, so they had to be brought from the US. We were making the most of every available frequency and, for the duration of the event, we were allowed to tell other users to switch off." In addition, there was the challenge of managing a huge number of wireless in-ear monitors.
"It was the biggest radio system I've ever worked with and quite a task to manage so many channels," adds head of RF Chris Hauri. "The receivers were all connected via Yamaha Dante interface cards into Macintosh computers running Wavetools monitoring software. It allowed us to select any of the wireless channels to monitor during the show and, of course, for line checking.
"We also ran RF over fibre to transmitters at various locations, some of which were over a kilometre away from the central monitoring location, allowing us to check the system through an iPad."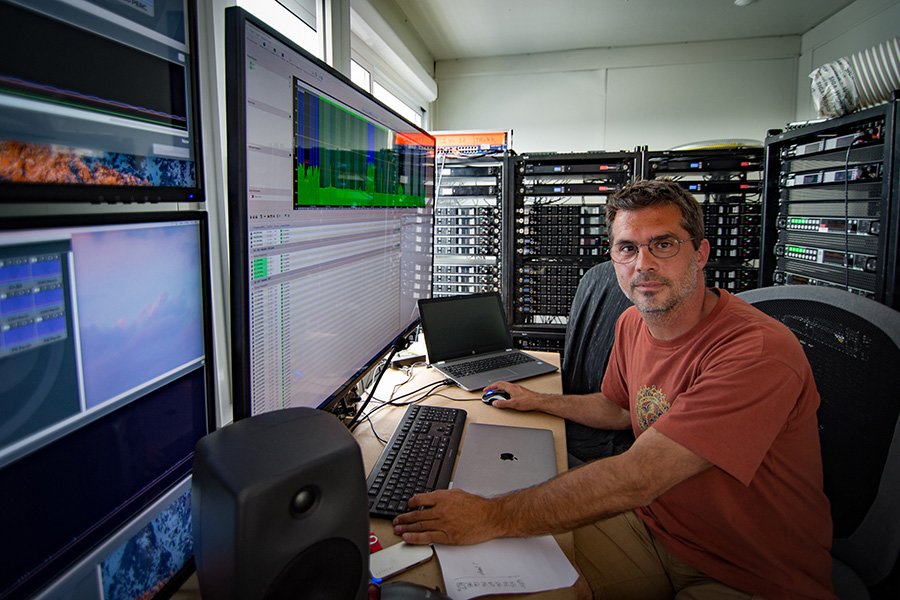 Dante delight
The task of designing the Dante networks fell to Gregor Baumann. "Dante let us link everything to everything - any source could be routed to any desk, intercoms, systems, in-ears - everything was on the network. The input/output grid was something like 6000/6000. It was effectively a huge free audio space to deliver the production's needs," he says.
"One of the key design aspects was that it had to be very flexible on a large scale, so we chose a design of three hops with two central switches - one for the primary networks, one for the secondary networks, with 12 leaf switches per star. We had to use 10Gb fibre links between the core and leaf switches to have enough bandwidth. But that's another advantage of Dante - if you need some more bandwidth, you can just take some. It scales with the network.
"We wouldn't have been able to do it with any other solution than Dante, thanks to the state of the art technology, product availability and inter-operability by products from different brands. It gave us the flexibility needed to do fast changes, if needed, and it was rock solid. We started the switches before rehearsals started, had audio running through the system continually for several weeks and we never had a drop or a problem. We just started it and that was it."
2019 Fête des Vignerons audio production engineers
Martin Reich - Head of Audio
Gregor Baumann - Assistant to Head of Audio and Head of IP Network
Chris Hauri - Head of RF
Arnaud de la Rosa - Assistant to Head of RF
Julien Fehlmann - Head of Premixes
Samuel Chapuis - Assistant to Head of Premixes
Boris Gerber - Principal Engineer Main Stage
Daniel Laurent - Assistant to Principal Engineer Main Stage
Malvina Ruota - Principal Engineer West Stage
Marco Nüesch - Assistant to Principal Engineer West Stage
Colin Roquier - Principal Engineer North Stage
Kevin Koch - Assistant to Principal Engineer North Stage
Gwenael Bonfanti - Principal Engineer East Stage
Karim Pandolfo - Assistant to Principal Engineer East Stage
Benoit Boulian - Principal Engineer South Stage
Bruant Perrinjaquet - Assistant to Principal Engineer South Stage
David Weber - Head of SFX and Virtual Soundcheck
Benjamin Vicq - Assistant to Head of SFX and Virtual Soundcheck
Gabriel Fitzner - Show Control
Each show also used 40 Percheman - volunteers and sound engineers holding poles with wireless microphones for the choirs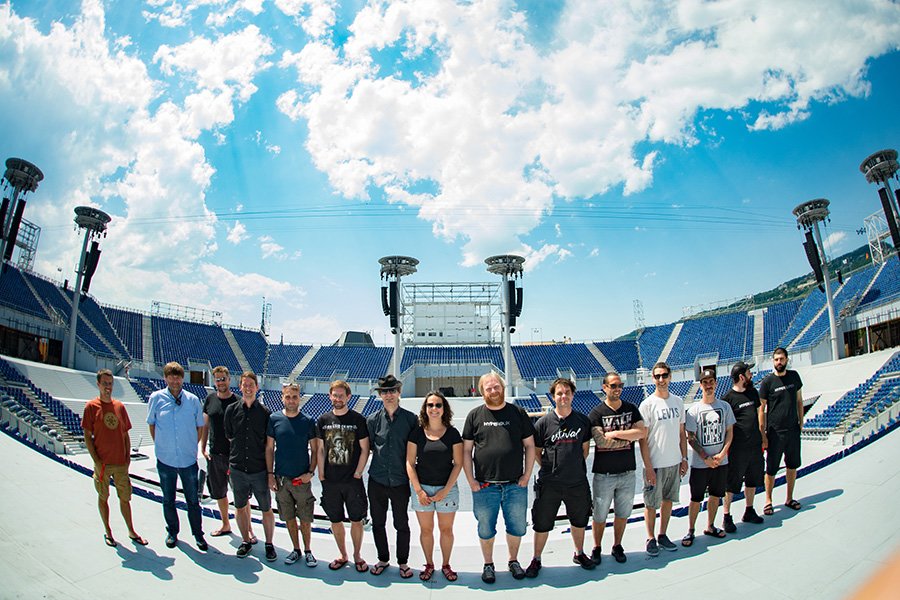 Please also refer to our video on Fête des Vignerons 2019
Wine, Wireless and Song: Eleven Yamaha Digital Mixing Systems Ensure 'Once A Generation' Swiss Spectacular Enjoys A Vintage Year