2019 RodeoHouston: Livestock and Live Performances
2019 RodeoHouston: Livestock and Live Performances
The RodeoHouston (aka the Houston Livestock Show and Rodeo) is the largest livestock exhibition and rodeo in the world. And, in addition, the rodeo features nightly live musical entertainment. Since 2003, the event has been held at the NRG Stadium in Houston, this year taking place over 21 days from February 25 through March 17. Every night after the rodeo, a variety of musical performers took to the stage including Kacey Musgraves, Luke Bryan, Cardi B, Turnpike Troubadours, Panic! At the Disco, Old Dominion, Camila Cabello, Luke Combs, Tim McGraw, ZEDD, Kane Brown, Los Tigres Del Norte, Zac Brown Band, Kings of Leon, Santana, Chris Stapleton, Cody Johnson, to Brad Paisley, Lyle Lovett, Robert Earl Keen, and George Strait - the finale of the rodeo concert series drawing over 80,000 attendees.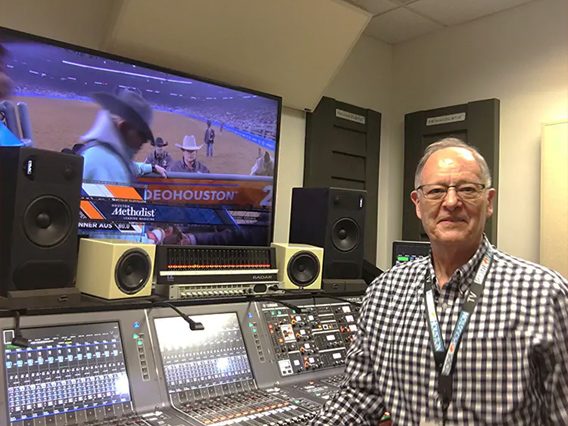 An unbelievably huge show that has a fairground-like atmosphere surrounding the old Houston Astrodome, the Rodeo includes a full-on studio control room, edit bays, etc. The NRG Center is Texas-huge, with over 100 loading docks for trucks. The entire first floor of the event center is laid out convention-style with booths selling anything country-western; even offering boot shining.
This year, a Yamaha RIVAGE PM10 Digital Audio Console was used by recording engineer Malcolm Harper who mixed all of the acts with feeds to the skyboxes and broadcast to three area off-property establishments. "I have been mixing/recording the music concerts at RodeoHouston TV for over 25 years," states Harper. "I mix live music broadcast for other companies as well; this year is my 50th year as owner of Reelsound Recording Co, a mobile audio recording/mixing truck based in Buda, TX, just outside of Austin."
Harper said this was his first time using a Yamaha RIVAGE PM10 for an extended length of time but had been using Yamaha consoles for over 23 years at the Rodeo dating back to Yamaha 02R and DM2000 units.
"I had seen the RIVAGE PM10 console at several events and went to Nashville to get a demonstration last year by Chris Taylor of Yamaha. In fact, I introduced Chris to the Rupert Neve about 7 years ago when Yamaha wanted an audience with him in order to use his analog designs for future digital consoles."
Harper used the RIVAGE PM10's SILK feature for sending the mixes to the analog units in his mobile truck. "I love the SILK feature on the Yamaha RIVAGE PM10. And, the instruction I received from Kevin Kimmel and Chris Taylor at Yamaha on the RIVAGE PM10 was excellent to move me through the paces of 22 days of a new music act each day."
Harper also took advantage of the console's onboard plug-ins and 16 channels of Rupert Neve Designs RMP-D8 mic pre-amps interfacing to the Yamaha RPio rack via AES and TWINLANe fiber. "With audio over IP, engineers still need a great front end. With the RMP using Rupert's mic pre's and transformers, it's a real winning combination with the RIVAGE PM10. Monitoring was via PMC twotwo.6 speakers, and recording was handled on 72 tracks of IZ RADAR STUDIO recorders.
As a side note, the movable stage is so big that for the George Strait performance on the final night, the stage would find its position via GPS and would roll into place, out over the dirt and park itself. The star-shaped tips of the staging would fold down. All of the cabling was pre-attached to the stage. All of the dirt and dust from that day's rodeo was removed, seating wiped down, and voila´ the stage was set up on a dirt-less concrete floor.
2019 RodeoHouston: Livestock and Live Performances