Yamaha RIVAGE Series Answers The Call To Prayer
Yamaha RIVAGE Series Answers The Call To Prayer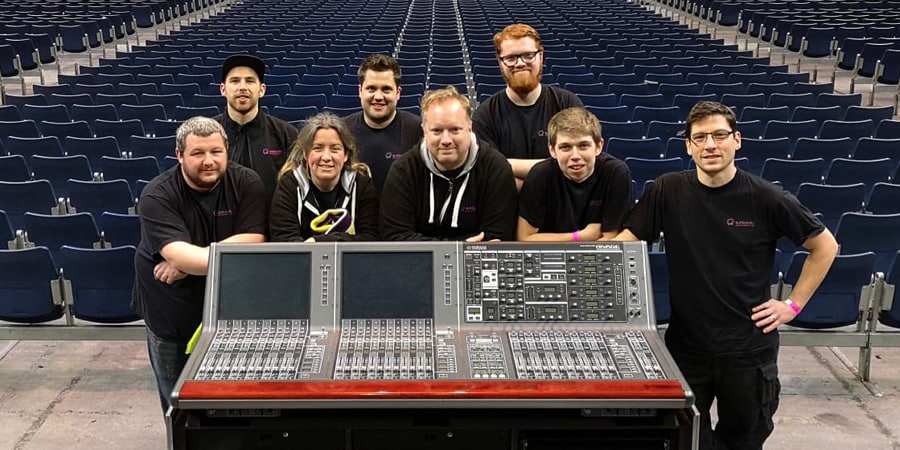 On Saturday 26th January, around 3000 worshippers gathered at London's SSE Arena for A Day of Prayer for Britain. Led by evangelist minister David Hathaway, the event saw Christian leaders from across the UK and from abroad coming together to pray for unity in the UK. Audio, lighting, and video for the event was handled by Subfrantic Production Services, whose Yamaha RIVAGE PM10 and PM7 digital mixing systems managed all live and broadcast audio.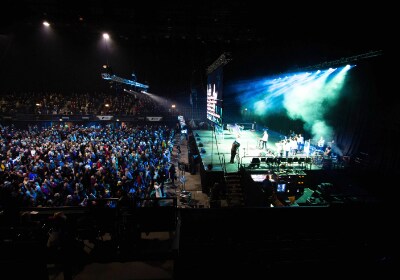 David Hathaway's ministry approached Subfrantic because of the company's work at The Experience in Lagos, Nigeria - an event which attracts over 500,000 worshippers - as well as its work on other religious events in the UK.
The event ran for eight hours and featured a mix of Christian worship styles, with a band, choir, and worship leaders including David Hathaway, Betty King, Bishop John Francis, Lou Engle, musical director Phil Woolley and tenor soloist Huw Priday. This provided Subfrantic with a challenge, as the audio production had to accommodate everything from quiet words and contemplation to rousing speeches, high volume preaching, Gospel worship and different styles of music, including opera.
Front of House sound was mixed by Subfrantic managing director Steve Davies on the RIVAGE PM10, with Adrian Chibulcutean mixing monitors on the PM7. Tom Gardner was the system tech, with Charlie Payne patching.
"This is the third time we've used RIVAGE on a big religious event. As a mixing system it suits them so well, there's never any concern about capacity or audio quality. It's all there, obvious and reliable, just as you'd expect," says Steve.
"Often religious or gospel events can end up very different to what you plan, as you're met with extra inputs and outputs that you somehow need to accommodate. The RIVAGE system's sheer capacity means we don't have to worry about that at all. Similarly, the control surface's flexibility and custom faders means that rejigging anything is very simple."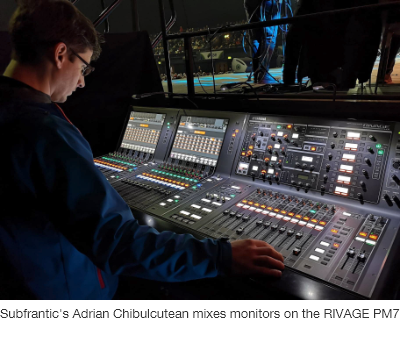 For the first time, Steve decided to share the gain of one RPio622 I/O rack on stage with a second RPio622 at FoH for broadcast ins/outs, and to allow for any unexpected situations. Broadcast feeds included live sends to Christian media network God TV, with a stereo feed plus ambient direct to the OB truck for the event's live webcast.
"My biggest worry was the acoustics. The SSE (Wembley) Arena is a big shed and I've yet to go to a gig there where the acoustics haven't been cruel to the sound engineer," says Steve. "As always, using the RIVAGE system's Rupert Neve Designs (RND) SILK processing on all input channels was a lovely addition to the mix. It really helped me get the vocals across, without putting too much energy into the room. This led to the event having a much more intimate feel than I was expecting. Little touches like that really help you take control of what's happening in the room.
"The TC reverb and the RND dynamics worked a treat as always, and the Multiband compression helped keep everything nicely in check."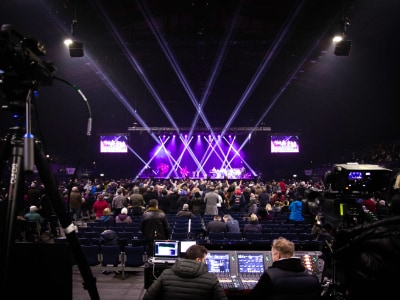 This event was Adrian's first time mixing on the RIVAGE platform and he found it very easy to adapt to. "The PM7 is very intuitive. It is straightforward to work with, everything you need is always at hand," he says. "It's a very logical system and it was easy to apply the previous knowledge I've gained on the PM5D and CL5."
As the event ended, the client, Steve and the Subfrantic team were all very happy with how the RIVAGE system had performed. "The client was very pleased - it was smiles all round at the end of a long day - and the system was flawless, exceeding our expectations," says Steve.
"It was very helpful how the two consoles worked together as part of a network. I was told that it was the first time this has been done in the UK - I don't know if that's true, but it was flawless. I'm happy to report that it works exactly as you'd expect!"
Subfrantic @ SSE Arena, Wembley for Day of Prayer for Britain
Yamaha RIVAGE Series Answers The Call To Prayer