Yamaha RIVAGE Brings The Word To RCCG Workers Rally
Yamaha RIVAGE Brings The Word To RCCG Workers Rally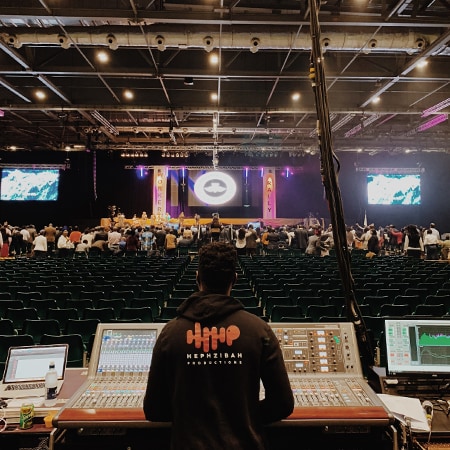 Twice a year, the UK branch of the Redeemed Christian Church of God (RCCG) holds its Workers Rally, which usually precedes the popular Festival of Life. In October, the latest Workers Rally brought a 10,000-strong audience to London's ExCel, where a Yamaha RIVAGE PM7 and PM10 digital system mixed a diverse evening of worship, Christian drama, bible study, prayer and holy communion.
The Workers Rally is held under the leadership of the global RCCG general overseer, Pastor Enoch Adeboye. Sound and lighting for the event was taken care of by multinational production company Hephzibah Productions, which hired the RIVAGE PM7 and PM10 mixers from London-based Subfrantic.
"We have had a relationship with Subfrantic for over eight years," says Hephzibah engineer Temidayo Oladehin, who was the event's production manager and manned the RIVAGE PM10 at the front of house position. "I met Subfrantic managing director Steve Davies through my local church and he has been extremely supportive ever since."
The system ran 48 channels at both the FoH PM10 and the PM7 on monitors, mixed by Duriel Mensah. Both Temidayo and Duriel were mixing on a RIVAGE system for the first time and they were clearly impressed.
"What really stood out for me were the Rupert Neve Designs plugins," says Temidayo. "Using them on bus output groups produced fantastic results. The clarity you get by adding a little SILK blue on the vocals is mind blowing!
"The Dan Dugan auto mixer was a very useful tool for the drama section of the evening, while the eight-band parametric EQ was great on the omnidirectional headset mics. Being able to shape them without losing quality was a great plus for me."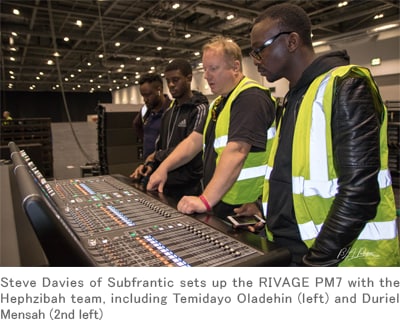 In monitor world, Duriel was particularly impressed with the speed and ease of use of the RIVAGE PM7, as well as the high bus count. "As a monitor engineer speed is important, so being able to quickly send to my monitor mixes definitely helped in being able to deliver on the day," he says.
"During the drama set, there was playback from a laptop, a series of loops being triggered from a sampling pad and seven live headworn microphones. I had to ensure that the singers could hear the soundtrack as well as the microphones, so they could pick up cues on when to come in. The ease with which I could access my sends for monitor mixes helped me to send what was required very quickly and efficiently.
"Another advantage was having 60 buses because, after sending monitor mixes, there was still the room to do so much more, which isn't always possible with all mixers," he says.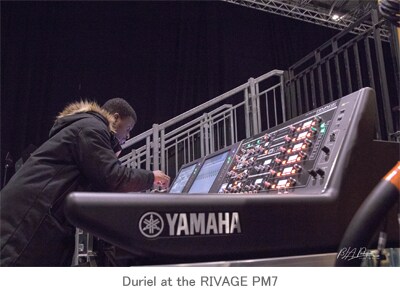 As many live engineers have found, the Rupert Neve Designs 5045 Primary Source Enhancer is one of the many plugins available on RIVAGE systems that makes a huge difference to the mix quality.
"The Primary Source Enhancer is an amazing piece of work that can help clean up your audio really well. I tried it on a guitar and it got rid of so much bleed. I was very impressed by what it can do," says Duriel.
"Even the small user touches make a big difference. The horseshoe ring shape of the rotary encoders means you can see where you've set any encoder from every angle. I can instantly see where I am and it helps to save time, which is always important."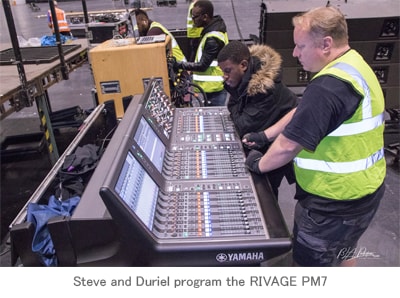 Temidayo and Duriel were supported by Steve as console tech and system techs Matt Wickens, Ant Mairoudi and Sam Chappell-Winnington. They helped to deliver a successful evening of worship, which set the scene for the following day's Festival of Life.
"We had a very positive response from the organisers. They told us that it was actually the best sound they've had since they started this event," says Temidayo.
Steve agrees, adding "As a multi-faceted event, with diverse speech, live music and playback, it was a potentially complex audio production which placed significant demands on the production team. The Yamaha RIVAGE system made a big difference in both the ease of production and audio quality, which were noticed by the crew, audience and client alike."
Yamaha RIVAGE Brings The Word To RCCG Workers Rally