San Diego's Largest Church Installs Dual Yamaha RIVAGE PM10 Digital Audio Consoles
San Diego's Largest Church Installs Dual Yamaha RIVAGE PM10 Digital Audio Consoles
Two PM10s for Rock Church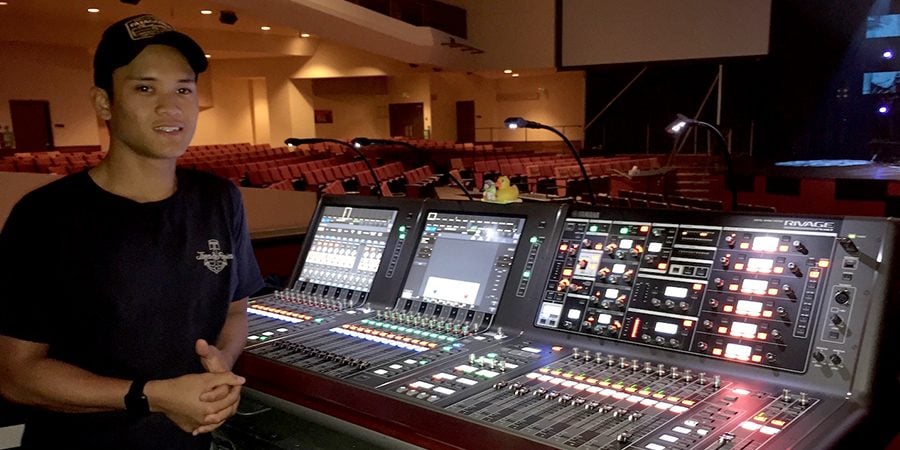 Nick Aguigui, front of house engineer
Rock Church is San Diego's largest church and in the top 40 of the largest and fastest growing churches in the United States. Founded in 2000 by Pastor Miles McPherson, a former NFL player, the Rock Church now has five campuses across San Diego County.
The San Diego church just installed two Yamaha RIVAGE PM10 Digital Audio Consoles for front of house and monitor mix duties. The system was designed and installed by Jeff Stewart, senior consultant at Clark Audio Design and Engineering Firm, based in Southern California with headquarters in Atlanta. "The church required a high input and output count," states Stewart.
The house of worship features vocalists and musicians, and seats 3,450 worshippers with an average weekly attendance of 15,000. The dynamic of the services consist of a contemporary worship set, small acoustic set, choir, and musical productions.
"After having had a demo on the Yamaha PM10, we all agreed that this is the best sounding console we have heard, notes Noah Hawley, Sr. Technical Director, Rock Church.
Audio engineers Nick Aguigui and Josh Frohman each man a PM10; Nick at front of house and Josh at monitors. When asked about specific console features, the two engineers said they like how the console sounds right out of the box. "The ease of use right from the beginning, especially when training church volunteers. The RIVAGE PM10 is intuitive and its layout is practical; specifically, the overall power and flexibility of the entire system including Rupert Neve Designs SILK and VCM processing, custom fader banks, the RIVAGE platform, and easy to navigate control surface." Referring to their two previous consoles, the engineers said the Yamaha PM10 is more intuitive and flexible.
Josh Frohman, monitor engineer
San Diego's Largest Church Installs Dual Yamaha RIVAGE PM10 Digital Audio Consoles