Rock and Worship Roadshow Engineers Sing High Praise for Yamaha PM10
Rock and Worship Roadshow Engineers Sing High Praise for Yamaha PM10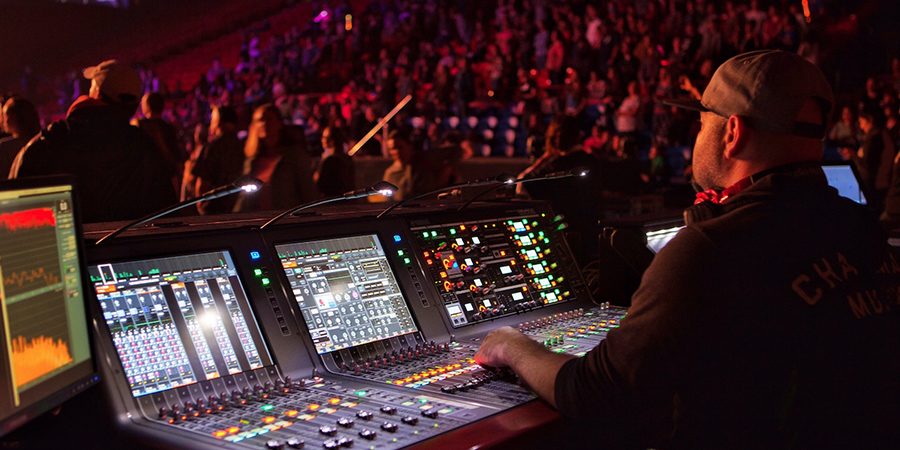 The Rock and Worship Roadshow, produced by Compassion International, recently brought families together for an affordable, powerful concert experience with some of the biggest artists in Christian music including this year's headliner, Steven Curtis Chapman.
Harold Rubens, front of house engineer for Chapman and Jordan Feliz used a Yamaha RIVAGE PM10 Digital Audio Console for the 22-date tour that began in the St. Louis area on February 24th. No stranger to Yamaha digital consoles, Rubens most recent Yamaha go-to console was the CL5. Early on in the planning phase of the Roadshow Tour, as engineer for the headliner, Rubens requested the PM10 for the tour from Spectrum Sound Inc. (Nashville) who was the audio provider for the tour.
"Many of my engineer friends who have been on the Yamaha RIVAGE PM10 raved about the sound of it, states Rubens. Having been a user of Yamaha consoles for a long time, I wanted to hear it for myself. I had the opportunity to play with it a few times prior to the tour using track playbacks and knew that the onboard features like the Rupert Neve Designs compressors and equalizers along with TC Electronic reverbs and other plug-ins sounded really good, but I never got to use the new preamps and the Rupert Neve SILK Red/Blue processing feature until this tour.
Rubens owns his own Yamaha CL5 digital console, and he said Yamaha familiarity made transitioning to the PM10 much easier. "Getting around the desk and finding things was not difficult at all. The Yamaha user interface is very intuitive, and so, every engineer on this tour jumped right in without any problems."
Matt Pribisco, systems engineer for Spectrum Sound, assisted Rubens with getting up and running and patched. "The Yamaha PM10 is a very reliable, well built console, adds Pribisco. The pre amps on this console are killer, and adding in SILK, you have a winning combo for any engineer."
"The console sounded really, really good, Rubens says. A big, full sound; It was pretty clear to hear the definition in the board mixes when listening. I found myself using less EQ and reaching for the SILK Red/Blue texture first. I didn't use external plug-ins as much due to the really good sounding options onboard."
One thing Rubens noted that he found interesting is that every engineer who walked up to the console set it up differently according to the way they prefer to work. "The console is extremely flexible, Rubens notes. Each of the engineers' either reached for knobs to adjust settings on the "Selected Channel" section, used the Touch and Turn feature, or used the touch screen to adjust settings. Some used the encoders above the faders and even set up the bays and screens differently. It was good to see the flexibility of the console from engineer to engineer."
Other artists on the tour included Francesca Battistelli, Passion Band, Rend Collective, Family Force 5, Derek Minor, and Urban Rescue. Tom Hester, front of house engineer/tour manager for Rend Collective said, "one of my favorite experiences with the PM10 was laughing with the systems engineer as we dialed up inputs for the first time because everything sounded great out of the box. Also, the ease and familiarity of the interface made getting around the console quick and easy."
"The PM10 sounds and feels great, adds Joe Hutchinson, front of house mixer for Francesca Battistelli. The customization is awesome and the pre amps sound amazing, especially with the SILK feature."
Rock and Worship Roadshow Engineers Sing High Praise for Yamaha PM10