Yamaha Rivage PM10 "SILKening" The Voice King of Brazil
Yamaha Rivage PM10 "SILKening" The Voice King of Brazil
Roberto Carlos is a traditional Brazilian singer nationally recognized. Historically, Yamaha has been the main choice for the technical staff of Roberto Carlos, and in 2016 it was no different; they continue to use Yamaha backstage.This time, the Rivage PM10 was the choice. In this article, you can read the technical reviews of staff: Luiz Ambar (FOH) and André "Silvinho" Colling (MONITOR).

"I started working with the artist during the analog era; my very first digital mixer with RC (Roberto Carlos) was a PM5D-RH, afterwards we changed to a CL5 since we needed more Buses and the CL5 has an INPUT to MATRIX feature, and also because of its customization and ease of operation. Now I'm using the new and surprisingly Rivage PM10" – says André "Silvinho" Colling.
"I almost used all Yamaha digital mixers, from studio to live sound applications. In 2013, we started using a PM1D with Roberto; we also used a PM5D-RH and a CL5 a couple of times, but now we have changed to a Rivage PM10 in both applications, FOH and Monitor" – says Luiz Ambar.
Musicians and sound engineers noticed the Rivage PM10's natural sounding as soon as the system was powered up, according to André "Silvinho" Colling.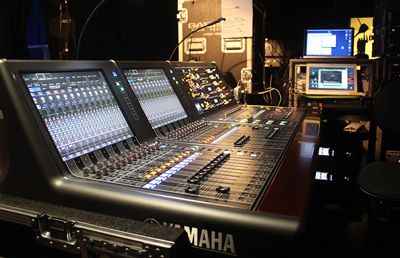 "After the first day using the Rivage PM10, some musicians asked me: "What did you do differently from other days?" I said: "Nothing. I just used the default mixes configuration." And they said: "But the sound is different, has very good colors, and the mix is fantastic." Then I said: "It's a Rivage PM10!" None of them knew we changed the mixing system at the time and we always use the same mics, wedges, and in-ear systems. So it definitely was due to the Rivage PM10. It's sound is AMAZING!"
Luiz Ambar's experience with the exceptional sound of the PM1D and the CL5's ease of operation made him choose the Rivage PM10, which unites both features.
"I really liked SILK emulation; I even alternate BLUE and RED transformers between songs to achieve the best sound according to each mixing context. The CS-R10 has a really comfortable control surface. I use almost every customization available, from MUTE/DCAs to custom bays and User Defined Keys shortcuts. Having everything available on every fader bay is just awesome."
The extensive experience of André "Silvinho" Colling as a Monitor engineer helps us to comprehend even more the remarks of the Rivage PM10 as a mixing system for Monitor applications:
"Control surface design is very good, screens' height and angle are perfect, as well as the overall distance of the controls. It's nice to have the possibility to choose where I'll have Delay compensation and the best part is that the sound never stops, even when I insert a plug-in during a soundcheck. I use custom bays and SENDS ON FADER almost all the time. Different algorithms in Channel PEQ are also a good option."
[ Reported by Matheus Madeira ]
Yamaha Rivage PM10 "SILKening" The Voice King of Brazil