Clarity Installs Yamaha CIS in NW Portland Restaurant
Clarity Installs Yamaha CIS in NW Portland Restaurant
Yamaha CIS Achieves Balanced Sound in Jazz Restaurant
Clarity Media Group (CMG) of Lake Oswego, OR recently installed a Yamaha Commercial Installations Solutions(CIS) system at Jo Rotisserie & Bar, a dining establishment/live jazz club in Portland, Oregon.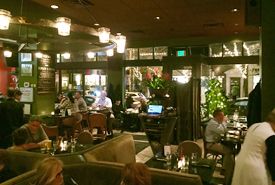 Ten Yamaha VXC8 Ceiling Speakers, two Yamaha VXS10ST wall mount subwoofers, and one Yamaha MG12XU Mixer provide a non-discreet distributed audio system. "We decided to go with a ceiling speaker solution because the room is a little choppy and the restaurant's partners wanted to maintain uniform coverage throughout, states Travis Cibolski, co-owner and system designer, CMG. Also, the low visual impact of the system was appealing to the client."
Yamaha VXC Series ceiling speakers are highly regarded for their excellent music reproduction quality as well as their clarity in restaurants like Jo Rotisserie & Bar where music is an essential feature.
With the small 14-table restaurant and bar, partner Michael Gibbons fulfilled a long time desire to feature live jazz twice weekly. "I fell in love with jazz at the age of 16, and having the opportunity to hear this American art form in our restaurant has been a great pleasure for both myself, our staff, and most importantly, our customers, states Gibbons. We have featured Rebecca Kilgore, George Colligan, Pete & Will Anderson, Allison Au, and many other talents."
Despite the room's small size, Gibbons said they had some trouble achieving a balanced sound throughout the room before the Yamaha system was installed. "A number of factors contributed: the room's 'L' shape, the non-central location of the stage area, a two-table booth located near the top of the 'L', the hard stone and tile surfaces of our tables and floor, and the varying (both instrumental and stylistic) configuration of our performing artists."
After some preliminary consulting with the performers and reviewing four bids to correct the situation, the partners decided to have CMG take up the task of installing the ideal sound system for Jo Rotisserie & Bar. "Travis Cibolski has been a dream to work with and has responded to each and every question and concern no matter how small, Gibbons says. He recommended the Yamaha VXC8 ceiling speaker and increasing the number from four to ten."
The installation also includes an Ashly NE800.70pe amp and a Shure SCM268 line mixer in the office so restaurant staff can switch between a band input from the main stage area, a DJ input located next to the bar, and the two music options they use for house music.
Gibbons said the result is superb. "Clear full range sound is now heard from every point in the room. I have to say the new Yamaha CIS makes me almost as happy as being able to feature the American treasure of jazz for a few nights every week."
For more information on Jo Bar, visit
For more information on Clarity Media Group, visit
Clarity Installs Yamaha CIS in NW Portland Restaurant