Two Yamaha RIVAGE PM10s Mix Prestigious Berlin Festival
Two Yamaha RIVAGE PM10s Mix Prestigious Berlin Festival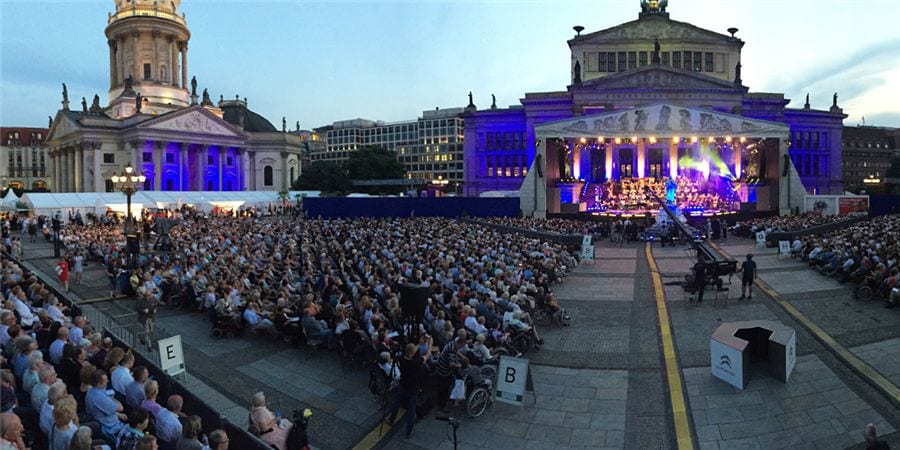 2016 marked the 25th anniversary of Berlin's prestigious Classic Open Air Festival, which features five consecutive nights of live, open-air music in the heart of the city. Helping to mark the occasion were two Yamaha RIVAGE PM10 consoles, which mixed Front of House and monitors.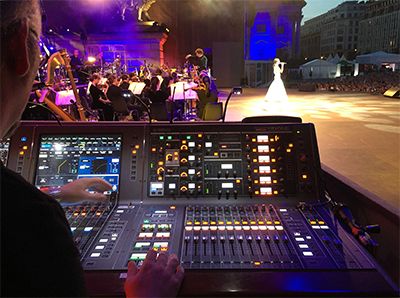 The Classic Open Air Festival (CoA) concerts take place in the city's Gendarmenmarkt, in front of the Konzerthaus and between the historic Deutscher Dom und Französischer Dom buildings. This provides an 'amphitheatre' feel for the five spectacular nights of music, lighting and fireworks.
Over its lifetime, the festival's concept has changed from a purely classical show to one which includes other styles. This year's event began with a 25th anniversary gala and included performers ranging from the Deutsche Filmorchester Babelsberg, violinist Ray Chen and an array of sopranos and opera singers to jazz trumpeter Till Brönner and contemporary organist Cameron Carpenter. The festival culminated in a final night performance by singer Chris de Burgh, accompanied by his band and the Neues Sinfonieorchester Berlin. It was an ideal situation for the Yamaha RIVAGE PM10s.
Manfred Bamberg, technical chief at Opernhaus Kiel, has been Tonmeister (chief sound engineer) in charge of the CoA audio setup for ten years. He initially planned to mix the show with three Yamaha CL5s. However, after attending several RIVAGE PM10 demo sessions, he asked Yamaha Music Europe sales engineer Arthur Koll to provide the consoles for FoH and Monitors at this year's event. Arthur spoke to Berlin-based rental company TSE, who arranged the supply of the desks. In addition, Arthur supported the CoA technical crew during the setup and performances, assisting the mix engineers who had never worked with the console before.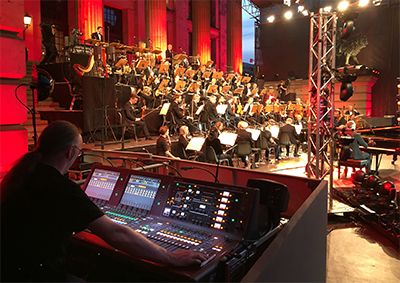 "This year's programme perfectly suited RIVAGE PM10 because it is designed to suit many genres of music. It has the cleanest sound reproduction and the ability to reproduce the beauty of analogue sound shaping, thanks to Yamaha's long-term cooperation with Rupert Neve," says Arthur. "The console is very easy to work with, especially if an engineer has mixed on a Yamaha digital console before. Once the concept and routing is understood and the surface customised for the desired workflow, the PM10 is a typical Yamaha mixer. The engineers immediately felt at home and safe with it. It was an easy job for me!"
Manfred was very happy with how the console performed at the FoH position. "Working with it was a super experience," he says. "Having 144 input DSP channels, 72 mixes and 36 matrices, along with 24 DCAs, was ideal for a complex week of shows. I found the routing, allocating mixes and matrixes were all superb. Combined with all the inserts per channel, four sets of internal EQ algorithms and A/B functionality, RIVAGE PM10 supported my work enormously well."
Manfred was also very impressed with the SILK function, which he says added a special sheen to the voices of the opera singers. "Combining SILK along with TC6000 reverbs is a killer feature," he says. "I used a total of six TC engines for mixing Cameron Carpenter's performance - a different one for each PA zone to provide concert hall acoustics for his bespoke organ."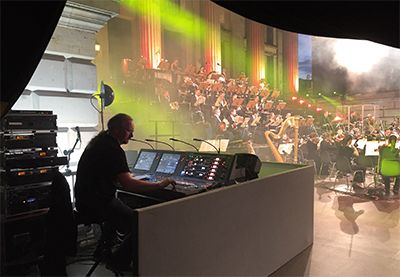 The SILK processing was also highlighted by monitor engineer Steffen Klimt, who found it perfect for adding presence to the performer's personal mixes. "It's an extraordinary tool, it really adds to the RIVAGE PM10's warm, analogue-sounding audio quality. You can make a signal really jump to the front," he says. "The new classic compressors are also some of the best there are for vocals and the four-band parametric EQ on each input channel is outstanding, I used the 'Precise EQ' algorithm on all channels throughout the week."
The console's 36 matrix busses were also very beneficial for Steffen, which he used for combining and setting up eight stereo in-ear (IEM) and 20 mono mixes.
"I arranged the orchestra's instrument groups by using ten stereo auxes to feed the matrices," he says. "This saved me handling 100 microphones per mix. From the beginning I was surprised how silent the console is - there is no noise, just sound, which is perfect for IEMs."
Steffen's job was made easier by splitting the console's surface into two segments - a 24 channel bay and a separate 12 channel, user-assignable section for the outputs. This ability was also appreciated by Manfred, who says, "Being able to virtually split the RIVAGE PM10 surface, which allowed two engineers to work in parallel, really helped me and my co-engineers to create a smooth workflow."

The first night's gala was televised by broadcaster RBB, a process made easier by the use of two Yamaha RMio64-D Dante-MADI converters. "It made my day to be able to simply transmit all microphone signals in parallel to the RBB OB Van, with no analogue split needed. Being able to combine the console easily with multitrack recordings for virtual soundchecking was another really important feature for staging five complex performances on consecutive nights," says Manfred.
"It was very rewarding that the CoA promoter came to the FoH position and congratulated us on delivering great sounding performances every day, saying that the shows sounded better than ever before. Compared to previous years, the only difference in the setup was RIVAGE PM10!"
Two Yamaha RIVAGE PM10s Mix Prestigious Berlin Festival