Solotech Installs Yamaha CIS in Montreal Pubs
Solotech Installs Yamaha CIS in Montreal Pubs
Two Montreal Pubs Install Identical Yamaha Systems
Solotech (Montreal) has recently installed a Yamaha Commercial Installation Solutions (CIS) system in two new pubs in and around the Montreal area, Ye Olde Orchard Pub and Lord William Pub. The pubs each can comfortably seat 200.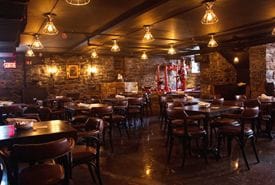 The CIS system is almost identical in both pubs consisting of one MTX3 processor, five DCP1V4S digital controllers, three XMV4280 amplifiers, 16 VXS8 speakers, two VXS10S and four VS6 speakers, two IF2112 and one IL1115 Installation Series Speakers, two P5000S-CA amplifiers, and two DXR8-CA speakers used for band and DJ monitors.
"The owner of the pubs wanted user-friendly wall controllers in each location and capable of Wi-Fi control, states Mario Lessard, senior sales representative, Solotech. Each pub offers live music including duets and trios as well as DJs so sound quality and reliability along with price played a considerable role in the decision process."
Lessard said the variety of CIS VXS Series Speaker sizes was an important factor in Solotech's decision to recommend the Yamaha system, along with amazing Yamaha technical support during set-up and programming of the system.
"We are extremely happy with the Yamaha set up, notes Nathaniel Devine, Lord William Pub. The sound is rich and performs well in both quiet background scenarios and when we need to get loud! Controlling the system is very easy; our managers love it."
For more information on Solotech, visit
Solotech Installs Yamaha CIS in Montreal Pubs