The Water's Edge Reincarnated After Super Storm Sandy
The Water's Edge Reincarnated After Super Storm Sandy
Hurricane Sandy couldn't have struck this regionally known restaurant/bar/catering facility on the Barnegat Bay at a more inopportune time. The Ziegler family had just purchased the Water's Edge in Berkeley Twp, New Jersey weeks before when Sandy made its mark on the Jersey Shore. Unfortunately, the structure took a huge hit and the new owners had to rebuild from the ground up.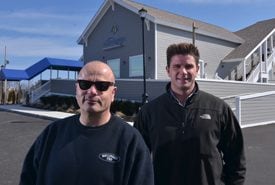 Calling on the services of Boulevard Pro of Ridgefield Park, N.J., Water's Edge co-owner Dave Ziegler, requested a completely designed audio/video system solution. "We believe in the Yamaha CIS (Commercial Installation Solutions) Series complete system solution approach, and that is how I presented the new system recommendation to our client," states James Cioffi, co-owner, Boulevard Pro. "Our experience and reputation combined with the Yamaha support network secured our involvement on this project." Boulevard also recommended and installed POS, CCTV and DTV systems.
The Water's Edge venue consists of three large indoor catering spaces including the restaurant, and is used for wedding and large events. An 8,000 sq. ft. outdoor space houses the Tiki Bar and Edge Live, which when weather permits, features live music. Patrons arrive all summer long by land and by sea.
"Our major challenge in designing and installing the new system was time itself! says Ziegler. We had to have a functional Tiki Bar for the summer or we risked losing our loyal customers. Our other major challenge was complying with the sound ordinance and containing the sound within the four wind-break glass walls that surrounded the Tiki Bar that literally sit on top of the water. With the help of Boulevard Pro, we were able to design several zones throughout the Tiki Bar to manage the sound levels out of respect for our neighbors. James Cioffi was one of my most patient vendors, able to do all of this with NO structure in place, plotting zones on our ever changing architectural drawings, and continually modifying the design until we had a final set of drawings."
The indoor space is outfitted with a Yamaha CIS MTX3 audio processor, two DCP1VS keypads, and 48 Yamaha VXC4W ceiling speakers. The system controls eight audio zones and is using all 12 of the MTX3 inputs. "THE MTX3 is super powerful and sounds great," says Cioffi. The Yamaha keypads are located in the head end interior location of the space and in the outdoor bar/lounge area, controlled completely via iPad/iPhone. The waterfront bar/lounge system consists of a Yamaha LS9-16 digital audio console, Yamaha TX4n amplifier, Yamaha DXR 12x2 monitors, and IF2112M95 speakers. The Yamaha StageMix App on the LS9 runs live entertainment via an iPad. "The entire venue is beautiful and really impressive, and the Yamaha system is working great," Cioffi exclaims.
"We are proud to say that we are the premier spot on the Barnegat Bay hosting the best entertainment both inside and out, notes Ziegler. Bands and DJ's couldn't be happier coming to play at our venue because they no longer have to haul all of their heavy equipment in to play. It's a win-win situation. When my general manager isn't around, I like to take this Ferrari of a sound system for a true test drive!"
For more information on The Water's Edge, visit
For more information on Boulevard Pro, visit
* Photo credit: CM Photos
The Water's Edge Reincarnated After Super Storm Sandy