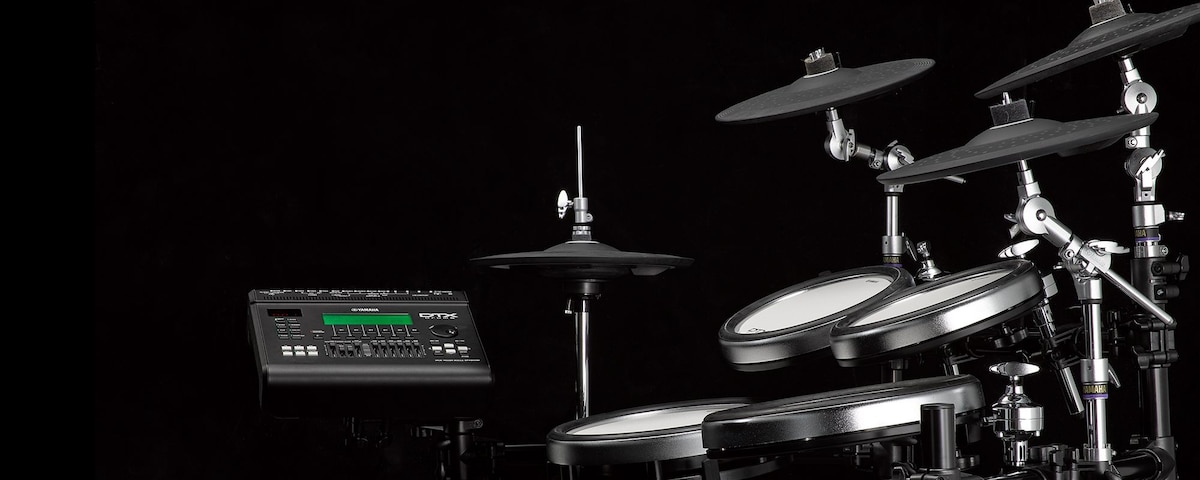 FAQ
Q1: What is the difference between the DTX900K and the DTX950K model?
A1: The DTX900K is a five-piece kit with 10" toms on an aluminum rack. The DTX950K is a six-piece kit with two 12" floor tom pads on a steel HEXRACK. Both kits feature an upgraded kick pad, 3 cymbals, Real Hi-Hat pad and hi-hat stand, and 12" snare pad and snare stand
Q3: Are there other ways to expand a DTX900K or DTX950K?
A3: Yes, there are several ways to expand your DTX900 Series system. There are four additional trigger inputs (five for the DTX900K) that are capable of mono, stereo or 3-zone trigger pads. You can install optional DIMM memory (not for DTX900M users) which allows the unit to record and play additional samples and sounds. Additionally, you can use the MIDI out to connect to external tone generators or samplers.
Q4: How many and what type of DIMM memory must be used? (not for DTX900M users)
A4: The optional DIMM memory chips must be installed in pairs of identical chips with a max capacity of 512MB. Use standard PC100 or PC133 memory modules with no more than 18 chips per module.
Q5: What is the maximum size of an audio sample in the DTX900? (not for DTX900M users)
A5: The maximum size of an individual sample on the DTX900 is 64MB for a stereo sample and 32MB for a mono sample.
Q6: Does Yamaha make acoustic drum triggers?
A6: Yes, the DT-10 for toms and kick and the DT-20 for snare. Both are low mass with a compact design and shock-resistant mount.
Q7: Can I use other triggers such as mesh pads with the DTX900 or DTX900M module?
A7: The DTX900 is optimized for use with Yamaha DTXdrums triggers and pads. Yamaha does not guarantee the performance of triggers from other manufacturers and you will need to adjust various trigger parameters to maximize their performance.
Q8: Can I assign the click sound to its own output?
A8: Yes. The Click has several output selections including Output (L/R) + Phones, Phones Only, or Individual output.
Q9: Can the DTX900 series kits be configured for left-handed players?
A9: Yes.
Q10: What kind of amplification should I use with my DTX900 series?
A10: Yamaha recommends using a stereo amplification system with a sub-woofer for maximum satisfaction when playing. We offer three models: MS100DR, MS50DR, and MS40DR that each come complete with all the cables you need and mounting brackets to mount the speakers right to the rack at ear level. For the highest output and minimum setup use two Yamaha DSR112 powered speakers setup in stereo.
Q12: Where can I get sampled kits in the DTX format?
A12: Visit www.dtxperience.com/dtxpansion.php for SIX FREE KITs from Sonic Reality. Users will need to create a free account at esoundz to download the content. There are also five kits for sale. Additionally, there are five free downloads in the "Extra Contents" tab on this web page.
Q13: Can the older DTXTREME III be updated to become a DTX900? And how about DTX900 to DTX900M?
A13: For any DTXTREME III can be updated to DTX900 with a firm updater. In the other hand, DTX900 is impossible to update to DTX900M. DTX900 is the model to install DIMM, and DTX900M is 512MB SDRAM built-in model.
Q14: Is the HXR4LD HEXRACK available separately?
A14: No, the HXR4LD is only available with the DTX950K.