Biography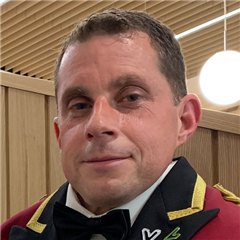 Cardiff born and bred, Martyn started playing baritone at the age of 10. By the age of 14 he was offered the switch to euphonium at Champion Band of Wales at the time, BTM Band with Mark Hutcherson as his mentor. He went on to study euphonium, piano and composition at Huddersfield University under Geoffrey Whitham and was successful in gaining two scholarship awards during his three years. Whilst at Huddersfield, Martyn performed with bands such as Sellars, Jayess and Reg Vardy.
However the lure to return to his roots proved too much and returned home to complete a PGCE course whilst performing with Tredegar Town Band. He then started a teaching post in Gosport, Hampshire and travelled back for Tredegar rehearsals for a year. Martyn then reluctantly took four years out from playing to concentrate on his teaching career. But got his enthusiasm back by signing for Parc & Dare band for a successful period. Again the urge to return to South Wales returned, and he worked as Head of Music at several South Wales senior schools, during this time Martyn's most proud achievement happened and his son, Lestyn was born.
He joined his old friends and family at newly promoted Tongwynlais Temperance Band. At Ton, Martyn was a driving force as a player and band trainer for their rise to the British Open contest and achieving 4th place at the National Finals in 2012. After nine years he had the opportunity of a lifetime, to join the Cory Band in 2013 on second euphonium, but soon progressed to principal. During his time with Cory he won the European and National Championships and came a close second place in most others. And not to mention a busy but hugely exciting tour of Australia.
Martyn was then made redundant from his teaching post and was lucky to gain a temporary Director of Music role at the prestigious Clifton College in Bristol. The commitment to this meant that full time banding was not possible. Desford Colliery Band was the perfect solution so he could continue playing at the top level, whilst not interfering with his new role. Martyn has featured as soloist and tutor on education tours with Desford to Thailand and Singapore.
"I'm thrilled to be a Yamaha artist and to perform on the Yamaha Neo instrument. It is the perfect instrument for me and its flexibility means that it sounds at home on the immensely varied repertoire that Tredegar performs. It's superbly designed and made and has made a huge boost to my performance levels."
Presently, Martyn is an ALN teacher at a Special Needs Base teaching Numeracy, Literacy and RS having turned a corner in his career into teaching Special Education, which is one he is not looking back from. He has now made a long awaited return to Tredegar Town Band under Ian Porthouse and is looking forward to big successes with them.