Biography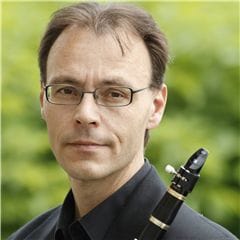 As a soloist he has played with internationally acclaimed conductors such as Jonathan Nott, Reinhard Goebel, Vasily Petrenko and Mario Venzago. His chamber music partners include the Amar Quartett, the Merel Quartett, Esther Hoppe, Rafael Rosenfeld, Peter Somodari, Ivo Gass, Matthias Racz and pianists Benjamin Engeli and Christian Chamorel.
He is the artistic director of Summer Academy Hitzkirch (Lucerne) and he gives master classes in throughout Europe and has visited prestigious institutions such as the Conservatoire Royal de Bruxelles, Gent, Leuven, Gnesin Academy und Tschaikowsky Conservatory Moscow and St. Petersburg.
Bernhard Röthlisberger is a Yamaha artist and plays Hamilton-plated Yamaha Custom clarinets CSG and CSG-A.