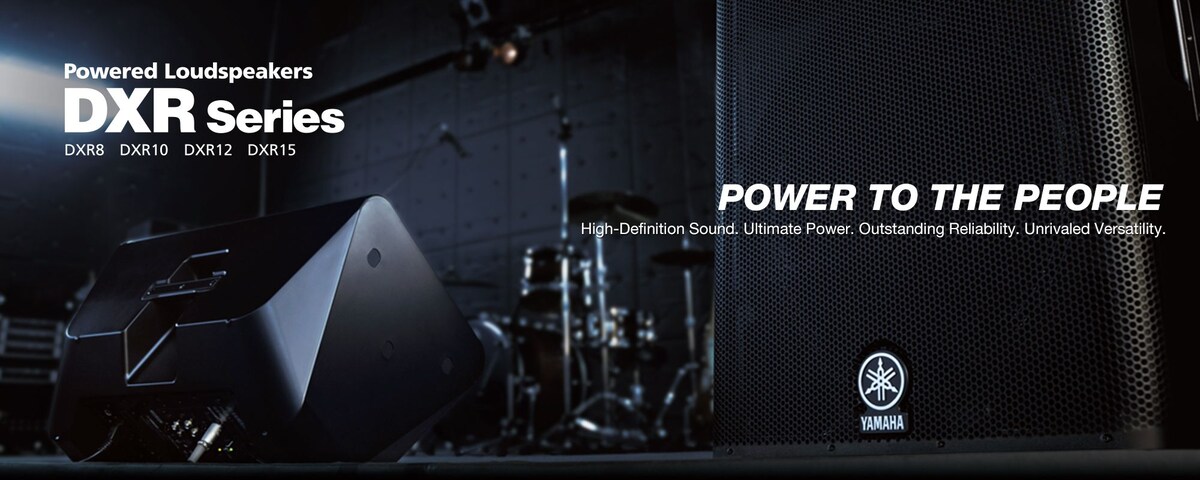 Louder, Lighter, Legendary
Since its inception, the DXR Series has long signified a confluence of raw power and technological innovation that reliably harnesses and delivers impressively high output with superior quality and clarity. The DXR mkII Series powered loudspeakers are the newly upgraded models of the series that add even more SPL and feature a larger, yet much lighter 1.75" Neodymium HF compression driver for extremely clear voice reproduction and musicality. Once again our team worked in tight collaboration with touring loudspeaker specialists NEXO, adding crucial insight and expertise that led to design improvements based on the ever-evolving demands of sound reinforcement professionals.
Whether for fixed applications or mobile live performances - whatever direction you want to take your sound - the DXR mkII Series is up to the task, combining raw power with our own proprietary advanced DSP functions for all the reliability and outstanding clarity you've come to expect from the DXR Series… only MORE.
DXR15mkII
15" 2-way Powered Loudspeaker
The DXR15mkII achieves class-leading maximum SPL of 134dB and full bandwidth performance by combining a powerful Class-D amplifier with a high-power woofer and Yamaha's cutting edge technologies. Throw in some D-CONTOUR and you'll feel like you're using a subwoofer.
DXR12mkII
12" 2-way Powered Loudspeaker
The DXR12mkII is an extremely high-power loudspeaker that is capable of producing a maximum SPL of 134dB with its impressive 1100W of power. It is the perfect solution for live sound applications that demand wide bandwidth and extremely high-resolution sound.
DXR10mkII
10" 2-way Powered Loudspeaker
Portable, yet capable of producing an astonishing 132 dB SPL, the DXR10mkII's compact, functional design makes it ideal for a wide range of applications. Whether providing simple vocal/instrument amplification, very powerful floor monitoring or comprising a compact SR system - the DXR10mkII delivers without compromising sound quality and power.
DXR8mkII
8" 2-way Powered Loudspeaker
The most compact of the DXR mkII Series speakers, the DXR8mkII makes the most of its 1100W of power, delivering extremely high output while maintaining outstanding resolution. Adding a DXS12mkII subwoofer gives you an ultra-compact high-power SR system.
DXR15
15" 2-way Active Loudspeaker
DXR15 oppnår klasseledende lydtrykknivå og full båndbreddeytelse ved å kombinere en kraftig klasse-D-forsterker med en høyeffekts basshøyttaler og Yamahas nyskapende teknologier. Legg deretter til D-CONTOUR-funksjonen, og det føles som om du bruker en subwoofer
DXR12
12" 2-way Active Loudspeaker
DXR12 er en høyttaler med ekstrem høy effekt som kan spille med et maksimalt lydtrykknivå på 132 dB med sin imponerende 1100 W effekt. Den er den perfekte løsningen for konsertlyd som krever bred båndbredde og lyd i ekstrem høy oppløsning.
DXR10
10" 2-way Active Loudspeaker
DXR10 er bærbar, men likevel i stand til å levere et forbløffende lydtrykknivå på 131 dB. Men sin kompakte, funksjonelle design har den en rekke anvendelsesmuligheter. Enten for å gi enkel vokal- eller instrumentforsterking, som veldig kraftig gulvmonitor eller som toppkasser i et kompakt SR-system – leverer DXR10 uten å inngå kompromisser for lydkvalitet og effekt. Som den mest kompakte av høyttalere i DXR-serien, får DXR8 mest mulig ut av dets 1100 W med effekt, og leverer ekstrem høy lyd samtidig som den opprettholder enestående oppløsning. Ved å legge til en DXS12 subwoofer får du et ultrakompakt SR-system med høy effekt.
DXR8
8" 2-way Active Loudspeaker
DXR-8 er den mest kompakte av høyttalerne i DXR-serien, og får mye ut av dets 1100 W med effekt. Den leverer ekstremt høy effekt samtidig som den har enestående oppløsning. Ved å legge til en DXS12 subwoofer får du et ultrakompakt SR-system med høy effekt.
Farger og finish som vist kan variere fra de aktuelle produktene.