STAGEPAS 1K mkII
Portable PA System
The STAGEPAS 1K mkII is ideal for duos or small music groups. Featuring an array speaker with 10 small-diameter units, its impressive coverage area offers superior performance over long distances, delivering clear, consistent audio from the front to the back of the audience. The Hi-Z inputs allows guitarists and bassists to plug directly into the mixer without a DI box, so you don't have to carry as much equipment. Once your equipment is plugged in, you can use STAGEPAS Controller to call up previously saved settings, which reduces mixing time and gives you more time to rehearse. STAGEPAS Controller also allows you to adjust mixer levels while you play, allowing you to fine-tune as you listen to the sound. After rehearsal, you can even play background music until you hit the stage as Bluetooth connectivity lets you play back your favorite songs wirelessly from your iOS device.
If you need powerful bass to round out your sound but don't have extra personnel or the surplus of time and energy it takes to lug large speakers and heavy gear around, the STAGEPAS 1K mkII is for you. The largest-in-class 12" subwoofer and 1100W amplifier guarantee rich and tight low-end performance while Link mode allows you to play in stereo playback, and scale up for larger events/ environments requiring higher SPL and wider coverage. Sound quality can be enhanced effortlessly with 1-Knob EQ and the MODE control, while simply turning the knob to the Club setting adds more punch and power to your bottom end. Each of these single knob functions controls multiple parameters at the same time, making it easier than ever to achieve a professional sound.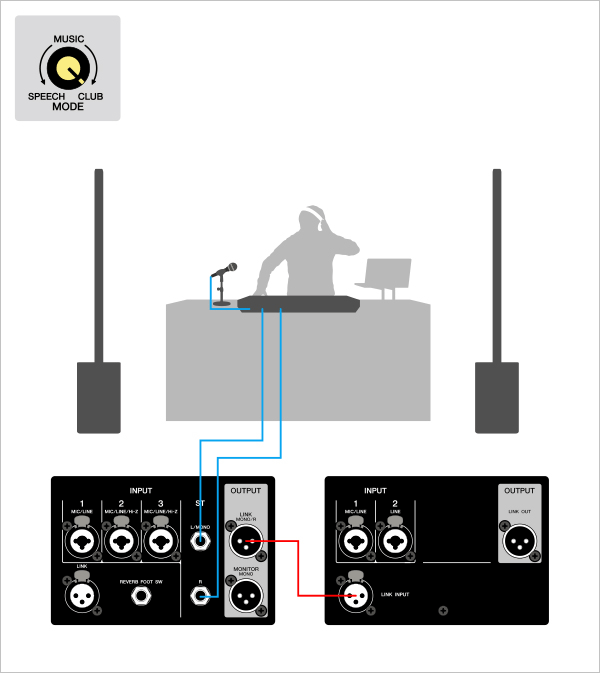 Have you ever felt totally lost after being asked to set up a sound system for your meeting? Without any audio training, fundamental tasks like connecting speakers and adding EQ to a mic can be quite nerve-wracking, but with the STAGEPAS 1K mkII, your troubles are over. Literally no PA expertise is required for first time users who can merely stick the spacer and array speaker into the subwoofer for a complete setup even without knowing the proper terminology or procedures. To adjust the microphone and get rid of feedback, simply turn the 1-Knob EQ for that channel to the left which will suppress feedback by cutting out unnecessary low-end. What's more, the entire system is very lightweight and extremely portable so you can finish setting up and getting your mix quickly even in the presence of other people at work. The slim and stylish cabinet does not take up much space or stick out visually, giving you a lot of flexibility in choosing your set up location. The slim cabinet is also great for a range of acoustic environments, featuring small-diameter speakers in an array that broadens the directivity and delivers a uniform sound to an impressively wide coverage area.