If you need powerful bass to round out your sound but don't have extra personnel or the surplus of time and energy it takes to lug large speakers and heavy gear around, the STAGEPAS 1K is for you. The largest-in-class 12" subwoofer and 1000W amplifier guarantee rich and tight low-end performance while Link mode allows you to play in stereo playback, and scale up for larger events/ environments requiring higher SPL and wider coverage. Sound quality can be enhanced effortlessly with 1-Knob EQ and the MODE control, while simply turning the knob to the Club setting adds more punch and power to your bottom end. Each of these single knob functions controls multiple parameters at the same time, making it easier than ever to achieve a professional sound.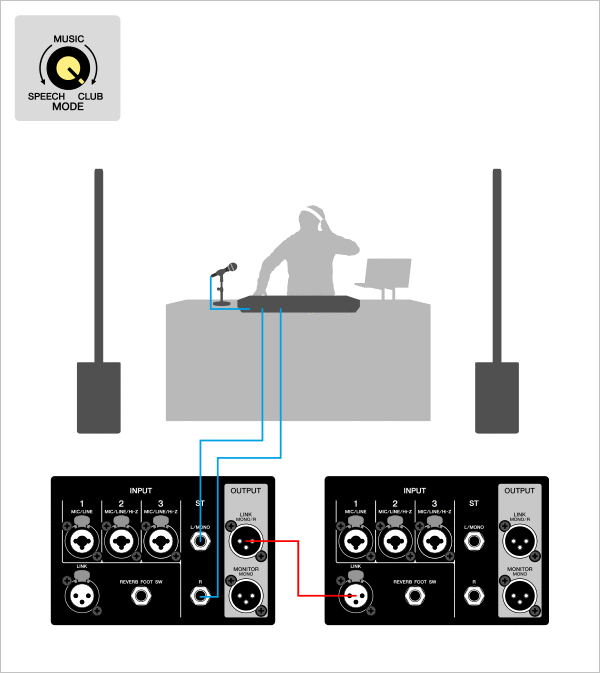 Digital mixer with versatile input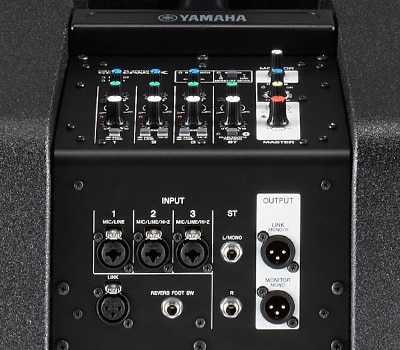 Digital mixer with versatile input
With outstanding flexibility for a PA system of this size, the 5-channel digital mixer features three channels of mono microphone/line inputs and stereo inputs, with two of the mono input channels equipped with Hi-Z connectivity for direct input of acoustic-electric guitars and other instruments. In addition to Phone and 1/8"mini jacks, the stereo connections support playback with Bluetooth devices as well as a wide range of input sources from instruments to CDs, PCs and smartphones.
Professional control with a single knob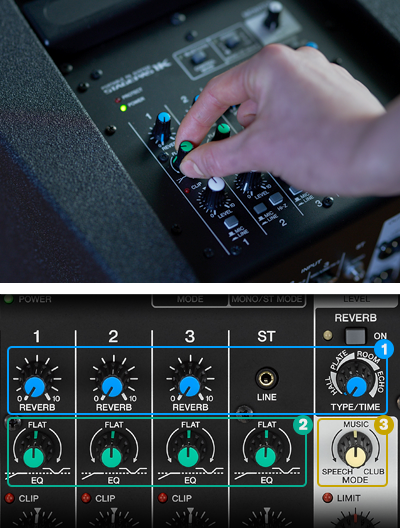 Professional control with a single knob
STAGEPAS 1K comes equipped with a wealth of sound shaping functions, including 1-knob EQ for optimized multi band EQ setting, industry standard SPX reverb, and the "Mode" control for master output compression settings that match various applications such as "Speech" or "Music." Each of these functions can be set via a single knob, and have simplified many of the tough tasks like EQ and compression to get you great sound fast.
1. SPX the standard digital reverb
One knob gives you access to four different high-quality reverb settings—perfect for vocals and acoustic instruments. Simply turn the knob to change the reverb type and time, and then you're ready to apply just the right amount of high-resolution effect to each channel.
2. 1-knob EQ
Whether turning to the left to cut unnecessary low-end frequencies for speeches, or turning to the right to emphasize the bottom and high end for band performances, this innovative equalizer can dial in the perfect sound adjustment with a simple turn of the knob.
3. "MODE" for master output
The multiband compressor adjusts optimized compression settings to suit various applications. By selecting the setting closest to your application, you can add a more professional edge to your sound without having to learn difficult compression/audio engineering principles.