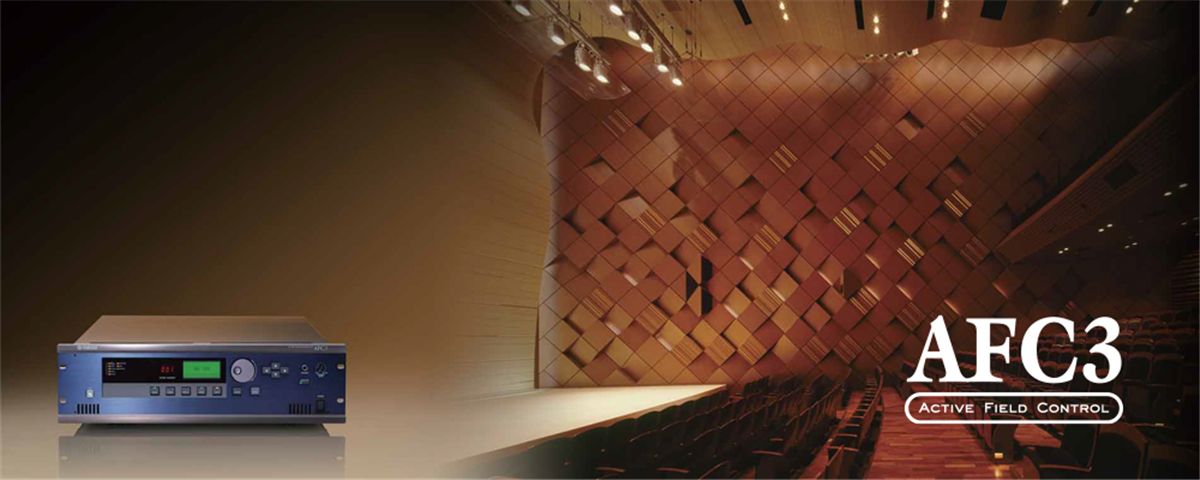 AFC Concept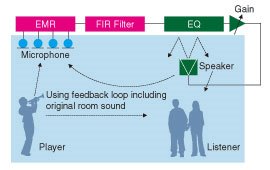 Increasing the sound energy density can extend the reverberation time in a room.AFC utilizes the acoustical feedback of a system to increase the energy density of diffused sound. Reverberation time and sound energy density can be controlled with transparency while preserving the original acoustical characteristics of a room.This technique distinguishes AFC from other enhancement systems.
EMR (Electronic Microphone Rotator)

Since AFC utilizes acoustical feedback, it is essential to prevent coloration problems caused by a closed loop condition and maintain a stable system. In order to ensure controlled loop gain and a sufficient margin against instability, AFC implements a special patented technique called Electronic Microphone Rotator (EMR).
Wide Range Controllability using FIR Filters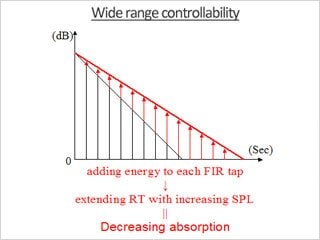 AFC uses an FIR filter in the feedback loop which provides one of the controls of the AFC enhancement process. For example, by adjusting the gain of the FIR taps, the system will adjust the energy added back to the room in the feedback loop, changing the effective absorption of the room / system and resulting RT.
Effectiveness Independent of Source and Receiver Position in the Room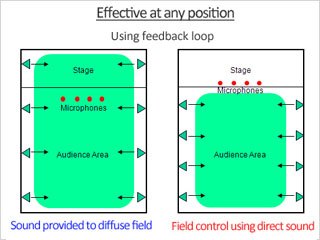 AFC brings effective results to the entire targeted room by using a feedback loop-based control.
System Configuration

Block Diagram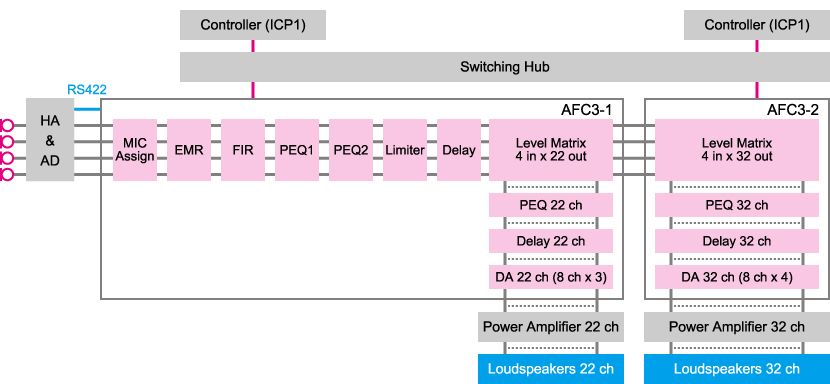 Speaker and Microphone Arrangement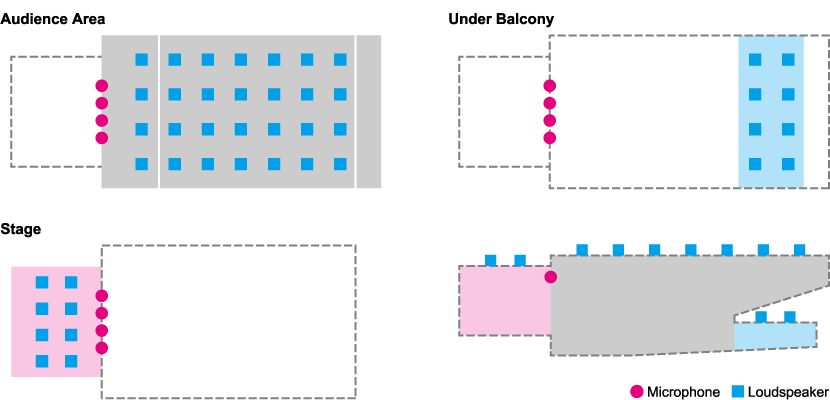 Microphone
In order to realize appropriate system, Yamaha recommends to use the microphone below.
System
Model
Reverberation
Schoeps: BLM03C+CMC6
Schoeps: MK2S+CMC6
Audix: SCX1-o, M1280-o
Audio-technica: ES945
3-Zigma: SD-Omni-D
DPA: 4060, 4007
Earthworks: M30
Early Reflection
Schoeps: MK4+CMC6
Audix: SCX1-c
Audio-technical: 4051b
3-Zigma: SD-C
DPA: 2011C
Earthworks: SR30
AFC Patent List
| Pat.No. | Title | Date of Pat. | Contents |
| --- | --- | --- | --- |
| 5,025,472 | Reverberation imparting device | 1991 | Basic idea Feedback/FIR |
| 5,131,051 | Method and apparatus for controlling the sound field in auditoriums | 1992 | Energy exchange |
| 5,642,425 | Sound field control device | 1997 | EMR |
| 6,072,879 | Sound field control unit and sound field controll device | 2000 | YUME-HIBIKI including EMR & Fluc-FIR |
| 6,157,724 | Apparatus having loudspeakers concurrently producing music sound and ref | 2000 | Music instrument including EMR & Fluc-FIR |
| 7,474,753 | Sound field control apparatus, signal processing apparatus, sound field control program, and signal processing program | 2009 | Hardware Configuration |