Cables
The network cables listed below have been tested and confirmed to be suitable for use in Dante networks. However, the maximum cable length over which reliable data transmission can be achieved will depend on cable characteristics, termination quality, and the operating environment.
- CAT5e or higher cable.
- Check maker specifications for maximum cable length.
- Use STP (Shielded Twisted Pair) cable for maximum resistance to electromagnetic interference.
If cable characteristics are unknown, use a cable checker to ensure that the cable meets TIA/EIA-568-B requirements.
STP and UTP Cables
Yamaha recommends the use of STP cable to minimize spurious radiation (high frequency noise emitted by the cable).
STP cable does have one disadvantage: only certain STP cables in a gigabit system can achieve the maximum transmission distance (cable length) of 100 meters.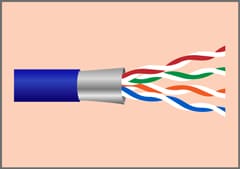 Shielded twisted pair (STP)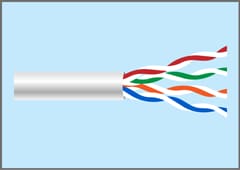 Unshielded twisted pair (UTP)
[ Common Features ]
Terminals, number of cores (RJ-45/8 cores)
Supports 1000base-T
[ Differences ]
Guaranteed transmission bandwidth (frequency) upper limit.
‑ CAT5e: 100 MHz < CAT6: 250 MHz
‑ Dante (1000base-T) bandwidth is 100 MHz so CAT5e or better cable is required.
Cable construction is slightly different. Cable diameter (thickness) is different so it is important to use connectors that will match.
Solid and Multi-strand Core
Solid core
Cable cross-section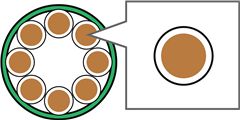 [ Characteristics ] Excellent for long distance transmission
[ Suited for ] Installations
Stranded Cable
Cable cross-section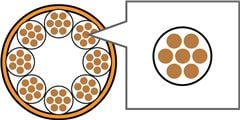 [ Characteristics ] Flexible and eaxy to handle
[ Suited for ] Touring and short patch links
Checking Cable Transmission Performance
Actual transmission performance will vary according to cable performance, termination quality, operating environment, and other conditions.
When cable performance is unknown, a cable checker can be used to ensure that the cable meets or exceeds CAT5e (TIA/EIA-568-B) specifications.
Some network switches have simple cable check functions built in.
Tested and confirmed cables
Link / CUS LK CAT6 STP
[ Length ] 100m
[ Diameter ] 8.5mm
[ Note ] Flexible for touring
CAE-Groupe / Giga-Audio
[ Length ] 100m
[ Diameter ] 6.7mm
[ Note ] Flexible for touring, Resistance to rain and UV
Klotz / RC5SB
[sLengths] 100m
[ Diameter ] 6.6mm
[ Note ] Flexible for touring
TACHII / T-SB5E202W-4P
[ Length ] 100m
[ Diameter ] 8.0mm
[ Note ] Sold only in Japan
TACHII / YMH-18C-1 (multi-core)
[ Length ] 85m
[ Diameter ] 19.5mm
[ Note ] Sold only in Japan
Belden / 74003PU
[ Length ] 80m
[ Diameter ] 6.65mm
[ Note ] Flexible for touring Resistance to rain, UV, temperature, abrasion, oil
TMB / ProPlex PCCAT5EP
[ Length ] 75m
[ Diameter ] 7.1mm
[ Note ] Flexible for touring
*Disclaimer
The maximum cable length for Dante is tested and suggested by Yamaha. We use a Fluke DTX-1800 cable analyzer to check if it conforms to TIA/EIA-568-B (CAT5e) with the length, and then checked that the Dante system with CL5 and Rio3224-D works perfectly without audio dropouts for over 12 hours. However, this list does not guarantee 100% safe operation due to the individual variability, termination quality, and other environmental conditions of and around the cable. If you are unsure, we recommend that you check your cables with a cable analyzer. Please note that the suggested Max. length is appropriate for Dante devices using 1Gbps data transmission, and may be shorter than the length suitable for 100Mbps transmission.
Network Switches
With the exception of basic daisy-chained setups, Dante networks will require one or more network switches that meet the conditions described below.
- Non-blocking gigabit switch.
- Energy efficiency functions such as EEE must be defeatable.
- Intelligent switches that allow management (setup and monitoring) are recommended.
- Strict priority queuing with 4-queue Diffserv (DSCP) QoS recommended.
Depending on system requirements it may be necessary to consider maximum cable lengths between switches, bandwidth optimization, and other parameters in large networks. Information is available here.
Deactivate EEE (Energy Efficient Ethernet)

EEE (Energy Efficient Ethernet) must be turned OFF.
This function is also known as "Green Ethernet" or "IEEE802.3az."
EEE automatically reduces power consumption when network traffic volume is low.
Energy efficiency control does not always work properly, even between EEE capable switches.
EEE issues can interfere with proper clock synchronization and cause signal dropouts.
QoS (Quality of Service)
This function prioritizes data being received or transmitted according to type.
In the Dante protocol, synchronization, audio, and control/monitoring data are transmitted as individual packets.
Synchronization (time stamp information) should be given highest priority, audio data be second priority, and all other data be handled with the lowest priority in Dante network.
One physical switch can function as multiple virtual switches.
One trunk line (cable) can be used to connect multiple VLANs between switches.
Helps to create more stable networks by preventing unnecessary packet transfer between different VLANs.

IGMP Snooping
This function is necessary for efficient audio transmission in multicast (one to many) situations.
Not normally needed for unicast (one to one) transmission.
To use multicasting effectively it is important to understand how network bandwidth and switch load will affect performance.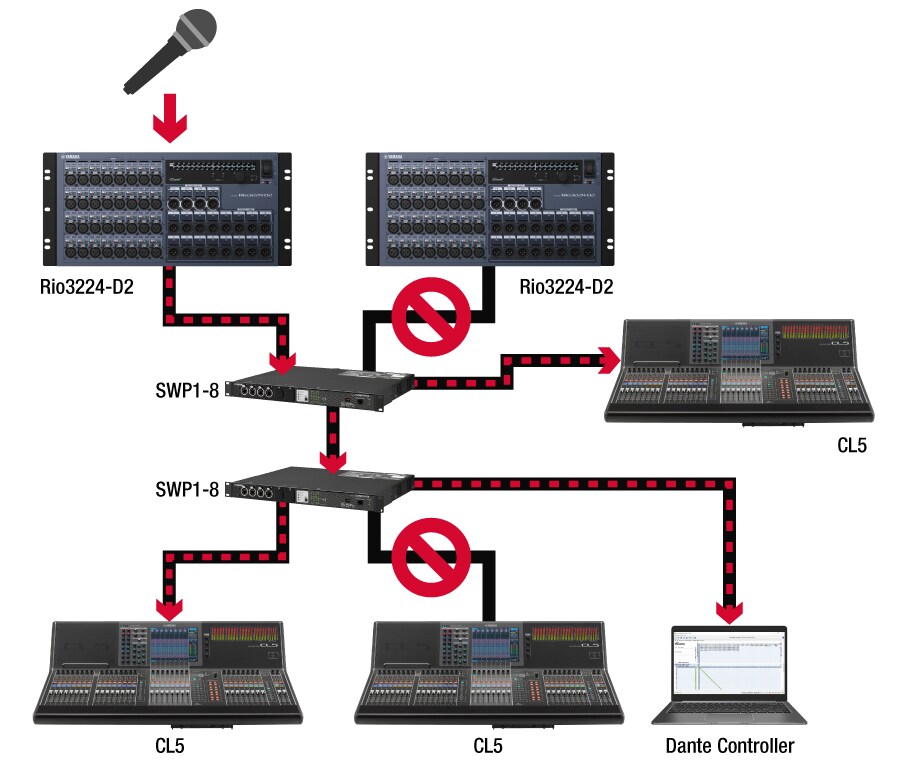 Media Converters
When long-distance transmission between network devices (switches) is required, fiber optic cable can be used. Rather than using independent media converters when switches are used, it is preferable to add GBIC or SFP modules to the switches when such capability is provided. Cut-through mode is preferred over store-and-forward mode.
Huge number of available channels
Dante allows up to 1024 audio channels to be sent and received bi‑directionally (512 channels for each direction) at 48 kHz/24 bit on a one‑gigabit link via CAT5e or CAT6 cables.
Variety of supported devices
More than 200 number of audio device manufacturers are currently licensed to implement Dante in their products. The number and variety of Dante-capable products on the market are expected to increase in the future.