HI-HAT STANDS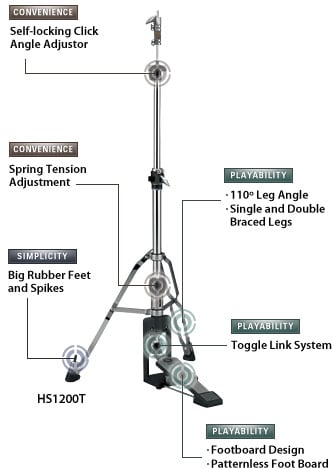 Antonio Sanchez

"Playing at a high energy level night after night can make drum hardware become glitchy and unpredictable. Yamaha produces the best hardware there is so that you can just concentrate on making music. Their gear is incredibly user friendly, reliable, beautiful and it just makes sense. Once you use Yamaha hardware you just can't go back."

Matt Cameron

Pearl Jam, Soundgarden

"I need my drum hardware to withstand the studio, the show and the tour. Yamaha makes the most adaptable and strongest hardware available. I depend on it to do my job in every situation."

Sonny Emory

"Yamaha Hardware is the most durable and user friendly hardware on the market, I am particularly fond of the HS1200T and HS1200D SERIES HI-HAT STANDS"

110º Leg Angle

Legs are designed to open at 110º. By incorporating a double leg design on both sides, the stand offers greater resistance to front and back movement letting you focus more on drumming. (HS1200T, HS1200D)

Single and Double Braced Legs

Mixing leg types, a double leg at center with single legs on the sides, provides greater stability while offering more space for your foot and multiple pedals. (HS1200)

Toggle Link System

Yamaha's original Toggle Link System delivers a stroke that feels light for the first part but gets increasingly heavier and closer to normal as the stroke continues, making light and nimble footwork possible. (HS1200T only)

Footboard Design

New foot pedals are designed with a wider toe section (a) that offers subtler foot control compared to previous designs. The heel section (b) has been narrowed to maintain the perfect weight balance of prior models and improved performance.

Patternless Foot Board

A low resistance, snag-free surface allows finer foot positioning for more delicate footwork.

Self-locking Click Angle Adjustor

The hi-hat stand incorporates a self-locking click angle adjustor that makes adjustments quick and easy. The lock engages automatically when the adjuster is released to prevent loosening and eliminate worries.

Spring Tension Adjustment

Adjust spring tension from the comfort of your drum throne. The large dial is conveniently located, easy to rotate, and includes a lock mechanism to prevent loosening.

Big Rubber Feet and Spikes

Knock-type spikes that extend with a single touch, combined with large rubber feet keep the stand stable and secure.
More Details
Long and Regular Rods

Hi-hat cymbal height
With long rod: 739.5mm-1052mm
With Regular rod: 739.5mm-902mm
Two rods, one long one supplied to accommodate lower plating positions.
(HS1200T, HS1200D, HS1200)