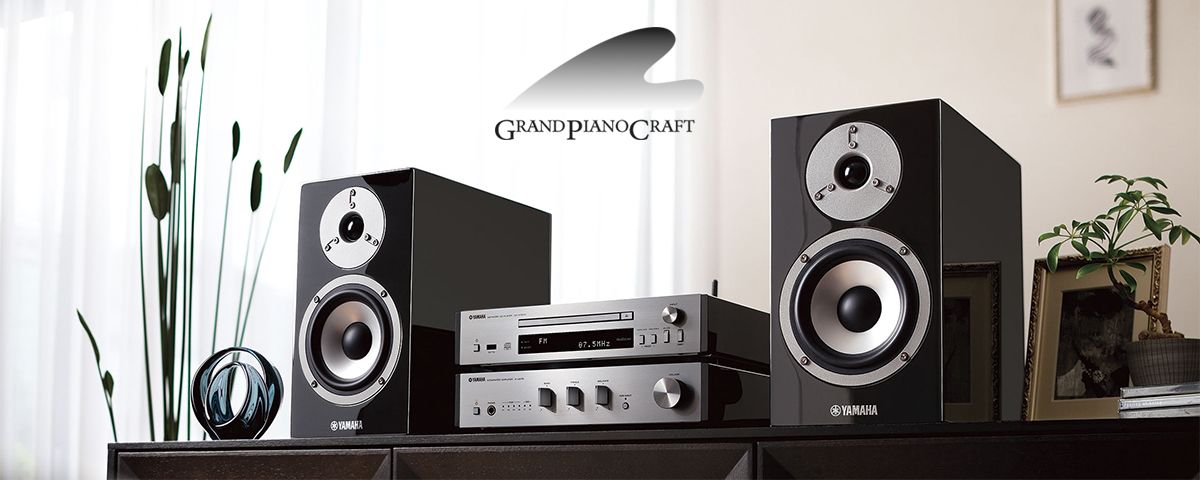 Suverent kvalitet HiFi system, som skaper en rik og luksuriøst musikalsk plass.
Early Sunday afternoon. A quiet time at home.
The dynamic, free-flowing energy of jazz piano resounds
through the room from my favourite piano-finished speakers.
HiFi sound, and the texture of a piano—what a luxurious moment.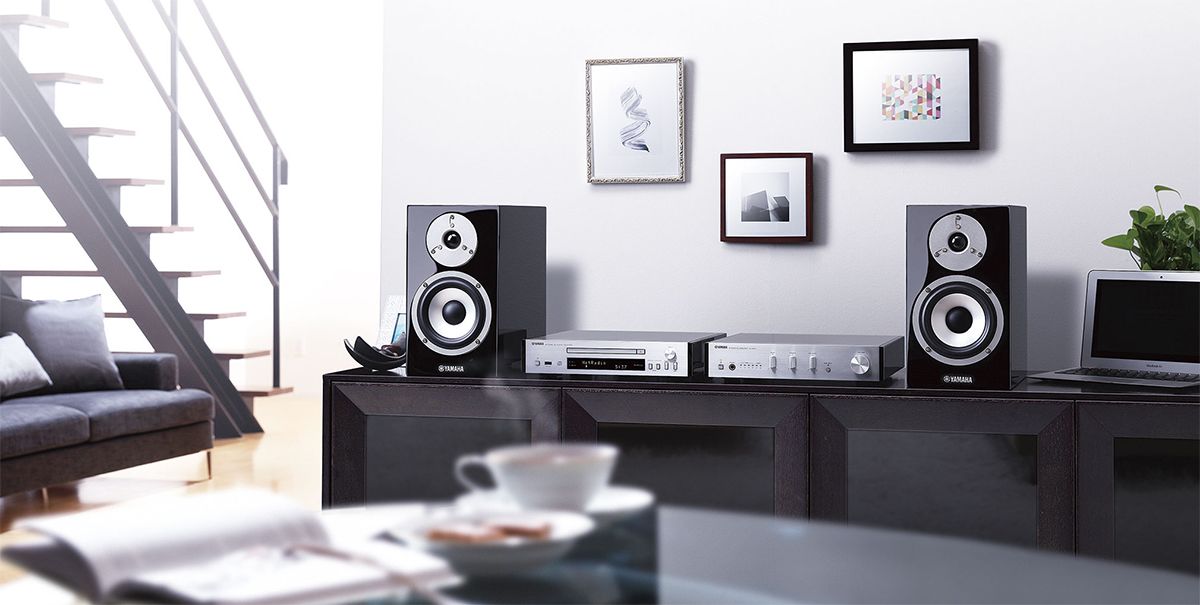 Suverent kvalitet HiFi system, som skaper en rik og luksuriøst musikalsk plass.
MusicCast
MusicCast er en revolusjon innen musikk streaming. Du kan anvende alle dine MusicCast produkter sammen – eller separat, du bestemmer. Du kontrollerer alt fra en og samme app, designet for å være innovativ, rask og enkel i bruk. Om du velger en soundbar, en trådløs høyttaler, en AV Receiver eller HiFi komponenter spiller ingen rolle, du velger og setter sammen det som passer ditt hjem best. Du kan senere bygge ut ditt system. MusicCast gir alle, alt, overalt. For mer informasjon, besøk vår MusicCast spesielle side.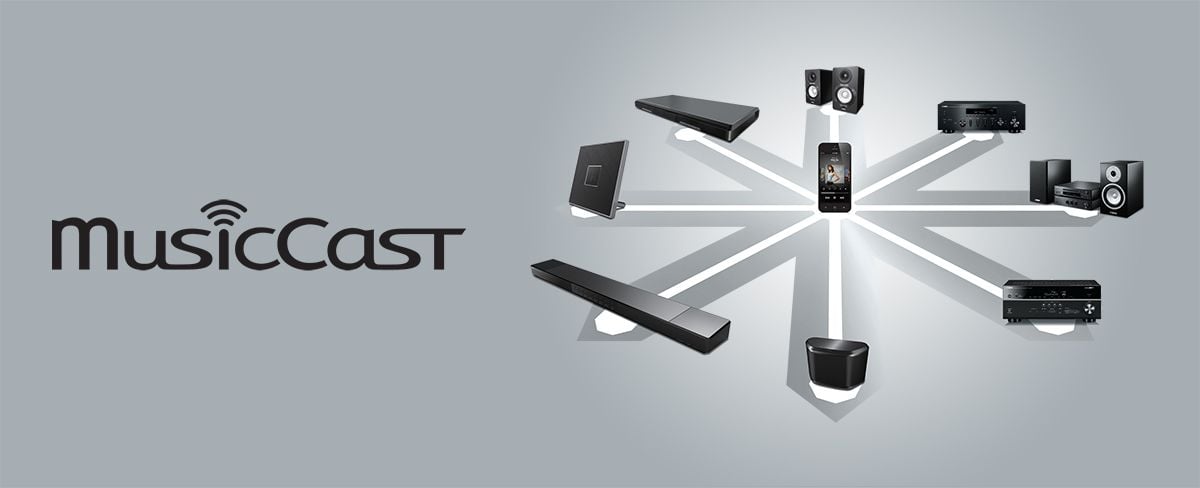 MusicCast utvider mulighetene for underholdning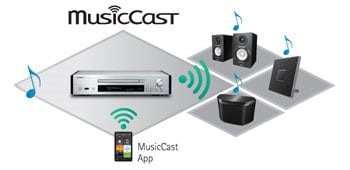 MusicCast gir ditt hjem med høykvalitativ lyd som du trådløst kan sende mellom dine rom. Du kan streame digitale lydfiler fra din Smartphone, PC eller NAS til et MusicCast produkt og deretter dele den videre til andre MusicCast produkter i ditt hjem. Med Bluetooth® kan sendes videre til flere rom. Spill av samme låt i flere rom, eller spill av forskjellige låter i hvert rom. Med MusicCast kan du velge og nyte av musikk overalt i ditt hjem. Uansett om du lytter fra din Smartphone, musikktjeneste på internett eller fra din PC/NAS koblet til nettverket.
Med nettverksfunksjonen får du enkelt tilgang til all din musikk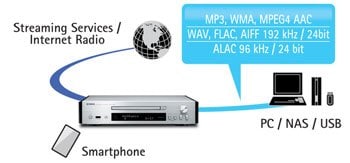 Dette produkt er utstyrt med nettverk, en funksjon for at du enklere skal få tilgang til din favorittmusikk. Uansett om du velger å lytte på streamingtjenester eller NAS (Nettverk harddisk) eller ditt personlige pc-baserte musikkbibliotek. Du får tilgang til internett radiosendinger og velg dine favoritt radiostasjoner på vTuner-som gir enkel tilgang til radiostasjoner rundt om i verden, akkurat som om du lytter på DAB og FM-sending. Den spiller av høyoppløste WAV / FLAC / AIFF 192kHz / 24-bit musikkfiler. Den har dessuten en USB-port på frontpanelet og kan kobles til AirPlay for ubegrenset å utøke din verden av musikk. Du får alt i en og samme enhet.
* Musiktjenestens tilgjengelighet varierer fra region til side og kan endres eller avvikles uten varsel.
Favorittknappene gjør at du når din musikk med ett knappetrykk
Når du står opp på morgenen eller når du har kommet hjem, og kjenner at du umiddelbart vil fylle din stue med musikk, trykker du bare på favoritknappen på fjernkontrollen. Din favoritt internettradiostasjon, DAB eller FM kanal eller noen annen musikkilde du har registrert på forhånd, starter avspillingen umiddelbart.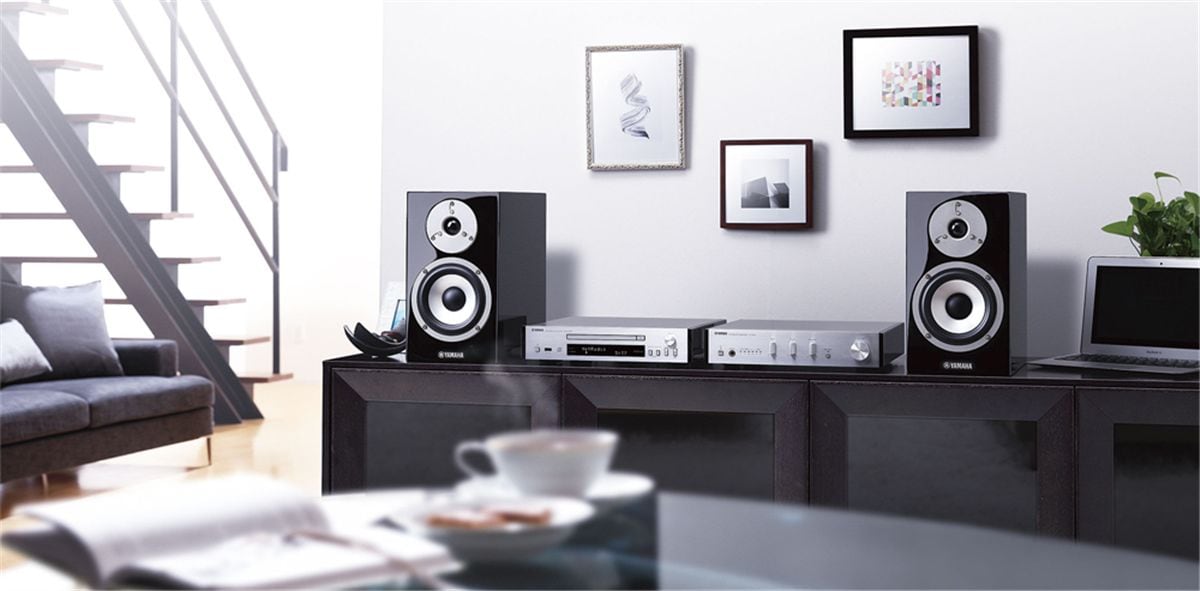 Avansert, men også enkel teknisk design og eksteriør design med arv fra Yamahas HiFi tradisjon
Teknikk for å sikre høy lydkvalitet ved avspilling av CD-plater, som variabel buffringshastighet som stabiliserer rotasjonshastigheten på platen. Dette reduserer både vibrasjoner og mekanisk lyd under avspilling. Utseende har en enkel men samtidig elegant design som er et signum for Yamaha HiFi komponenter.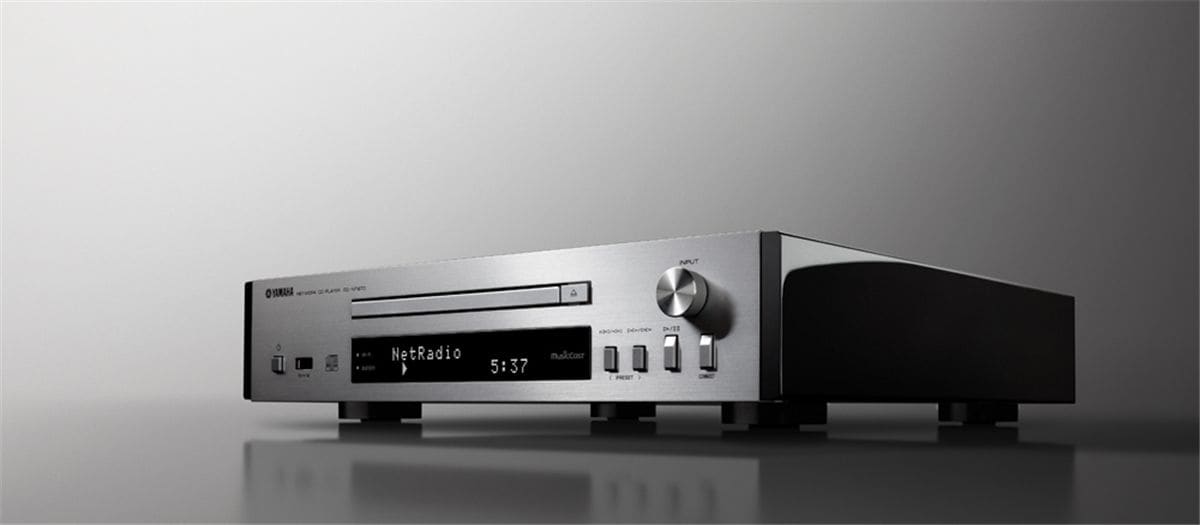 Skicka ut ljud via Bluetooth
YSP-1600 er utrustet med den seneste Bluetooth teknologien, som gjør det enklere enn tidligere å nyte trådløs musikk. YSP-1600 kan både ta imot Bluetooth og sende ut Bluetooth. Smidig om du vil streame musikk fra YSP-1600 til et par Bluetooth hodetelefoner eller til en Bluetooth-høyttaler.
Natural PWM-type digital power amp that reproduces high-resolution sound sources with remarkable purity

In order to vividly portray absolutely everything in various high-resolution sources—from the most delicate performance nuances to the highest energy-filled dynamic musical passages—Yamaha has built into this amplifier a digital power amp that outputs a maximum 70 watts/channel and features powerful drivability. Natural PWM type digital modulation with an extremely simple circuit configuration provides both natural, uncoloured sound quality as well as high efficiency. And the low-pass filter of the latter part of the power amp, which significantly influences the sound quality, is a large coil made of low-loss, low-distortion OFC (oxygen-free copper) wire material. This simultaneously maintains the purity of high-resolution sound sources, while enhancing the power of the bass and ensuring warmth in the mid- and high-frequency sounds—all to deliver the best quality sound reproduction, rich in musicality. The component also features a Pure Direct Switch, which bypasses the tone/balance controls and back buffer amp to improve the purity of sound.
DSD 5.6MHz native and PCM 384kHz compatible high grade USB DAC function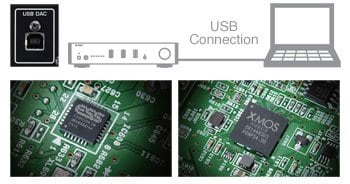 Built into the unit is an exceptionally high-grade USB DAC which can reproduce high-resolution sound sources with all their original quality. It is compatible with native playback of the DSD 5.6MHz (DSD128) format or 384kHz/32-bit playback which records music information with extraordinary detail by sampling up to a massive 5,644,800 times per second. The D/A converter is the 32-bit/2-channel specification, high-performance SABRE 32 (ES9010K2M) from the U.S. company, ESS Technology, and its USB device controller IC is the latest product from XMOS, the semiconductor firm. By restricting shutter noise through asynchronous transference, this delivers pure reproduction and optimum sonic quality.
Fully enjoy the quality of high-resolution sound sources with your favourite head phones
Another major benefit of the USB DAC function allows it to also be used as a high quality head phone amp for computer audio. Its internal high performance D/A converter draws out all of the quality of high-resolution sound sources to give you the purest, most intimate enjoyment of high-quality sound.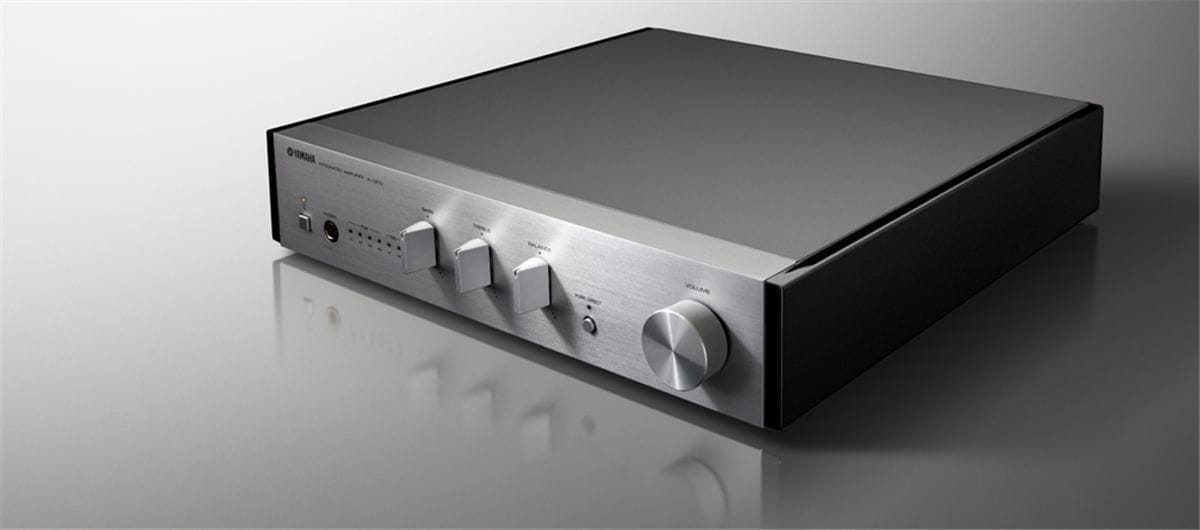 Lyden og atmosfære - begge briljant fascinerende.
Kabinettet er preget med en svart speilblank piano finish som utstråler et vakkert dyp med skinnende glans. Denne produksjonsmetoden benyttes for musikkinstrumenter og vi bruker lyden av den opprinnelige akustiske resonans av materialet samt skaper en overflate ved å bruke en coating prosess identisk med den som brukes på en Yamaha flygel. Resultatet blir naturlig lyd du faktisk kan føle og fargetone av hvert musikkinstrument. Det er der en overdådig elegant musikalsk tid begynner.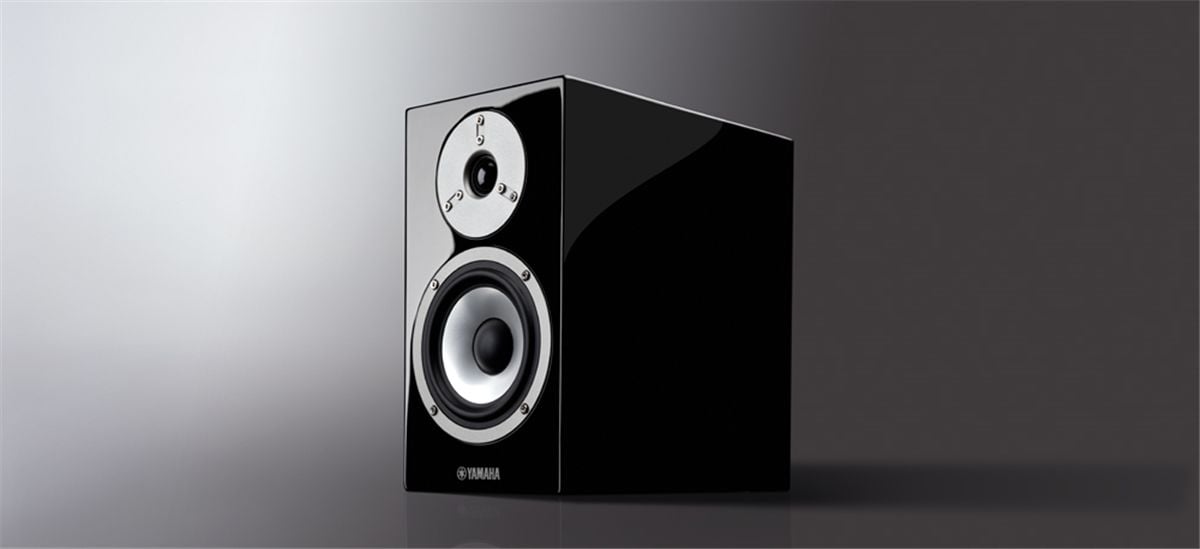 Crystallization of craftsmanship, black mirror plane piano finish

The uncompromising work done in producing a Yamaha piano finish spares no effort or time. For example, each process in the overall coating procedure, the under-coating and top-coating, is further divided into three or four repeated coatings, while controlling the membrane thickness at the micro-order—with the total process actually having fourteen coatings. Naturally, the drying periods between coatings are also strictly controlled, and grinding and polishing are repeatedly done with care before and after each coating step. And more than half of the process is completed by hand, using the skills of experienced workers. The rich, lustrous appearance with such profound depth is the crystallisation of craftsmanship nurtured by the art of piano-making.
Equipped with a pure aluminium diaphragm woofer that minutely delineates texture and ambience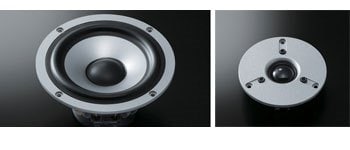 The diaphragm of the 13cm (5-1/4") woofer is made of quality aluminium that is over 99% pure. Its light weight and high rigidity obtain a superior response for rich and high-density delineation of the texture, atmosphere and tone colour of each musical instrument. Another major feature is the capacity for delineating details in the natural sound image, even including depth—such as the positional relationship of each musical instrument in a jazz piano trio. The 3cm (1-1/4") soft dome tweeter, made by coating the diaphragm and applying unique molding technology, delivers both exceptionally high-range reproduction capability and a rich breadth of sound from high-resolution sound sources.
High rigidity cabinet that revives know-how in the creation of musical instruments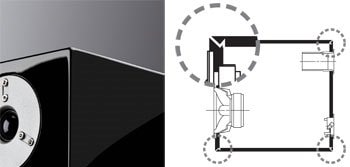 It features a highly rigid cabinet with full three-way mitered-joint construction that connects all angled parts that are crucial to cabinet strength based on the wedge principal. Yamaha's traditional know-how nurtured by its long history in musical instrument manufacturing skillfully controls reverberations of the sound indispensable for music, while achieving high rigidity that prevents unwanted resonances. And following the meticulous polishing carried out to make invisible the joints between surfaces, the unit is given a beautiful piano finish.
Meticulous use of only the highest quality parts, including gold-plated speaker terminals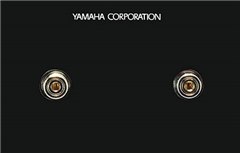 Sections of the network circuit and the internal wiring are composed only of the highest quality parts and materials, carefully selected by meticulous listening tests. Moreover, large speaker terminals compatible with banana plugs have been gold plated to suppress transmission loss and change over time.
Farger og finish som vist kan variere fra de aktuelle produktene.