Bare koble WXAD-10 til dit nåværende lydsystem, og gjør hele systemet smart! Trådløs musikkavspilling med Bluetooth® og Airplay®, musikk streaming-tjenester, og mer kan nå nytes - som aldri før. Den er også kompatibel med Yamahas trådløse musikksystem MusicCast, slik at du kan legge til dine audiokomponenter til en verden av MusicCast og utvide dine musikklyttemuligheter. WXAD-10 bringer intelligente nye funksjoner i ditt nåværende systemet og virkelig gjør det 'smart' med alle de nyeste, praktiske funksjoner.
Opening up a new world of music
MusicCast for audio enjoyment in every room
Easy control via a free MusicCast CONTROLLER app and 3rd-party control systems.
Connectable to any audio device
High-quality sound, compatibility with high-resolution sources
High-quality sound in-house-design network module
Clavinova, welcome to MusicCast world!
Simple and refined design
Opening up a New World of Music
The WXAD-10 has high-performance wireless network capabilities that let you stream digital music content from your smartphone or tablet, as well as music libraries from your computer or network storage, plus a variety of online streaming services and Internet radio — for accessing any music you want. Plus, with the MusicCast features, you can share music with MusicCast-enabled devices in other rooms of your home.

MusicCast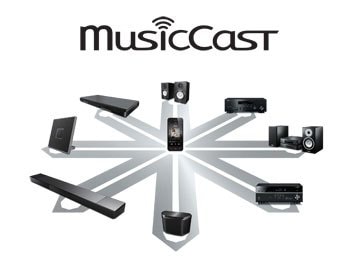 MusicCast
MusicCast er en revolusjon innen musikk streaming. Du kan anvende alle dine MusicCast produkter sammen – eller separat, du bestemmer. Du kontrollerer alt fra en og samme app, designet for å være innovativ, rask og enkel i bruk. Om du velger en soundbar, en trådløs høyttaler, en AV Receiver eller HiFi komponenter spiller ingen rolle, du velger og setter sammen det som passer ditt hjem best. Du kan senere bygge ut ditt system. MusicCast gir alle, alt, overalt. For mer informasjon, besøk vår MusicCast spesielle side.
3rd-Party Control

3rd-Party Control
The WXAD-10 supports IP control by 3rd-party control systems used in many of today's most advanced smart homes.
Control App for Easy Operations
The dedicated MusicCast CONTROLLER app lets you use your smartphone or tablet to easily and conveniently select desired songs and streaming music services, control the volume*, and more. You can also use the app on your smartphone to remotely control all your MusicCast-compatible devices in other rooms.
* Available only for stereo mini-plug connection

Connectable to Any Audio Device
Equipped with RCA and stereo mini output terminals, the WXAD-10 can be connected to a wide range of audio products — whatever components you currently have. Use it with a shelf stereo system, Hi-Fi component, home theatre system, or even a soundbar. The possibilities are endless.

High-quality Sound, Compatibility with High-resolution Sources
The WXAD-10 supports a wide range of high resolution formats, including WAV, FLAC and AIFF in 192 kHz / 24-bit resolution, as well as ALAC in 96 kHz / 24-bit resolution. Moreover, the unit employs a special circuitry design that minimises and optimises the signal path, and utilises high-quality parts and technologies — including the renowned Burr-Brown DAC, original PML condensers used in Yamaha's AV receivers, and Yamaha's own original technology which combines network modules to achieve jitter reduction. As a result, the unit thoroughly draws out all the sonic merits of high-resolution sound sources, effectively reproducing even the subtle ambience of concert halls and delicate expressive nuances in the sound.

High-quality Sound In-house-design Network Module
The key device that determines the sound quality of network audio is the Yamaha Original Network Module, which contains a high precision low-jitter clock that improves the reproduction of high resolution sound sources. Pure audio clock generation without an added jitter constituent caused by the clock generator sharply lowers the creation of jitter noise in playing network and Bluetooth® sources, and achieves further S/N improvement. It faithfully distinguishes delicate differences in the sonic characteristics of high resolution sound.

Simple and Refined Design
Featuring a matte finish, like that of fine ceramics, with gentle indentations in the top surface, the WXAD-10 was designed to match any décor and radiate a quiet presence. The simple, unassuming appearance fits nicely and naturally alongside virtually any audio component.

Clavinova, Welcome to MusicCast World!
By connecting the WXAD-10, Yamaha's famed Clavinova digital piano will be reborn as a network streaming speaker. You can play smartphone sound sources wirelessly and listen to various streaming services easily from your Clavinova. Moreover, it supports Yamaha's unique wireless music system MusicCast, allowing you to enjoy background music freely throughout your house, in any room. Easily play streaming services using the convenient smartphone App, and play along on the piano with your favourite songs — and enjoy even more fun and expanded possibilities with the Clavinova.
* Only Clavinova models having external inputs can be connected.
* For the connectors on the WXAD-10, make sure to use the Stereo Mini output, which allows volume control.
* To provide power for the WXAD-10, use the included USB adaptor.
* Music service availability varies by region and may change or be discontinued without notice.

Farger og finish som vist kan variere fra de aktuelle produktene.