Yamaha RIVAGE PM7 System Impresses At Unique Vietnam Trade Event
Yamaha RIVAGE PM7 System Impresses At Unique Vietnam Trade Event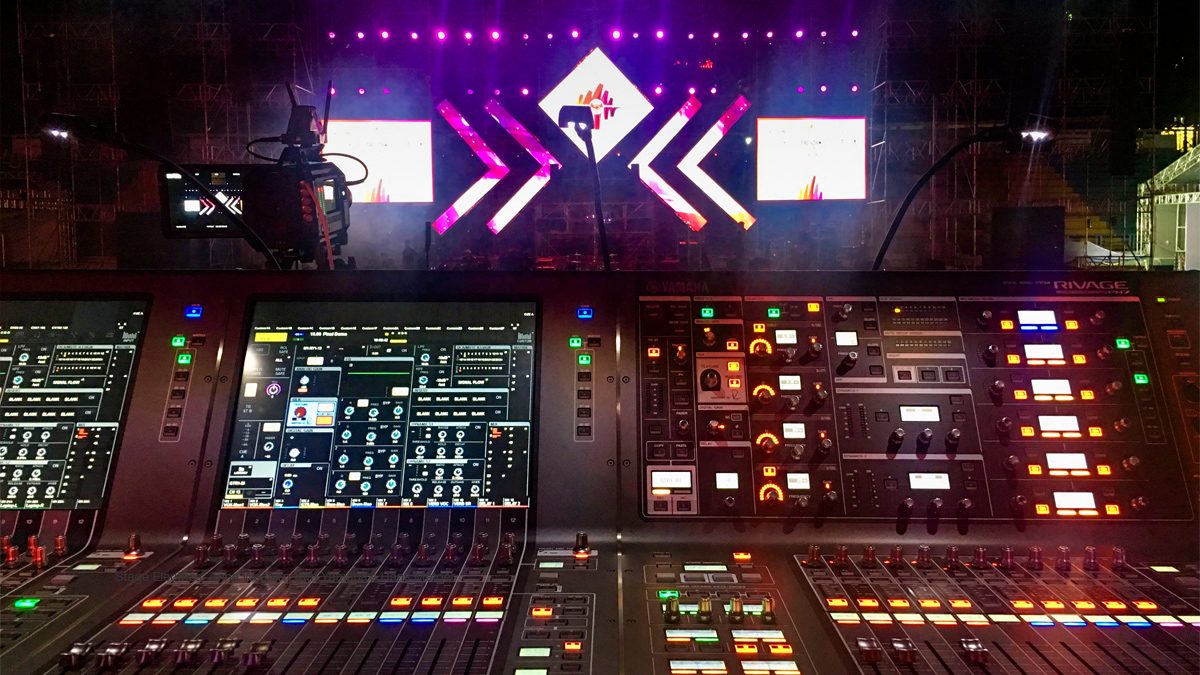 On 22-23 March, a Yamaha RIVAGE PM7 digital mixing system was a highlight of a unique, two-day open-air trade show in Vietnam, which attracted over 15,000 visitors.
Held at the Seventh Division of the Vietnamese military's sports field in Ho Chi Minh City, the third annual Demo ProSound trade show featured exhibitor booths, seminars and demonstrations of line array loudspeaker systems with live bands, karaoke singers and DJs.
Yamaha Music Vietnam had a strong presence at the event, exhibiting a range of digital mixing systems including the CL, QL and TF series; DSR, DZR, DXR and DBR series loudspeakers, CIS series amplifiers and more. Hands-on Dante demonstrations were provided and Yamaha also hosted a 90 minute seminar on digital mixing.
The highlight of Yamaha's presence was the RIVAGE PM7 digital mixing system used on the line array demonstrations, which took place during the evening of the first day with a live band and a DJ. Mr. Dzu Ninh (Technical Director at Vietnamese audio solutions company Truong Thinh) and Mr. Bùi Lê Hoàng Tần Huy - currently one of the most high profile mixing engineers in Vietnam - mixed several demos on the RIVAGE PM7 system, demonstrating the many advantages of the system to rental companies and engineers from throughout Vietnam.
"We really liked RIVAGE PM7 when we first saw it at the Vietnam launch event in October 2018, so we requested a system from Yamaha Music Vietnam to test during the line array demonstrations," says Mr. Ninh.
"The power of the TWINLANe and Dante HY144-D networking provided the most flexible system expansion, allowing me to use Dante to patch to devices from other manufacturers with a Dante connection. We were also very impressed with the RND SILK technology, which makes a huge difference to enhancing the sound of a live drum kit."
The SILK processing was extensively used on the demos, as well as the RIVAGE PM7's other processing and plug-ins, which really impressed Mr. Huy. As well as attending the demos, he collaborated with Mr Ninh on setting up the microphones on the drum kits. He found the RIVAGE PM7's dynamics processing very effective and was very impressed with the Comp260 compressor in the channel strips.
"The precise dynamics and EQ of the RIVAGE PM7 system make the sound so perfect that it is easy to recognize even the smallest changes on any input, for example like slight adjustments to attack and release times on the Comp260," he says. "The system has amazingly detailed sound and functionality. I wish there had been more time to work with its many great features, including the large library of plug-ins, such as the RND Portico EQ, compressor and Primary Source Enhancer."
Ho Chi Minh City, Vietnam
Yamaha RIVAGE PM7 System Impresses At Unique Vietnam Trade Event