Let's start your musical journey. Just by watching the lesson videos and practicing along the way, and even if you're new to the keyboard, you can easily learn to play popular songs from the free downloadable Song Book using built-in features such as Smart Chord. Once you finish the lesson videos, you can practice other songs from the Song Book and start your journey into the wider world of music.
Here you can try lessons 1 and 2. We will e-mail lessons 3 onwards to customers who have registered their products using the method described at the bottom of this page.
You can download life-size data here, print it out, and then "play" the printout while watching lesson videos 1 and 2 to enjoy a little of the fun of the PSR-I300 before buying it.
Lesson 1: How to Read a Score
Lesson 2: Practice a Raga Scale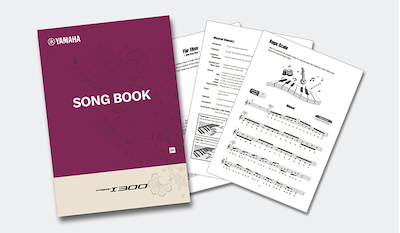 The Song Book allows you to play along with the built-in music scores featured in the PSR-I300. In addition to sheet music, the Song Book contains a glossary of terms and useful information on how to read music, which can be used when practicing with lesson videos or playing with the Smart Chord function.
The PSR-I300 Song Book also includes songs for learning the Raga scale, which is essential for playing traditional Indian music.
Expansion Pack: PSR-I Series Indian Festival Pack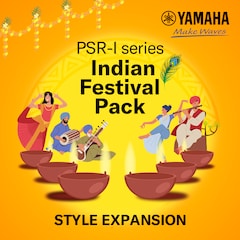 India has a diverse culture and heritage, and the PSR-I300 lets you make the most of this by adding the I Series Festival Pack of 16 new Styles focusing on Indian festival music. With the PSR-I300 and the I Series Festival Pack, you'll never miss a moment to celebrate!
flowkey Premium Coupon
flowkey is a lesson app that allows anyone to learn to play the keyboard with ease.
You'll be amazed at how quickly flowkey will let you learn to play your favorite music on your PSR-I300.

Click here for more information about flowkey.
Where can I get this content?
Lesson videos, Song Book & Expansion Pack
The lesson videos, Song Book, and Expansion Pack will be distributed via email to those who have registered their products on Yamaha's My Page. Please follow the instructions below to receive these items, and upon completion of step 2, a URL will be sent to your registered email address that will allow you to obtain the above mentioned bonus content.
Step 1. Mail Receiving Settings
If you have not registered on My Page yet, please click New User or log in using social media, and then place a check in all the required fields.
Next, place a check in "Email newsletters about regional events and campaigns."
If you have already registered on My Page, please check that "Email newsletters about regional events and campaigns" is checked in the Email News and Other Services section of My Page (Refer to the image at right).

Step 2. Product Registration of your PSR-I300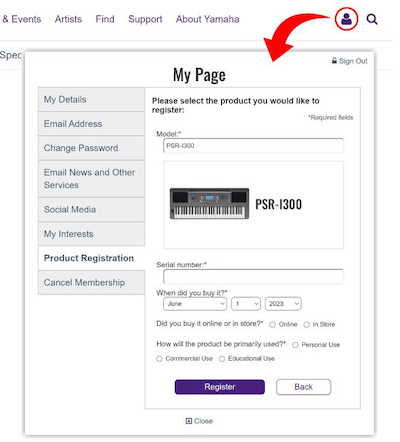 Click the human-shaped icon at the top right corner of the page.
Click "Register New Product" in the Product Registration tab on My Page.
Next, select "PSR-I300" from the Model pull-down list.
Finally, enter your serial number and other required items, then click the Register button.
Please note that you will not be able to receive the newsletter if there are any errors in the information you have entered.
Before issuing the coupon code as described below, you must register your product as described in the "Lesson Videos, Song Book & Expansion Pack" section - Step 2.
1. Select the "Product Registration" tab on My Page.
2. Click on "Redeem flowkey Code xxxxxxxx (unique code)."
3. You will be redirected to flowkey's website and can use the coupon after logging in.