CYMBAL STANDS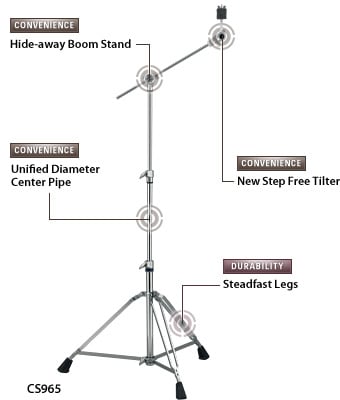 Roy Haynes

"I love the cymbal stands. All the hardware is so easy to adjust. I am always comfortable playing on Yamaha hardware."

Dave Weckl

"When playing the gig, the last thing I need is hardware that fights my every move... Yamaha's hardware, from the comfortable, solid seat I sit on to the snare and cymbal stands that go and stay where I put them, with pedals that don't 'play me', allow me to perform on the instrument without distraction."

Hide-away Boom Stand

This Yamaha original design features a hide-away boom arm that stores inside the main pipe. This lets you use the stand as either a boom stand or a straight stand, and takes up less space when storing as well.

New Step Free Tilter

The new step tilter lets you set cymbals at any angle. The tilter features a mechanism similar to one found on the foot pedal shaft holder to deliver greater holding power.
*The holder incorporates two types of metal, hard steel and soft zinc, for superior holding power.

Unified Diameter Center Pipe

Standardized 22.2mm pipe design lets you mix and match cymbal holders and mounting accessories for greater setup flexibility. (Excluding the 600 series)

Steadfast Legs

Legs on Yamaha's double brace leg design are fixed to the upper portion of the stand to provide superior support, and stability. (900 Series)

Center Tilter

The Center Tilter, long popular among knowledgeable players, has been revived in the CS700/CH700 Series, CSAT942/940 and CWH940 series. By supporting the weight of the cymbal at the center, greater stability is achieved
Placing Type BoomTilter Mechanism

Retaining YAMAHA's traditional gear mechanism, we now introduce the "clipping" method for securing the boom arm. Through this specification, the main unit of the boom arm becomes more resistant to scratches. It ensures extra peace of mind, even during complex setup adjustments. It begins with the CS965, 865, 755, CH755, 750.