Better sound quality and Smoother voice communication at meetings.
Better sound quality and Smoother voice communication at meetings.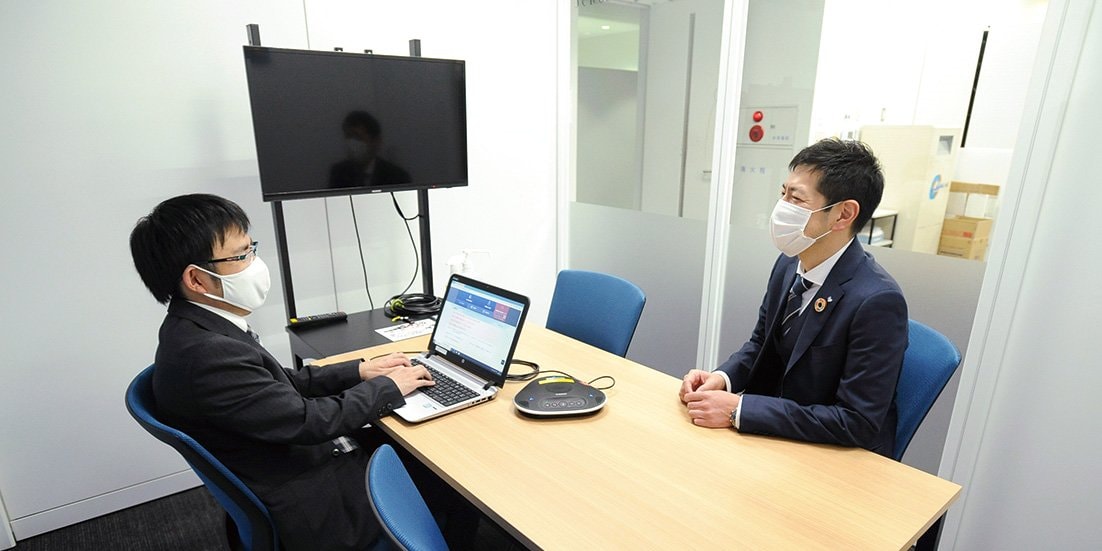 Using large-scale introduction of Yamaha products to solve problems of regular company-wide meetings and small-scale online conferencing, which have skyrocketed due to the COVID-19 pandemic
Key points of utilizing YVC-1000MS, CS-700, YVC-330
- The company introduced Yamaha products, which were highly evaluated in demonstrations, and solved problems with voice quality
- Three types of speakerphones have been installed in meeting rooms, tailored to their sizes, to meet the growing need for online conferencing
- In open-style meeting spaces, stress-free voice communication has been achieved by introducing the YVC-330.
As online conferencing increases, improving voice quality and enhancing audio equipment becomes more necessary
- Voice quality issues became apparent at company-wide meetings
- More frequent use of online conference led to a shortage of conference rooms and equipment.
With head offices in Tokyo and Kyoto and 18 branches across Japan's major cities, the need for Sagawa Express employees to travel for meetings was a pressing issue. Since around 2012, the company has been introducing online conferencing, which enables employees to take part remotely while cutting down excessive business trip expenses, travel time, etc. A regular company-wide meeting is held every Monday morning with the participation of head office executives and branch managers, including division managers. When online conferencing was first introduced, it was mainly used for one-way transmission of information such as reports and instructions from head office executives—however, as employees grew more familiar with online conferencing, two-way communication increased, while criticisms such as "it's hard to hear" and "the audio is crackling" were still received. At company-wide meetings, managers from 428 sales office across the nation viewed the exchanges between head office executives and branch managers (50 or so people) on tablets, and it was clearly necessary to improve the audio quality of online conferencing in order to properly convey information across workplaces. Furthermore, as the use of online conferencing expanded beyond company-wide meetings, there was a chronic shortage of compatible meeting rooms, and the company urgently needed to expand these.
Large conference room where company-wide meetings are held
Responding to increasing online conferencing needs by introducing 16 units of Yamaha products at one time
- YVC-1000MS introduced in large meeting rooms due to strong positive evaluation in the demonstration
- CS-700 introduced in mid-size meeting rooms to expand the environment supporting online conferencing
The IT Planning Division, which is responsible for the ICT of the entire Sagawa Express company, decided to replace the existing microphone speakers with a product with better microphone performance in order to improve voice quality during online conferencing. As a result of conducting comparisons, including demonstrations using actual devices from multiple manufacturers, Yamaha's YVC-1000MS speakerphone received the highest evaluation. When a test was conducted with the participation of board executives, Yamaha products proved the easiest to hear, and the executives' evaluation that "the sound quality was completely different" was also a decisive factor. In January 2019, the decision was made to install a total of 10 units of YVC-1000MS—five in large meeting rooms at the Tokyo head office accommodating 20 to 30 people, and five in large meeting rooms at the Kyoto head office and Kansai branches. CS-700 speakerphones with HD camera were also introduced in six mid-size meeting rooms at the Tokyo head office, which were praised not only for their voice quality but also for simple operation and integration of high-performance cameras. Now the company was ready to hold online conferences simultaneously in variously sized meeting rooms. At time of introduction, operational aspects were also considered—keeping a self-made manual containing a brief summary of operating procedures near each device to ease the burden of answering queries, enabling employees to start online conferences without delay.
CS-700 with integrated camera installed under the monitor
A connection diagram with photos is prepared, in addition to the manual
Looking for an environment to meet the increased need for small-scale online conferencing caused by the COVID-19 pandemic
- Introduction of working from home, with target attendance rates no more than 50% due to the COVID-19 pandemic
- With more employees working from home and daily online meetings on the rise, finding a meeting room has become even tougher
In response to the COVID-19 pandemic that hit the world in 2020, the company set a goal of an office attendance rate of no more than 50% when Japan's state of emergency was declared and around 830 employees at the head office were advised to work from home. The company-wide introduction of Microsoft Teams, with the goal of diversifying and revitalizing communications, was completed by the end of March 2020, and the transition to remote working was achieved rapidly and smoothly. Up to that point, the need for online conferencing increased rapidly due to face-to-face communication in the office conducted over the network, but employees on the office side were not easily able to secure meeting rooms, and many took part in Teams meetings using their own PCs with earphones. As a result, there was frequent dissatisfaction with mutual voice quality, as well as concerns over bandwidth limitations caused by multiple people taking part in online conferences over Wi-Fi connections; accordingly, it became necessary to improve the environment for small-scale online conferencing.
Meeting booths are frequently used
YVC-330 introduced in meeting booths set up to reduce the number of free-address (non-allocated) seats
- Number of free-address (non-allocated) seats reduced and meeting booths added on the floor
- Extra YVC-330 introduced for online conferencing in open-style meeting booths
Thus, Sagawa Express decided to drastically reduce the number of free-address desks at its Tokyo head office, which were seeing less use as many employees were now working from home, and instead set up open-style meeting booths surrounded by partitions in the cleared space. In November 2020, by arranging custom-made booths with glass walls and sliding doors around the 3rd and 4th office floors, the company created an environment where employees could talk with peace of mind, while eliminating oppressive feelings as much as possible. At that time, YVC-330 speakerphones capable of handling online conferences of 4 to 6 people were installed in each meeting booth, along with a large monitor, camera, and dedicated laptop PC. While still considering the YVC-1000MS and CS-700—proven Yamaha products highly praised for their voice quality—YVC-330 SoundCap technology, which enables stress-free voice communication in noisy open spaces, was introduced in the expectation that this would be effective for meeting booths with open upper sections. In addition to the 22 meeting booths newly established at the Tokyo head office, a total of 40 units of YVC-330 were installed in meeting rooms at 18 branches with frequent communication needs.
YVC-330's SoundCap function makes conversation more comfortable
Contributing to better company-wide productivity by fixed installation of pre-set equipment
- Avoiding the cost of equipment borrowing and burden of installation/set-up work by installing equipment in each meeting room
There is a reason why we introduced a large number of YVC-330 at the same time we introduced YVC-1000MS/CS-700 in January 2019. Previously, the equipment needed for online conferencing, such as speakerphones, was brought to each meeting room to be installed and set up, but this involved a lot of hassle in troubleshooting and managing equipment borrowing, and as the frequency of online conferencing increased, the company faced problems such as shortages of equipment. By installing and connecting a large monitor, camera, dedicated laptop PC with online conferencing software, and speakerphones in each meeting room, users can start online conferencing immediately, just by turning on the power, and the IT Planning Division is freed from equipment borrowing management, installation, and set-up, which improves productivity for the entire company. We were now well-prepared for the ever-increasing needs of online conferencing.
YVC-1000MS and YVC-MIC1000EX Extension Microphones were installed in large meeting rooms
With the diversification of communication methods across email, chat, online conferencing, I think conversing to communicate has become ever more crucial.
As the need for online conferencing grows, we are recognizing once again the importance of voice in communication.
Regular company-wide meetings are also viewed on tablets at 428 branches nationwide, and since the introduction of Yamaha products, there have been almost no complaints about voice quality. In the future, through the various communication channels achieved by the introduction of Teams, we intend to actively listen to the workplace opinions that are closest to our customers and offer them as feedback to management, aiming to improve competitiveness by creating new services.
Sagawa Express Co., Ltd. / Head of IT Planning Division / Kazuki Nambu
The YVC-330, which suppresses unnecessary ambient noise during meetings, was the ideal product for the newly established meeting booths.
The newly constructed meeting booths on the office floor of the Tokyo head office were designed with an open upper section in consideration of the cost of complying with the Fire Service Act as well as avoiding any oppressive feeling. There were some concerns that noise on the floor would interfere, making it difficult to hear conversations during online conferences, but thanks to the YVC-330, which was designed for online conferences in open spaces such as huddle spaces, even if it's a little noisy outside the booth, mutually stress-free voice communication is achieved.
Sagawa Express Co., Ltd. / IT Planning Section Manager, IT Planning Division / Takanori Ota
How Sagawa Express uses the YVC-1000MS/CS-700/YVC-330
At the company-wide meeting held every Monday morning, head office executives take part from large meeting rooms where YVC-1000MS are installed, or from mid-size meeting rooms where CS-700 are installed, or from their own PCs. While ensuring social distance, we have achieved smooth communications with the managers of 18 branches, with 428 branches nationwide also joining on tablets (viewing/listening only). The newly constructed meeting booths at the Tokyo head office and the YVC-330 installed in the meeting rooms of 18 branches are used for daily communication across departments and group companies following the shift toward working from home.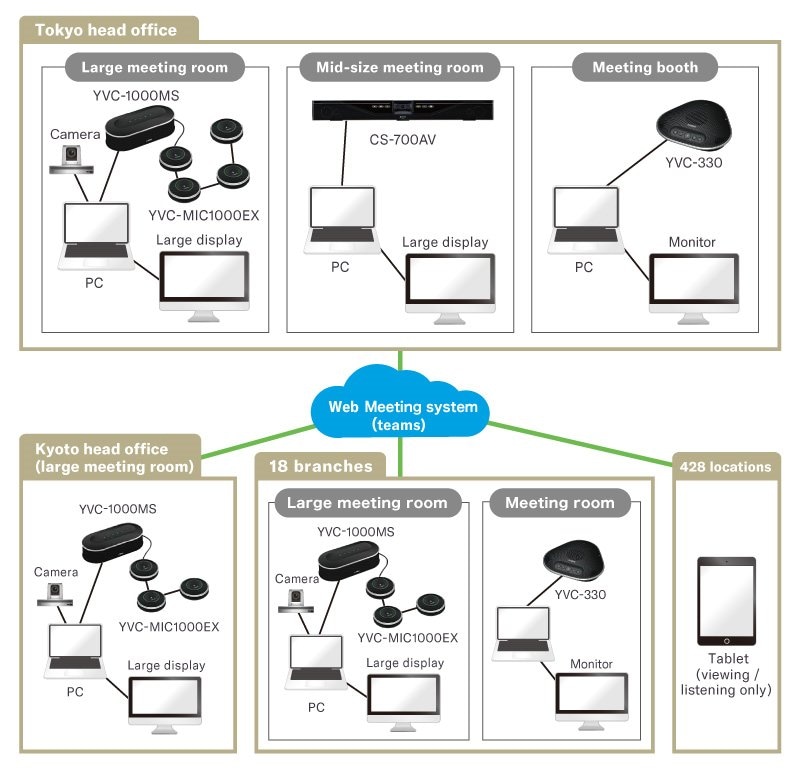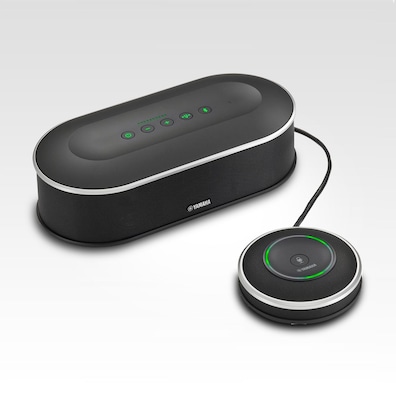 Separate microphone and speaker for an intimate audio/video experience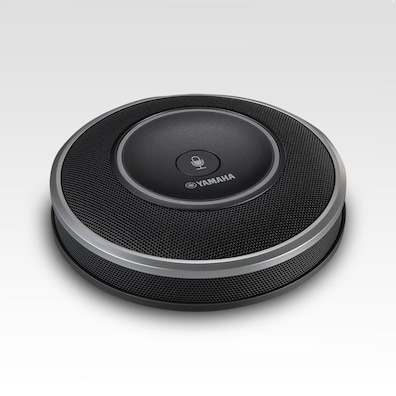 Up to four extension microphones can be added to cover a wider area and accommodate more conference participants.
Better sound quality and Smoother voice communication at meetings.