Arxiduc Audio Invests In Yamaha RIVAGE PM10
Arxiduc Audio Invests In Yamaha RIVAGE PM10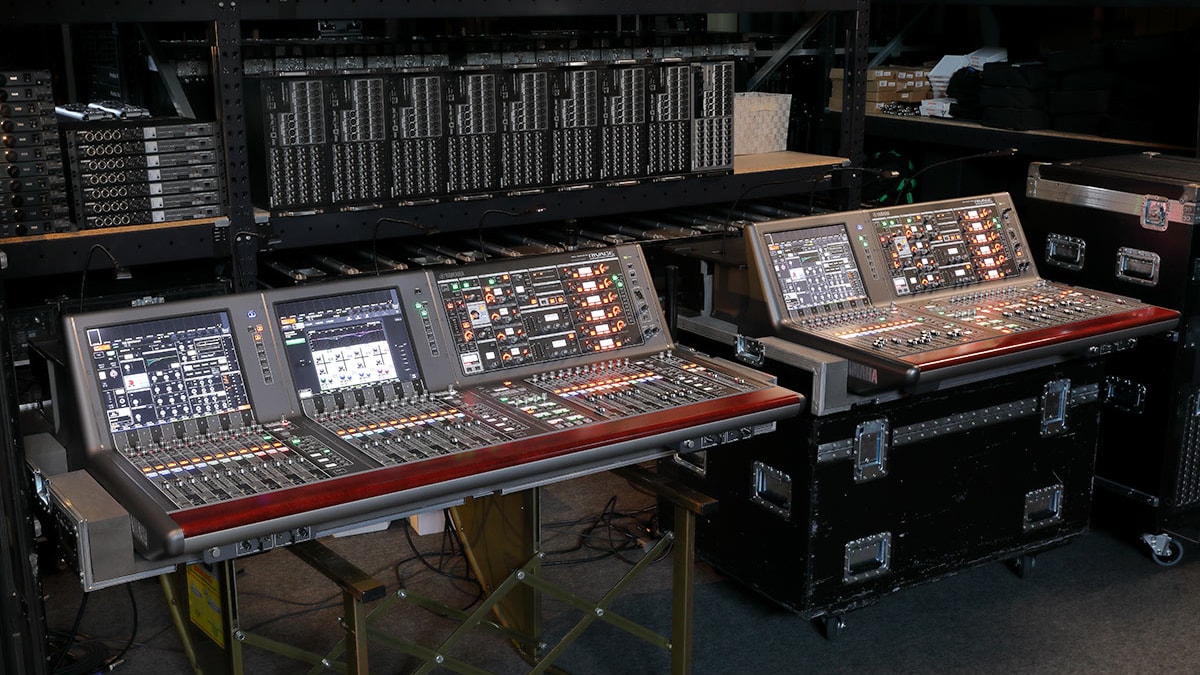 Arxiduc Audio Co,. Ltd was established in Yokohama, Japan, in 2013 to serve the PA and sound reinforcement market. The company maintains a fleet of Yamaha mixing consoles, including CL and QL series models, and in 2016 acquired Yamaha's flagship RIVAGE PM10 Digital Mixing System with a CS-R10-S control surface. A year later, a CS-R10 control surface was added to handle larger applications, giving Arxiduc Audio the flexibility of operating two RIVAGE PM10 configurations. We asked chief engineer Hiroaki Otsubo and technical support engineer Osamu Sato about their decision to adopt the RIVAGE PM10, and how they like it.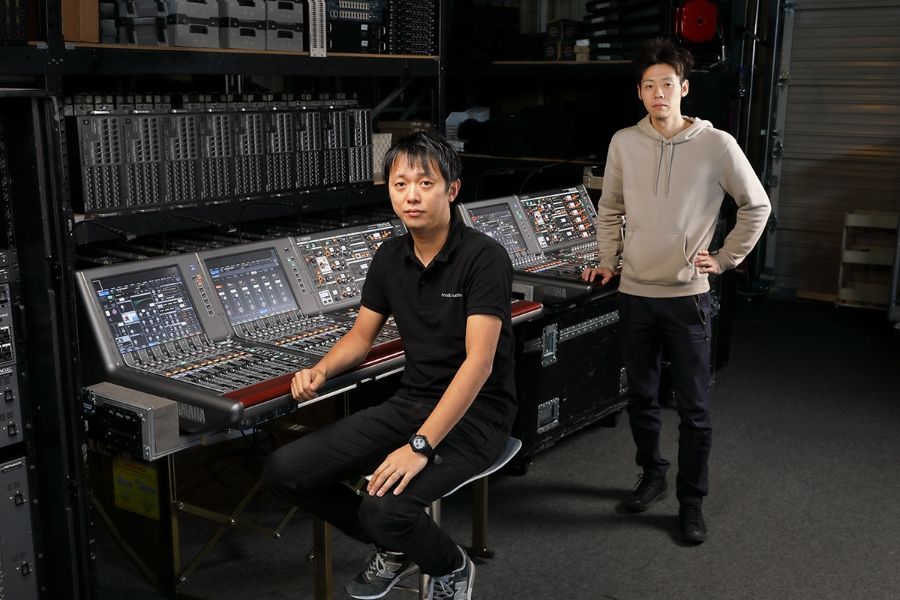 Arxiduc Audio Co. Ltd., Established 2013
Tell us the story behind Arxiduc Audio.
Mr. Otsubo
The company was established in May of 2013, so we have been in business for about six years. We started very small, working out of a container warehouse, and have grown to our current size of 22 staff members. We are basically a PA company, but we support a variety of needs ranging from concerts to corporate conferences, announcements, and all kinds of events.
We see that Arxiduc Audio uses a number of Yamaha mixing consoles.
Mr. Sato
We currently operate two flagship RIVAGE PM10 configurations, one with a CS-R10 control surface and one with a smaller CS-R10-S control surface. We also have three CL5 consoles, three QL5 consoles, and seven QL1 consoles. That is quite a lot of equipment compared to other PA companies. Our consoles are often used by outside engineers, and the fact that many engineers are familiar with Yamaha consoles is one of the reasons we chose them.
Has the arrival of Dante networking affected the PA business?
Mr. Otsubo
Dramatically! We began using Dante when we acquired our CL series consoles, and the switch from analog to digital has greatly reduced noise issues. Noise in high-priority microphone lines can be a real problem. Back when we were using analog multi-cables, a great deal of time and energy had to be spent on minimizing noise. Dante has made it possible to place I/O units wherever they are needed, and that significantly lowers the risk of picking up noise. We now use Dante as a matter of course, and even apply Dante conversion to outputs and amp inputs when using AVB compatible consoles.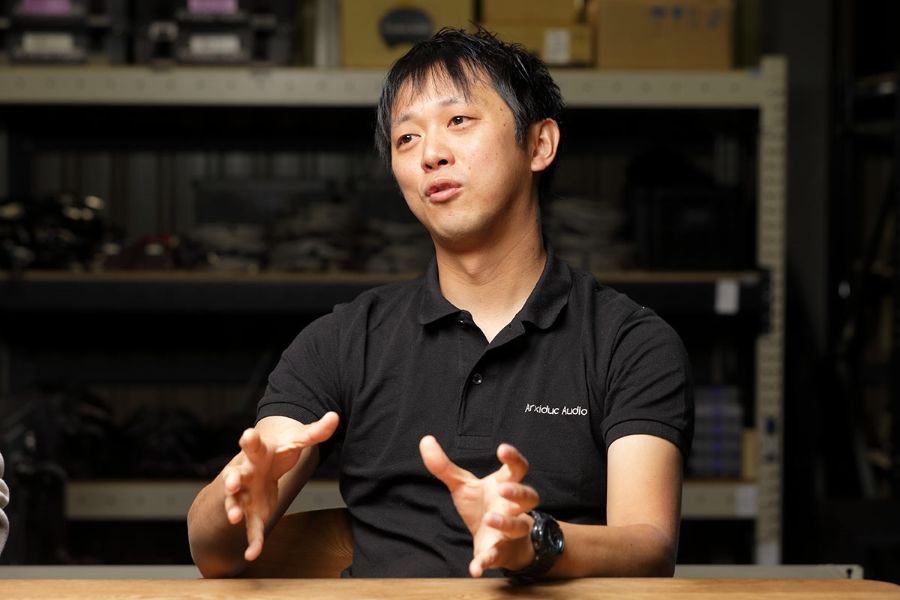 Have you had any trouble with Dante?
Mr. Otsubo
It is a simple and very stable technology, and most trouble we have had been a result of operator error or insufficient know-how. It is important to acquire the necessary skills by calmly approaching and solving problems before a system reset becomes necessary. This is something we carefully train all our engineers to do.
The 2016 Arrival of Yamaha's Flagship RIVAGE PM10
No doubt you had a number of console choices. What led to the decision to acquire a RIVAGE PM10 system?
Mr. Otsubo
Yamaha has a good understanding of actual-use needs, and includes important features that are not available from other manufacturers. Dan Dugan automatic mixer functionality has become indispensable, so the availability of that feature was a major deciding factor. We purchased the RIVAGE PM10 without hesitation and without even borrowing a demo unit to try out, based solely on our experience with the CL and QL consoles and the features I just mentioned. We knew it was Yamaha's flagship model, and had absolutely no doubts. A number of factors just fell into place too. We were already thinking about acquiring a flagship console when the RIVAGE PM10 was released, and were planning to buy a system with the CS-R10 control surface. Although the CS-R10 offers outstanding control and visual feedback, we were worried that it might only be suitable for large-scale jobs from a transportation and setup point of view. Then the smaller CS-R10-S was announced, which was just right for our needs at the time. Although it is physically smaller, it has the same channel capacity as the CS-R10 and can be used for medium as well as large-scale applications.
When did you start using the RIVAGE PM10 system?
Mr. Sato
We purchased the system with the CS-R10-S control surface at the end of June 2016. The CS-R10 was purchased almost exactly a year later. We bought the RIVAGE PM10 system because of a growing need for the high input and output capacity that a flagship console of its type offers. Situations that required more inputs and outputs for wireless microphones, multi-channel recording, and live distribution than the CL consoles could handle were becoming commonplace. That made the 144 inputs available on the RIVAGE PM10 very appealing. We believe that the need for flagship console class I/O capacity will continue to grow as time goes on.
What is the configuration of the Arxiduc Audio RIVAGE PM10 system?
Mr. Sato
We have one large CS-R10 control surface and one small CS-R10-S control surface, and multiple DSP-R10 DSP engines running Version 2 software that allows DSP mirroring. Our RPio622 I/O Rack provides 64 analog inputs and 32 outputs.
How are you using the RIVAGE PM10?
For live concerts, corporate events, and a variety of other applications. We also own a large console from another manufacturer, but usually choose the RIVAGE PM10 when we need the highest reliability and sonic quality. The compact size of the CS-R10-S is ideal when we want the smallest possible operation booth.
The Appeal of the RIVAGE PM10 is High Resolution and Outstanding Imaging
After using it for about two years, what do you think of the RIVAGE PM10?
Mr. Otsubo
The first thing that comes to mind is its excellent sound quality. That level of sonic resolution and soundstage definition is only available with the RIVAGE PM10. As one example, we had a situation in a spacious venue where it was necessary to place multiple speakers throughout the area. Normally this would result in reduced clarity and unclear imaging, but with the RIVAGE PM10 we were able to deliver very well-defined sound. It is like being able to deliver the full quality of a stereo mix heard through headphones via the system speakers, or like mixing on a recording studio's large speakers at a sound reinforcement venue.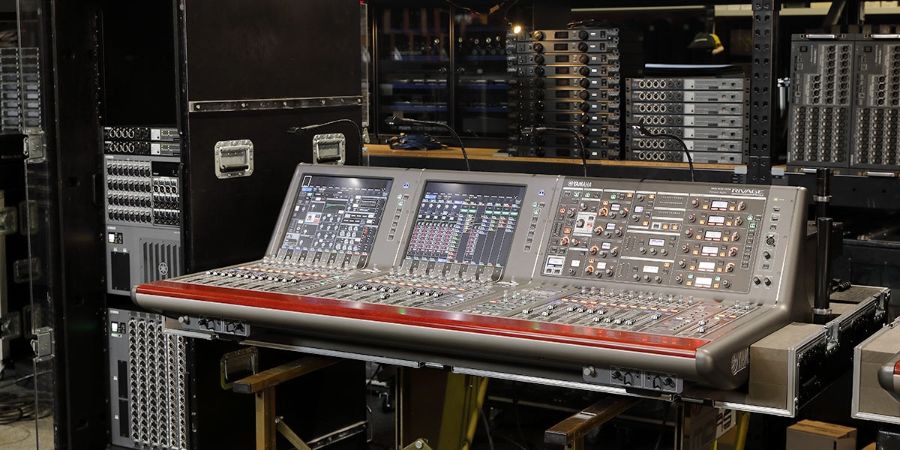 Do you use SILK processing?
Mr. Otsubo
Of course! The preamplifiers are outstanding and are capable of producing excellent sound even without SILK processing. They are in a league of their own. SILK processing adds a little extra magic to the sound, but we try not to overuse it. SILK is only used on channels we particularly want to differentiate from the rest.
How do you use the RED and BLUE varieties of SILK processing?
Mr. Otsubo
Exactly as they are intended to be used. When we want to work on the high frequencies and add brilliance, we use RED. When we want to adjust the lows and create more depth, we use BLUE. It depends on the kind of sound we want to achieve in a particular channel.
And how about the system's operability?
Mr. Otsubo
It is excellent. Yamaha maintains a consistent operating feel from console to console, while improving performance and features. Many of the improvements we wanted in the CL and QL series were taken care of in the RIVAGE PM10. The large number of Selected Channel encoders is particularly convenient. Operations that previously required three actions can now be accomplished with just two. This is a huge benefit for the operator. The visual feedback is excellent too. Just the right amount of information is provided; not too little and not too much. Everything you need is provided up front, but if you need more you can go deeper and retrieve it. The large displays are great for older operators too (laughs).
Are there any features that you particularly like?
Mr. Otsubo
The internal flow and the freedom to change audio routing as required are very convenient for monitor console operation. There's also EQ pre and post selection. This console has every detail covered. And as I mentioned earlier, there's the Dan Dugan automatic mixer function that is indispensable not only for conferences, but for pop groups where there might be 20 or 30 members on stage as well. The automatic mixer function allows the operator spend less time on the faders and more on optimizing EQ, dynamics, and effects. Of course, it isn't ideal for every situation, but we use it as much as we can.
And the built-in effects?
Mr. Otsubo
Personally, I really like the TC Electronic reverb. Yamaha REV-X is excellent too, but the smoothness of its texture is completely different. For that reason, I use it selectively on vocal parts that I want to stand out, for example. It is sort of like SILK in that regard. Rather than using TC Electronic reverb on everything, I use it when I want to create a contrast. I also love the variety of input channel dynamics processing available on the RIVAGE PM10. Where you'd have to install plug-ins on another console, the RIVAGE PM10 provides a number of compressor choices as standard.
Have you had any problems with the system's stability?
Mr. Sato
We have had absolutely no major problems in actual use. The few issues we had while testing the system after it arrived were due entirely to human error. About the worst thing that happened was that we couldn't get the headphone holder in place (laughs).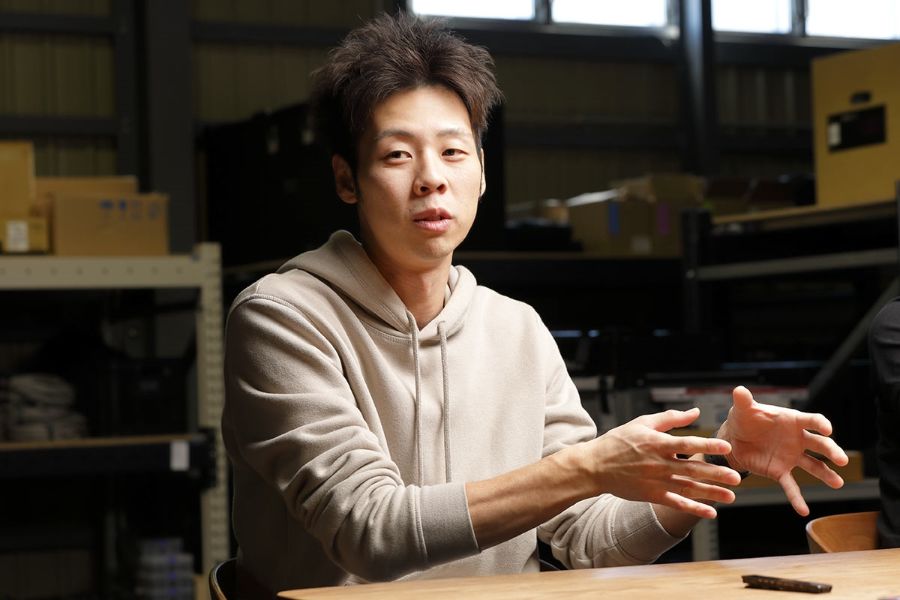 Mr. Otsubo
The RIVAGE PM10 confirms the fact that Yamaha consoles can be used with complete confidence. If a support issue does arise, Yamaha can be contacted easily and will respond appropriately. The large number of outside engineers who are familiar with Yamaha consoles adds another layer of confidence. Engineers who have not operated a RIVAGE PM10 system before have no trouble adapting if they have used the CL or QL series. If they can operate Touch and Turn controls, they can run the system.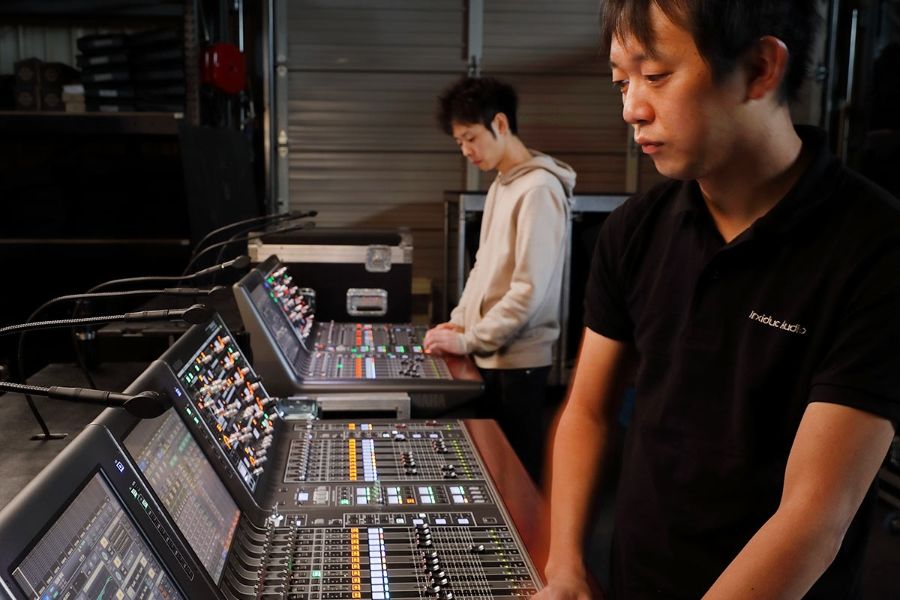 RIVAGE PM10 Version 2 provides DSP mirroring and dual console support.
Mr. Otsubo
One of the reasons we started with the smaller CS-R10-S control surface was that we had heard that DSP mirroring and dual console operation would be supported, and were already planning for dual-console applications. The timing of our large CS-R10 control surface purchase and the release of the Version 2 update was another one of those "just right" coincidences.
Mr. Sato
We are also pleased that the RIVAGE PM10 update adds Rio3224-D and Rio1608-D preamplifier control. Situations where inputs are needed in off-stage locations, or where multiple analog outputs are required, can be easily handled by taking R series I/O units along.
Please describe the main benefits of the RIVAGE PM10.
Mr. Otsubo
That would have to be the sound. The RIVAGE PM10 brings all the elements together beautifully and makes it easy to refine the sound to a professional level. That applies whether we're mixing a band or backing tracks for a pop idol. Our company has other consoles, but the RIVAGE PM10 is simply the best match for the music we work with. We are also very satisfied with the safety and stability provided by DSP mirroring and dual console support. We still have a lot to learn in order to make the most of the available features, and are looking forward to using the console more fully in the future.
In conclusion, would Mr. Hirohide Kobayashi, chief executive and owner of Axiduc Audio, like to add a comment?
Mr. Kobayashi
We have had problems with consoles from other manufacturers in the past, and cannot confidently say that they are completely stable. That goes for their flagship consoles too. The issues we have faced could be partly because our performance standards for consoles in general are quite high. The RIVAGE PM series, on the other hand, is totally reliable. We can depend on its made-in-Japan quality, particularly in concert situations where failure cannot be tolerated.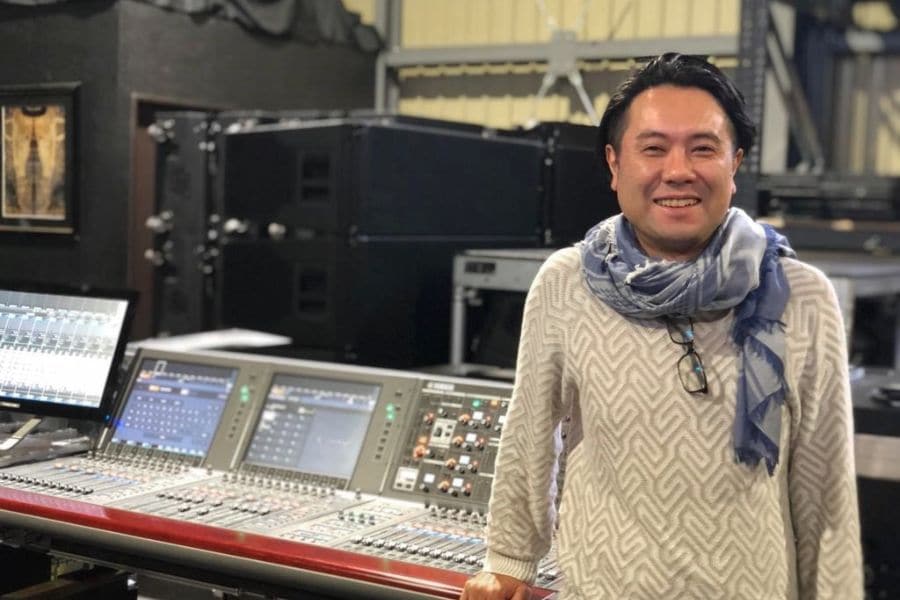 Arxiduc Audio Invests In Yamaha RIVAGE PM10