Aging Console Replaced With Yamaha PM10 at Faith-Based University
Aging Console Replaced With Yamaha PM10 at Faith-Based University
Indiana Wesleyan Upgrades to RIVAGE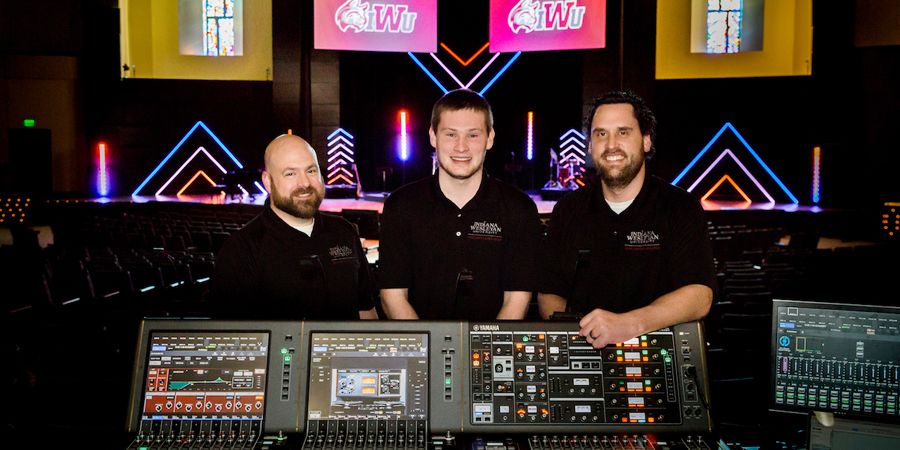 L to R: Phil Huber, Director; Kyle Huber (no relation), Lead Technician; Ken Grile Assistant Director
Indiana Wesleyan University in Marion, Indiana is devoted to training the future leaders of the Wesleyan Church. Founded in 1920, the Universities mission was to provide a faith-based education to Wesleyan students, a mission that remains true today.
Indiana Wesleyan University's 3,600-seat chapel/auditorium serves as the central gathering place for worship, major performances, convocations, commencement ceremonies, and three weekly chapel services.
"During our Annual Fall Academic Convocation in September, our mixing system quit passing audio several times during the program," states Phil Huber, Director Sound, Lighting & Media Group, Indiana Wesleyan University. "There is never a good time for a console to fail, and having one fail in front of the campus community and a full house wasn't acceptable. After some extensive troubleshooting, we decided the best course of action would be to replace the console instead of sending it to be refurbished.
Spectrum Sound, Inc. (Nashville) recommended a new Yamaha RIVAGE PM10 Digital Audio Console to replace the aging console system. "Replacing the console was a major step up for the university," states Barry Sanders, Sales Manager, Spectrum Sound. "The PM10 was chosen for its obvious benefits: input and output options, form factor, remote stage rack, as well as the Yamaha workflow."
Since this was an emergency purchase decision, Huber said they had many options to consider in a short amount of time. "Knowing we had to act quickly, a close friend referred us to Barry Sanders who set us up with a console shoot out in about three days."
"We gave Spectrum a list of the requirements in order to help us find the correct console," notes Huber. "The system had to have a surface workflow that could satisfy the needs of a wide range of duties and operators from students who are just learning the craft to professional audio engineers. It had to be able to work not only with its own transport protocol but others as well (MADI, AVB, proprietary) since we use Dante to archive multi-track recordings, interface with our TV station's production truck, and with networked audio throughout the building. We also needed a console that could support Aviom systems for our on-stage IEM on setup, channel count, and stage box options. During the summer months, the university hosts a wide variety of conferences and camps so those requirements needed to be taken into consideration."
Sanders had the university team visit Spectrum's shop to evaluate a total of nine consoles. "While using our criteria," adds Huber, "we decided to narrow it down to our top two picks and a budget friendly choices. On our way home, we discussed our choices", Huber says. "During the discussions, the PM10 kept coming to the front for several reasons: it was a natural progression as we are already familiar with the Yamaha family of consoles and their lifecycle, manufacturer support, the channel counts and flexibility of I/O options, not to mention the ability to use our existing Rio stage boxes for additional channel counts when needed. Also, the extremely high Dante channel counts not found with many other manufacturers' consoles would allow us to easily interface with our production truck, as well as to bring our Yamaha CL3 in if we needed a monitor desk."
Huber said the PM10 workflow was the one thing that really impressed them with the options and how naturally and flexible the console is to work. "Having the capabilities to have multiple mixers working at one time is the best! With the number of student operators, we have a fear of them doing a button click and loosing their surface, so having inputs land on a physical fader then to a user defined setup was a huge plus."
When the university team arrived back at the school, Huber said he made only one recommendation at which point, the team was given approval to arrange an on-site demo. "As soon as we had audio going through the system, we knew immediately the Yamaha PM10 console was absolutely the correct choice."
"Student volunteers are trained on and use the systems as well as professional staff and travelling engineers so a familiar workflow is important," says Sanders. "High sound quality was another plus with the PM10, and with several different bands taking part in the worship services, the flexible scene recalls are quite helpful."
The University also houses a Yamaha CL5 with two Rio3224-D stage boxes in their 1,152-seat Phillippe Auditorium and a Yamaha CL3 that serves as a monitor/portable desk along with a Rio3224-D and Rio1608-D. Huber said they would also be installing a Yamaha QL1 in their new football stadium with a Rio1608-D this spring.
Immediately after the first show with their PM10 console, Huber said audience members didn't know we had switched consoles and were asking why all the mixes sounded so good. "We didn't change what we were doing, it was the desk!"
Aging Console Replaced With Yamaha PM10 at Faith-Based University