RIVAGE PM10 Takes Munich's Classical Highlight To New Levels
RIVAGE PM10 Takes Munich's Classical Highlight To New Levels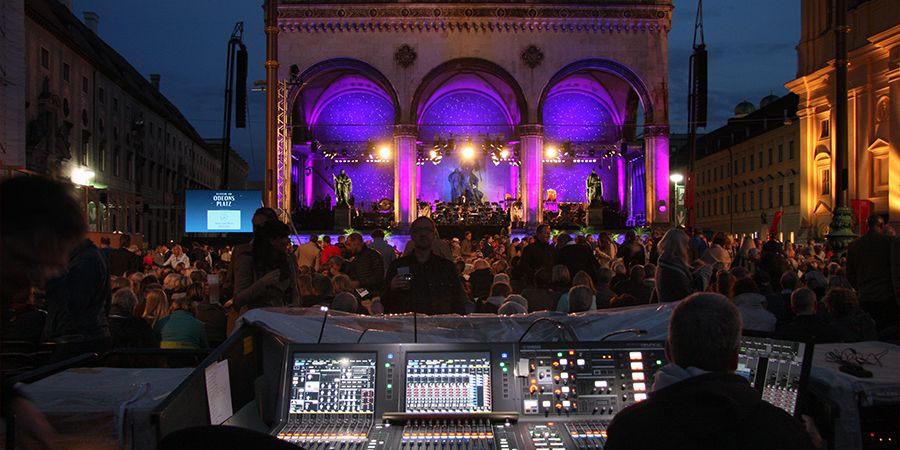 For two evenings every year, Munich's central Odeonsplatz swaps its usual traffic and pedestrians for a sold-out, 16000-strong audience enjoying a major classical concert. 2017 marked the first time that a Yamaha RIVAGE PM10 digital mixing system was used on one of the city's most prestigious events.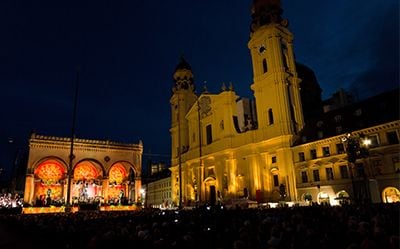 Organised by Bavarian Radio and the Cultural Department of the City of Munich, Klassik am Odeonsplatz uses the historic, open-fronted Feldherrnhalle in the city's large central square as a stage for the Munich Philharmonic and Bayerischer Rundfunk (Bavarian Radio) Symphony orchestras. They were joined by guest performers Martin Grubinger (percussion) and Yuja Wang (piano).
Broadcast live on Bavarian TV and radio station BR Classical, the event's technical production is by Munich-based Pro Events Veranstaltungs GmbH, with equipment supplied by Neumann & Müller.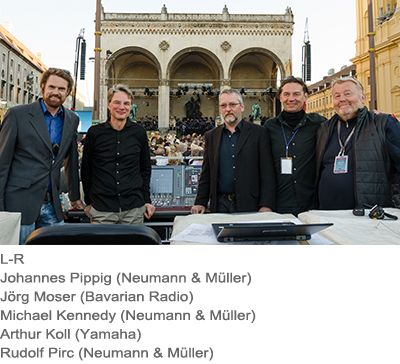 Sound engineers Jörg Moser (from Bavarian Radio) and Michael Kennedy have mixed the event for its entire 17 year existence on a Yamaha PM1D digital mixing console. However, with Yamaha's new flagship RIVAGE PM10 having proved very successful at last year's similar Classic Open Air concerts in Berlin, Jörg and Michael wanted to use the new system in Munich. Yamaha Commercial Audio's Arthur Koll and Wolfgang Tupeit provided on-site support.
Particular RIVAGE PM10 features harnessed for the event included Yamaha's proprietary TWINLANe networking, the high quality onboard processing and the ease with which the work surface could be customised for Jörg and Michael to carry out their respective mixing roles at the same time.
A TWINLANe network can comprise up to 12 components, with up to 300m between each one. It also provides low latency, reliability and allows Dante to be used for connecting external equipment. Working in a space as large as Odeonsplatz, this was an obvious advantage.
The total input channel count of 144 included 100 microphones and a key challenge was the need for so many microphones to be open at the same time and the ability to successfully blend the different sounds of the orchestra within the challenging acoustic space. While microphone placement is obviously very important, intensive use of the Red and Blue Silk (by Rupert Neve Sound Designs) processing in the RIVAGE PM10 helped to enhance the characteristics of the instruments.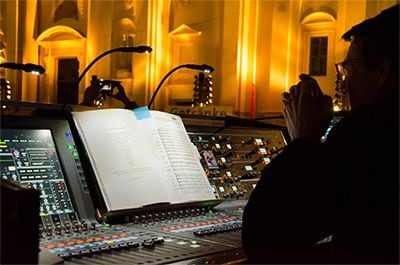 "With experience you know the frequency range of each instrument, so you have a pretty precise idea which processing to use to achieve a natural amplified sound," says Michael.
"Overall dynamics are very important. In an orchestral mix it's not about individually optimising each instrument, but ensuring you achieve a good sound across the whole orchestra. The interaction between different instruments and understanding how one can 'mask' another dictates how you process each channel, which is often different to how you would do it if you were processing the sound on its own. The Silk feature was very useful, Silk Red and Silk Blue each having its own sonic impact. We used them on many of the instruments."
Michael did a lot of advance preparation on the RIVAGE PM10, setting it up with a split control surface so that Jörg was working on the left side of the control panel, with 24 DCA groups under his fingers. Following the score throughout the performance, Jörg knew in advance when an upcoming passage needed a change to the overall mix or instrument balance. Michael worked on the right of the console, concentrating on optimising the orchestral mix with a 12 fader bank, an additional screen for channel visualisation, with instant access to all parameters of the selected channel.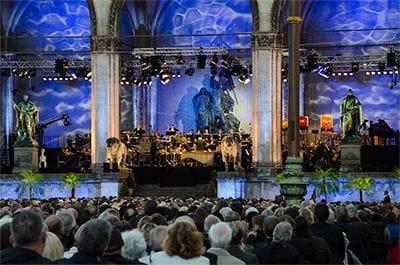 "The ability to split the control surface allowed Jörg and I to work very closely, with direct communication between us at all times," says Michael. "The DCA Rollout function was incredibly useful, offering very fast access to the individual channels of a group by the simple push of a button. You could make an edit to the channel for a single instrument then immediately return to the group view."
"The Custom Fader Banks, for arranging your own fader combinations, were also extremely helpful," adds Jörg. "The layout of RIVAGE PM10 is very logical, well thought out and does not distract you with a 'light show' of the status indications.
Soundchecking for the event was carried out virtually, using recordings made with Steinberg Nuendo Live, and was very straightforward to implement. The Nuendo Live waveform also played an important role in helping the audio team to pinpoint an unwanted resonance. It was the noise of an instrument body being triggered by another instrument, which was then able to be corrected.
"The Odeonsplatz is well-known for being a great space for classical music, particularly during the quiet parts of performances," says Jörg. "Over the past 17 years we have worked hard to maintain and enhance this reputation, using the Yamaha PM1D, with much help from the careful preparation by Neumann & Müller's staff.
"This year we were able to surpass previous years with the RIVAGE PM10, which revealed its exceptionally fine design and high resolution, especially in the critical, quiet parts of the performances. This was also commented on in the debriefing session after the event."
RIVAGE PM10 Takes Munich's Classical Highlight To New Levels