Cozy Seaside Village Winery Upgrades with Yamaha CIS
Cozy Seaside Village Winery Upgrades with Yamaha CIS
Tasting Wine Never Sounded So Good
Cape May Winery has grown over the past two decades to produce some of South Jersey's most distinguished wines. With four different vineyards, the winery produces over sixteen grape varieties. From Cape May's sandy soil to mild climate, their grapes have the ideal temperature in which to grow.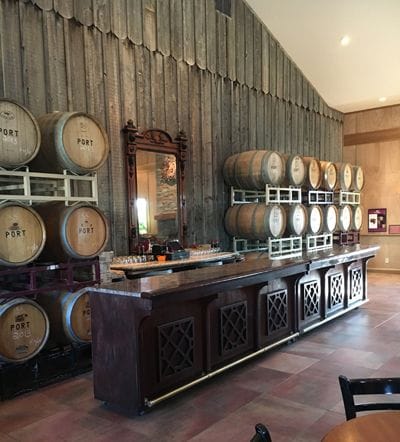 ACIR Professional of Mays Landing, NJ was brought in to upgrade the winery's existing sound system. From tasting rooms and summer entertainment to corporate events and functions, the winery required separate music and paging sources for seven different zone locations both indoors and outdoors, the winery itself, and event spaces, all while typical background music plays in the common areas. A Yamaha Commercial Installations Solutions (CIS) system was selected to meet the needs of the winery.
"The Yamaha CIS system was chosen for several reasons, states Bobby Harper, Vice President Sales, ACIR Professional. First, with CIS, it's one stop shopping: processor, amps, and speakers, all made by the same manufacturer. Second, the system was chosen for its flexibility and speaker quality. The winery needed zoned speakers that could be controlled by multiple users wirelessly. They have about five people on wireless DCP (iPhones) that are password protected for control of music in each zone. They also needed a preset capability to mute zones when they have bands that perform during the summer that need to tie into the system. The outdoor Yamaha speakers have a weatherproof IP35 and IPX3 rating, and both the indoor and outdoor speakers are all "voiced" the same."
The Yamaha system includes an MTX3 processor, XMV8140 8-channel amplifier, a VXS8W 8" speaker for the Port Wine Cellar, a VXS8W 8" speaker for the Tap Room and two for the Barrel Room used for volume and coverage, two VS6W 6" speakers for coverage in the lobby, two VXS5W 5" IP35 rated speakers for outdoor direct for weather, and four VS6W 6" IPX3 rated speakers for outside under awning use.
"The Cape May Winery is very excited to have our new Yamaha system in place, states Shelley Rhoads, Cape May Winery Manager. We had limited capabilities with our existing system that only functioned in two of our seven spaces at the winery. ACIR was very thorough in their installation and was able to accommodate all of our sound needs. They also provided wireless control on our cell phones so we can remotely control all of the sound levels of the speakers as well as being able to turn off specific speakers. The Yamaha CIS System has increased the winery's overall experience for our customers, and we are super happy with what it has to offer."
For more information on ACIR Professional, visit
Cozy Seaside Village Winery Upgrades with Yamaha CIS