Yamaha RIVAGE PM10 Mixes Croatia's Show Of The Year
Yamaha RIVAGE PM10 Mixes Croatia's Show Of The Year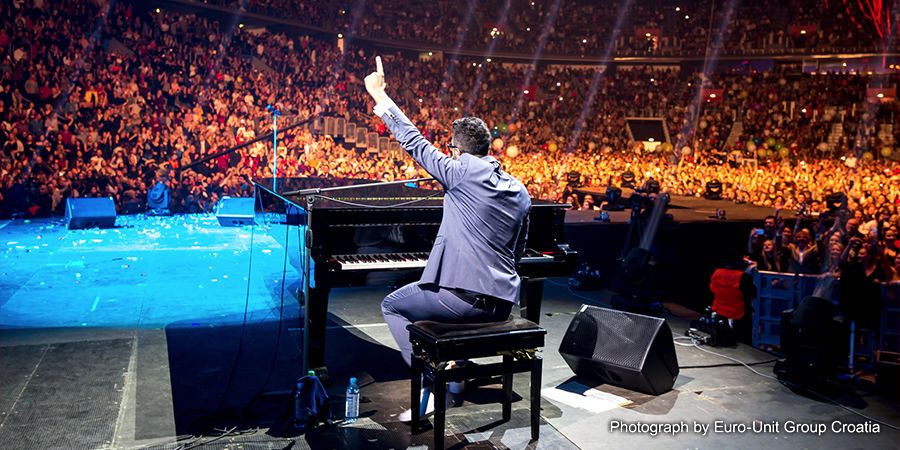 Petar Grašo, one of Croatia's leading pop singers, celebrated 20 years of success with a sold-out show at the Zagreb Arena on 25th November. His Front of House engineer, Denis Fulir, mixed it on a Yamaha RIVAGE PM10 - the first time Yamaha's flagship console had been used on a Croatian show. It was, as Denis says, the country's "show of the year".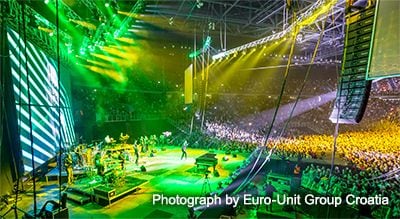 Denis works for Euro-Unit Group Croatia as a product specialist for PA and CA, as well as mixing live shows for most of the country's top rock and pop performers for over 15 years. He is Petar Grašo's regular mix engineer and this sold-out show brought a lot of extra pressure. "It was the biggest and most demanding production of the year for a Croatian artist," says Denis.
"It was very important that everything should be perfect."
Denis is a long-term user of Yamaha digital mixers, experienced with the complete range and choosing them whenever possible. "I even travel with my own LS9, just in case a rental company does not have a console that I like," he admits.
The RIVAGE PM10 for the show was supplied by Euro-Unit, which also supplied the show's Yamaha CFX grand piano.
Three days before the concert, Euro-Unit hosted a demonstration of RIVAGE PM10 for an invited audience of sound professionals, as well as representatives of Croatian and Slovenian rental and television companies.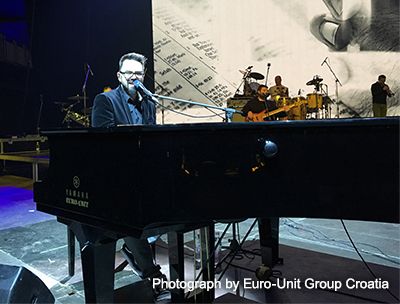 Presented by Yamaha product specialist Pawel Zachanowicz, who held a workshop after the official presentation was over, the demonstration was very well received. "We are extremely proud that Euro-Unit was chosen for the exclusive Croatian presentation of RIVAGE PM10. The attendees were astounded by the sound and only had only one wish afterwards - to try the system for themselves!" says Denis.
He already knew that the RIVAGE PM10 would deliver the quality that the high profile Petar Grašo show demanded, but it surpassed even his expectations.
"The console is highly customisable, very user-friendly and comfortable to work with. After just one day of preparing the show, I felt completely at home on it," he says."My favourite feature is the Rupert Neve Designs SILK - I used blue on kick drum, toms and bass guitar; red on vocals, brass and acoustic guitars.
"The dynamic EQ is excellent, with a useful choices of EQ per channel (aggressive, smooth, vintage, etc) and it has great plug-ins, with the ability to specify insert points and more.Custom fader mode is brilliant, along with the entire console bookmark layer. Everything on it works perfectly."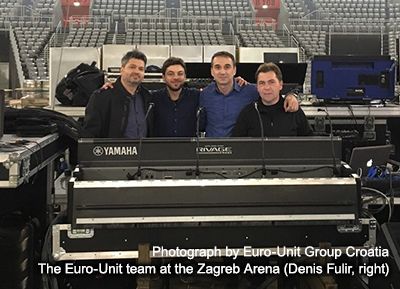 After 19,000 people had spent more than two hours singing and dancing to Petar Grašo's hits, Denis had time to reflect on the show.
"There was a huge responsibility on me, before and during the concert, to make sure it sounded fantastic," he says. "The whole event was staged at the highest level of production and RIVAGE PM10 meant I was able to mix one of the best concerts staged in Croatia, and the positive vibrations from it will be remembered for a long time.
"Praise for the sound came from all sides. Several renowned colleagues and producers were present and they all commented on the dynamics, width and quality of the sound. They also commented on the incredible speed of the console interface. Having the Yamaha logo on my back and the Zagreb Arena filled with amazing sound made me feel incredibly proud."
Yamaha RIVAGE PM10 Mixes Croatia's Show Of The Year