High Quality - Yamaha's Annual System Designers Conference Heads For The Alps
High Quality - Yamaha's Annual System Designers Conference Heads For The Alps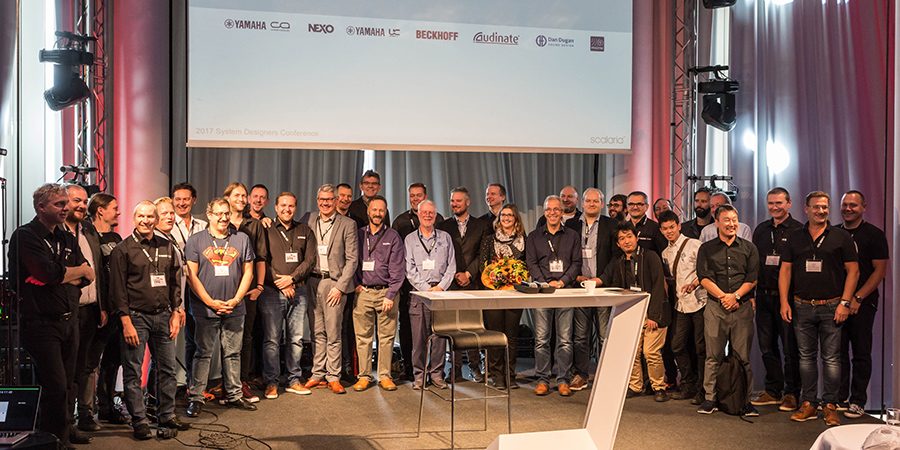 In late September, 145 audio professionals from throughout Europe headed for the Austrian Alps, as Yamaha hosted its sixth annual System Designers Conference in the stunning location of the Scalaria Conference Centre, St Wolfgang.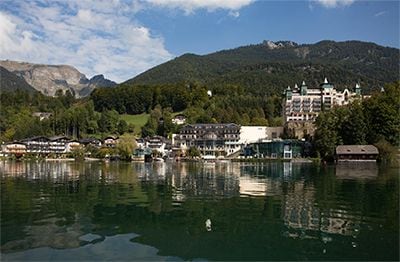 The theme of the multi-disciplinary event was the new opportunities being made possible by innovations in digital signal processing, audio networking and electro-acoustic technologies. The conference provided workshops and lectures on many topics, with a key focus on audio and design process quality.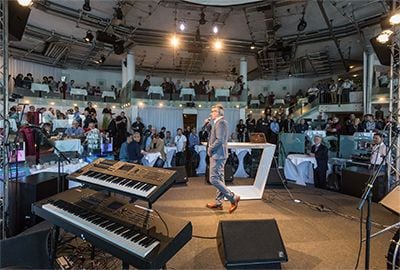 At each annual System Designers Conference, Yamaha Music Europe works in close co-operation with a number of other leading manufacturers. This year they were Audinate (audio networking), Beckhoff Automation (automation technology), Dan Dugan Sound Design (automated microphone mixing), Nexo (loudspeaker systems), Revolabs (communications and conferencing solutions, which has have recently joined forces with Yamaha under the banner of Yamaha Unified Communications (UC) to combine technologies) and Stage Tec (networked audio DSP / infrastructure).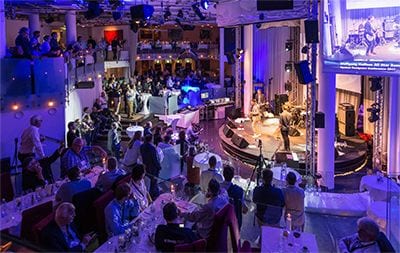 Atterotech (Dante peripherals) and Shure (wireless microphones) also provided product support to the event.
Participants could have been forgiven if they had been distracted by the stunning views from the conference centre, located on the shores of the picturesque Wolfgangsee. However all of the seminars hosted in the eight conference rooms were delivered to fully attentive audiences!
The biggest venue was the Circus Circus Hall, which hosted a number of sessions, including Dan Dugan automixing in Yamaha's MTX matrix processors and PM10, CL, QL and TF mixing consoles; new experimental software jointly-developed by Yamaha and Stage Tec, and the scope of large scale networked mixing system designs using Yamaha, Shure, Atterotech, Stage Tec and many other manufacturers equipment.
The Circus Circus Hall also hosted the conference dinner, which was followed by a performance by the Wolfgang Haffner All Star Band, bringing the focus back onto why Yamaha is in this industry: musical inspiration and cultural entertainment.
The performance was streamed live to Facebook using a Newtec Tricaster system, with the audio feed coming direct from the Yamaha CL5 mixing console manned by sound engineer Olli Voges.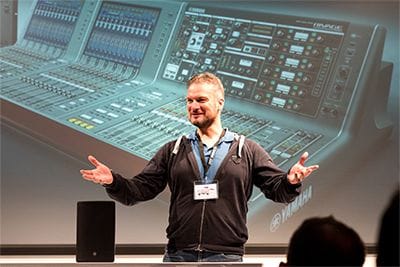 In the Electro-Acoustics Room, attendees enjoyed 'ears-on' presentations about different speaker concepts for presentation systems (including point source, distributed ceiling and column speakers); the use of surround reverberation (using an eight-channel surround system reproducing the impulse response sampled live from the venue's swimming pool); a case study of a multi-campus networked system in the US; an ears-on workshop by Dan Dugan on recording natural surround soundscapes; best practise management workflow with 2.4 GHz based wireless microphone systems (using Line 6 systems as an example) and Yamaha's Speech Privacy system.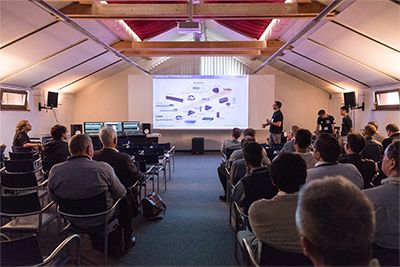 Workshops in the Networking Room included a 'Dante update' workshop, looking at the theory of how Dante works and giving examples of Dante products from different applications in the audio industry (this presentation demonstrated Yamaha and other manufacturers equipment in a large network setup, including more than one million cross points), as well as a presentation on the new Dante Domain Manager concept.
A brand new concept for this year was the Unified Communication (UC) Room, where Yamaha and Revolabs presented the new CS700 Video Sound Collaboration System for huddle rooms. A mixdown workshop also took place here, where a mix of the conference dinner concert was created on the Nuage DAW.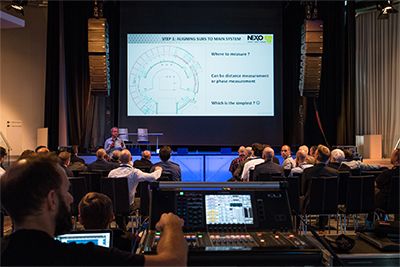 Meanwhile, sessions in the Media Control Room included a workshop on the recent increase in possibilities for controlling media systems using Crestron, AMX, Raspberry Pi and many other platforms; a presentation on the Beckhoff Industrial PC's ability to control different targets and control protocols and a demonstration of user interfacing using the Apple iPad as a hardware platform and Yamaha's ProVisionaire Touch app.
Nexo hosted hands-on design and tuning workshops in the DO-X Teatro, equipped with a large scale Nexo STM system, where the main focus was on connecting NS1 simulation software designs with on-site measurements and listener experience.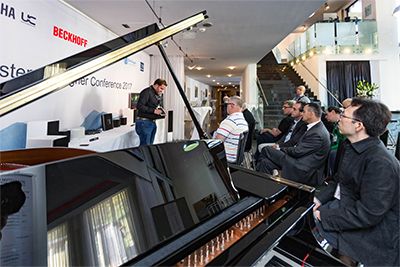 The Scalaria Castle Bar was the setting for a session on the design and tuning of its installed MTX, CIS speaker series and Yamaha MusicCast-based background music sound system (demonstrating that only perfect components and perfect tuning can lead to a perfect result), while a demonstration of the Yamaha Disklavier Enspire in combination with the MusicCast system for hotel and leisure centre lobbies took place in the Scalaria Lobby.
In addition, there were several lectures and forum discussions on the subject of audio quality.
Guiding the sessions were audio professionals from all of the participating companies. These included Julian Carro and Kieran Walsh from Audinate; Michel Matuschke from Beckhoff Automation; Dan Dugan of Dan Dugan Sound Design; Francois Deffarges and Nicolas Poitrenaud from Nexo; Christian Fuchs from Stage Tec; Uwe Weissbach of Weissbach Media; Steve Seable from Yamaha Corporation of America; Russell Harpham, Tetsuto Kawai and Ryusuke Nakao from Yamaha Unified Communications, plus Ron Bakker, Turker Baran, Frederic Borde, Karl Christmas, Ruben van der Goor, Christoph Haertwig, Arthur Koll, Andreas Juwan, Bastian Seppelt, Wouter Verkuijl and Pawel Zachanowicz from Yamaha Music Europe.
The conference was a truly international event, with attendees from Austria, Belgium, Bulgaria, Croatia, Czech Republic, Denmark, Finland, France, Germany, Greece, Hungary, Italy, Montenegro, Netherlands, Norway, Poland, Portugal, Serbia, Slovak Republic, Spain, Sweden, Switzerland, Turkey, United Arab Emirates and the United Kingdom.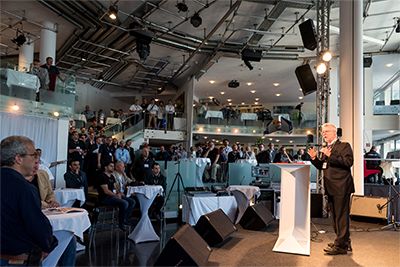 Dario Zanotti, from Delta Tecno Studio in Rome, describes the event as "a very positive experience, it was really captivating."
He continues, "Great moments included the new VXL column speaker presentation and the 'battle of concept' formula to easily show the hot points. Dan Dugan's presentation was a great surprise, it was clear and addictive. With all the other related sessions it made the event really useful and in touch with Delta Tecno Studio's activities."
A dedicated crew of 43 from across all the participating companies planned, managed and built the demonstration and presentation systems.
"At every System Designers conference we try to offer a very interesting, technology-focused event for Europe's top community of system designers, project managers and consultants," says Ron Bakker, systems marketing manager at Yamaha Music Europe.
"This year we offered the most wide-ranging programme of seminars that we have attempted. I am very grateful to all the staff, presenters and attendees who were involved with this year's event. I have heard so many great responses to all of the seminars. It was a really positive and worthwhile experience - we are already looking forward to delivering something even better next year!"
"The Yamaha Systems Designers Conference continues to excel offering the audio community involved with Yamaha products a chance to see the very best of what the technology has to offer, adds Russell Harpham, Revolabs director of EMEA. "We in the newly-formed Yamaha UC division were excited and impressed with the format and reaction from both attendees and Yamaha staff. We will be keen to support more of these activities in the future."
High Quality - Yamaha's Annual System Designers Conference Heads For The Alps