Country Music's Most Famous Show Installs Yamaha PM10
Country Music's Most Famous Show Installs Yamaha PM10
Yamaha RIVAGE PM10 Installed At Grand Ole Opry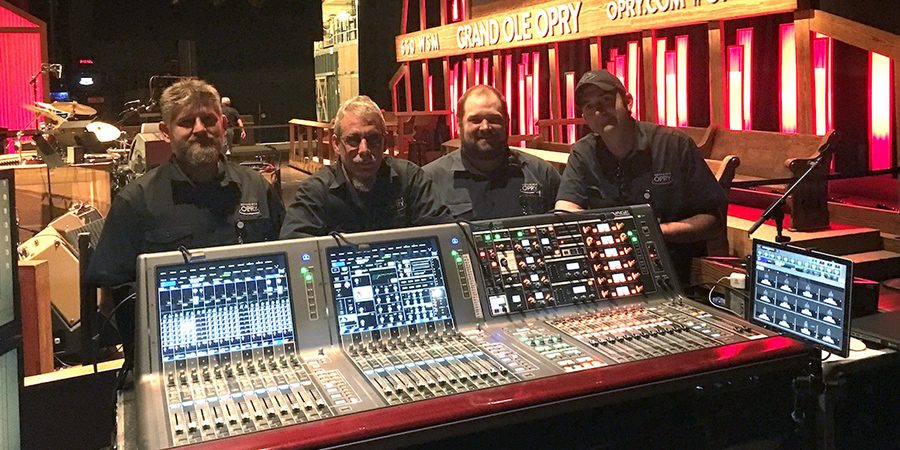 Opry Audio Crew L to R: Mark Thomas, Bob Bussiere, Jeff Ent, Nic
What began as a simple radio broadcast in 1925 today has become a live entertainment phenomenon. Dedicated to honoring country music's rich history and dynamic presence, the Grand Ole Opry in Nashville showcases a mix of country legends and contemporary chart-toppers that have followed in their footsteps. Each performance is made up of official Opry members and guest artists who together represent multiple generations of artists as well as the broad spectrum of country music styles.
The Opry has been called the "home of American music" and "country's most famous stage." Every year, hundreds of thousands of people make pilgrimages from around the world to the Grand Ole Opry to witness a show live. An American icon, the Opry is Tennessee's number one attraction, and world-famous for creating one-of-a-kind entertainment experiences for audiences of all ages. From Carrie Underwood, Little Big Town, Dierks Bentley, and Keith Urban, to the Oak Ridge Boys, Charlie Daniels, and Vince Gill, country music's finest have graced the stage entertaining fans from around the globe.
The Opry just installed a new Yamaha RIVAGE PM10 Digital Audio Console for the monitor mix position. Clair Solutions in Nashville was the console provider. Staff monitor mixer, Bob Bussiere said, "the Yamaha PM10 is the best thing to happen to audio since the SM58!" The PM10 replaces the PM1D that was at the monitor position for ten years.
The decision to upgrade to a PM10, Bussiere stated, was that "the audio team is very comfortable with Yamaha products. Most importantly, in comparison to the other consoles we looked at, this desk was designed for the monitor position, where we felt the other manufacturers' products were more focused on front of house applications."
Regarding getting up to speed on the new PM10, Bussiere notes that they had a month or so to program and work on layout, work flow, etc. "We also utilized the Virtual Soundcheck feature to run playback tracks to familiarize our team with operation of the desk. Positive comments regarding increased fidelity and clarity consistently come from our staff band, guest musicians, and guest engineers.
The tools that are provided in the PM10 are amazing! We are utilizing Rupert Neve Designs SILK on every input. We are also relying on the Rupert 773, Dynamic EQ, U76, & Portico 5033 heavily."
Country Music's Most Famous Show Installs Yamaha PM10