Yamaha RIVAGE PM10 Celebrates "21st Night of September"
Yamaha RIVAGE PM10 Celebrates "21st Night of September"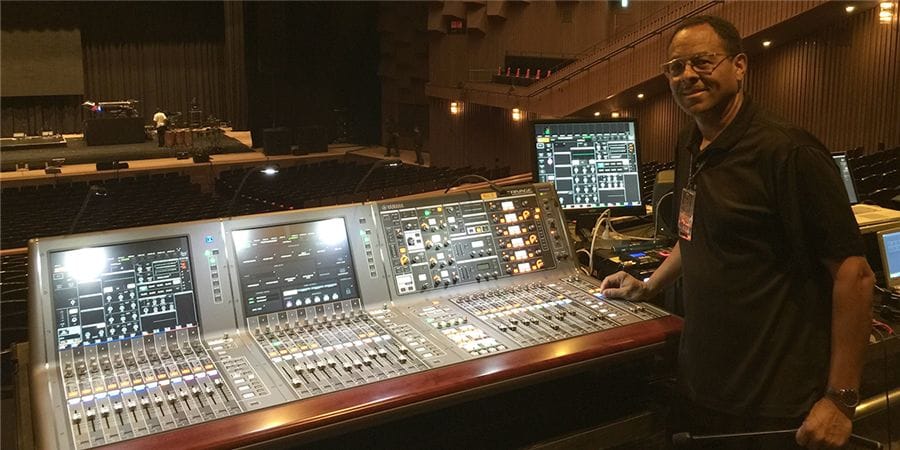 For close to 50 years, EARTH WIND & FIRE have been playing to sold-out audiences around the globe with their classic R&B and jazz sound. Recently, Eighth Day Sound, the band's North American and European audio provider, has added a Yamaha RIVAGE PM10 Digital Audio Console at front of house. Prior to band rehearsals and hitting the road with the PM10 at Fantasy Springs Casino & Resort in Indio, CA in late August, Yamaha Professional Audio gave engineer Terry (TJ) Jackson a run-through.
An independent live sound engineer for over 33 years, Jackson has been mixing EW&F for the past 15 years. Having used Yamaha consoles dating back to the PM3000, PM4000, and PM1D, for his current EW&F mix, he was interested in having at least a 32-channel flexible surface area, multiple display screens for quick access, and a high Input/output count. "I'm a hands-on mixer, so I need faders front and center, Jackson said. "I average about 64-input channels or more per show."
On the 21st (or so) night of September, a PM10 was provided for EW&F dates in Japan by MSI Japan and TWOMIX and in Hong Kong by AHM and Tom Lee Engineering. The Japan tour dates included Tokyo, the Blue Note Jazz Festival in Yokohama, Nagoya, and Osaka.
Although he has yet to try the Rupert Neve Designs EQs, Jackson said "the amount of custom faders and being able to move an individual bank of channels, fast access from the display screens, high input/output format, Dante networking, ease of virtual soundcheck, and the 2-track USB record, have all been invaluable Yamaha PM10 features."
EW&F will continue to use the PM10 for their performances and as the band performs in 15 U.S. cities with CHICAGO on the "Heart & Soul Tour 3.0" tour.
Yamaha RIVAGE PM10 Celebrates "21st Night of September"