Yamaha Wins Multiple Awards At ProLight+Sound and MusikMesse
Yamaha Wins Multiple Awards At ProLight+Sound and MusikMesse
Yamaha enjoyed an award-winning presence at both ProLight+Sound and MusikMesse in early April, as the RIVAGE PM10 digital mixing system and four of the company's MI products won prestigious PIPA and MIPA awards.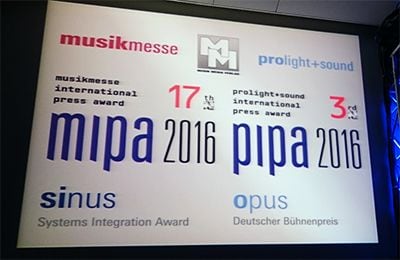 The annual pro audio and MI industry decampment to Frankfurt saw a change for many exhibitors, with ProLight+Sound exhibitors moved into new halls and the dates for the show and MusikMesse staggered. For Yamaha it was a highly successful week, with a busy presence at both shows that included a number of key product debuts.
The icing on the cake was provided by no less than five Yamaha products being winners at the third annual ProLight + Sound International Press Awards (PIPA) and 17th Musikmesse International Press Awards (MIPA).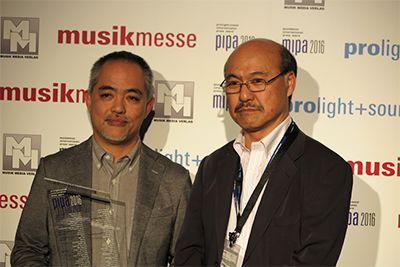 Voted for by journalists from over 100 specialist publications, Yamaha Commercial Audio saw the RIVAGE PM10 digital mixing system pick up the award in the Mixing System (Live) category, while the Pro Music division saw the Montage arranger workstation, Recording Custom Drums, Revstar Series electric guitars and THR100H Dual guitar amplifier all chosen as winners. Yamaha Group company Steinberg also won an award for its Cubase 8.5 DAW.
"ProLight+Sound and MusikMesse were both extremely successful shows for Yamaha," says Nils-Peter Keller, who was at Frankfurt in his newly-promoted role as Senior Director, Pro Audio & AV Group at Yamaha Music Europe GmbH. "At both shows we were continually busy with existing and prospective new customers. At ProLight+Sound our technical staff were in constant demand demonstrating our live and installed audio products, while MusikMesse saw Yamaha's traditional major presence rewarded with much excited end user attention.
"Winning a number of awards was very gratifying, helping to inspire us to work even harder to deliver the solutions that our customers want and need."
Yamaha Wins Multiple Awards At ProLight+Sound and MusikMesse