Iowa HS Gym Gets Overhaul From J Sound Services With Yamaha CIS
Iowa HS Gym Gets Overhaul From J Sound Services With Yamaha CIS
Yamaha CIS Amps/Speakers Installed at Central HS
Central High School in, Davenport, IA recently received a new audio system, installed by J Sound Services, Inc. (JSS) in Nashville for their Marshall Gymnasium. The 19,500 sq. ft. gym, seating approximately 2,200 in its bleacher area, needed to improve speech articulation and coverage while providing a permanently installed and easy to operate system. To accomplish this, JSS chose Yamaha Commercial Installation Solutions (CIS) products to satisfy the needs of the high school.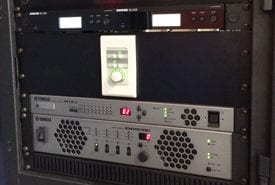 "A major complaint to be remedied was that attendees could not understand what was being said during functions in the gymnasium," states Jason Spence, owner, J Sound Services.
The new system includes 16 Yamaha VXS8 speakers, one Yamaha MTX3 processor, one Yamaha XMV4280 4-channel amplifier, one Yamaha DCP1V-4S wall mount control panel, two Shure BLX4R/SM58 wireless microphones, and Lowell racks and power.
Spence said that the Yamaha MTX3 processor is managing all of the audio systems' I/O. It acts as the systems mixer, providing input channel routing and processing such as gain, high-pass filters, EQ, compression, and automatic gain control, as well as output channel/speaker processing for delay, EQ, and limiting. Two channels of wireless microphones and a stereo input from the schools media player feed four of the 8 mic/line inputs of the MTX3. "We are utilizing YDIF digital audio out of the MTX3 to feed the input of the XMV4280 amplifier, Spence says. By doing so, we've streamlined our signal path to the amplifier and kept the audio digital, as opposed to using the processor or amplifiers analog I/O."
"Installing a system that is simple to operate is always an important feature when designing a system that will be operated by non-technical staff, students, and/or volunteers, adds Spence. We provided that simplicity with a Yamaha DCP1V-4S wall mount control panel, so with a touch of a button, the system is on and ready to use. By selecting the appropriate microphone on the wall controller, the microphone's level is controlled with the volume knob on the wall controller." MTX processors have three wall mount control panel configurations that provide simple, remote operation of the system, and may also be controlled via free apps available for Android and Apple devices and a WAP.
"Yamaha VXS and VXC speakers have become like our Swiss Army knife of speakers; they are a great sounding, competitively priced speaker, and appropriate for numerous applications, Spence notes. We have installed them with great success in Houses of Worship, golf courses, Universities, High Schools, and currently spec'd to be installed in nightclubs and restaurants this year. It was an obvious choice for Marshall Gymnasium once I determined a distributed system was the right approach for their situation."
Yamaha's CIS line of speakers, processors, and amplifiers allowed JSS to design and install a system that solved their client's sound. "The system exceeded their expectations with an audio system that is simple, reliable, efficient, and flexible for any future additions they may have."
"The new Yamaha speakers have provided us with the opportunity to hold just about any athletic type of program we want, states Brian Ehlinger, Athletic Director. Before the install, we would hold college signings, awards banquets, and season kickoff nights in the Marshall Gym and no one could understand what was being said. It got to the point where we moved those events to our auditorium instead of our historic gym. Now, with our new system, we can again bring our athletic functions back to the gym. This system allows us a level of intelligibility for speech that is phenomenal. We have already held a function in Marshall with our new system, and our stakeholders are very impressed.
For more information on J Sound Services, Inc. visit
Iowa HS Gym Gets Overhaul From J Sound Services With Yamaha CIS