St. Louis Institution Installs Yamaha IF, MTX System
St. Louis Institution Installs Yamaha IF, MTX System
Missouri Athletic Club Installs IF Speakers, MTX Processor
In 1903, a St. Louis institution was born. The Missouri Athletic Club (MAC) has endured and thrived by remaining committed to being a premier athletic, social, and dining club for business, professional and civic leaders, and families in the St. Louis area." Today, the MAC is recognized as one of the top private clubs in the United States.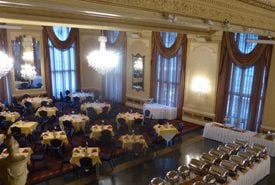 The landmark building recently upgraded its audio-visual system in the Missouri Room, its main ballroom, used for banquets and receptions. The room can accommodate up to 550 people. TSI-Global (St. Charles, MO) was responsible for the design and installation. "The ceiling and walls are decorated with ornate plaster relief carvings, states Steve Keller, Senior Account Manager at TSI-Global, who personally designed the system. This, along with the age of the building, offered unique challenges of finding ways to mount large projection screens and loudspeakers while maintaining the look and feel of this classically elegant room."
As part of the new system, TSI-Global installed ten Yamaha IF2208W loudspeakers that were custom painted to match the room. The speakers are processed using the new Yamaha CIS (Commercial Installation Solutions) MTX3. TSI installed four DCP1v4S units to control six audio sources (three wall plate inputs, two Sennheiser wireless microphones, and a DVD player). "Two controllers are on the first floor and two controllers are in the balcony with duplicate controls so that the volume of any source can be controlled either upstairs or downstairs," says Keller.
Keller said the Yamaha IF speakers were chosen for their wide dispersion and rotatable horns (the speakers were mounted horizontally and the horns rotated) and that the Yamaha CIS MTX3 processor is a cost-effective DSP; combined with the controllers, this set up became a simple way to control the individual source volume. "Being able to daisy chain the controllers simplified the installation as well."
"We needed to replace an aging sound system that was overly complex and was unable to achieve adequate sound levels without feedback, states Rick Garrett, Director of Technology, Missouri Athletic Club. It was also very important to our staff and membership that any fixed installations not disturb the aesthetics of our 100 year-old grand ballroom. The new system was designed to be simple enough for use without the aid of tech support and still provide us the flexibility to accommodate very complex and elaborate audio/visual events when required."
Garrett said all of the club's managers, employees, and members were excited to see how well the new Yamaha speakers blended into their existing décor. "More importantly, he adds, with our new Yamaha system, we are finally able to achieve excellent volume levels and sound quality without the noise and feedback we had with our old system."
St. Louis Institution Installs Yamaha IF, MTX System