Yamaha MTX3 Helps Deliver Signature Sound At London's Royal Academy Of Music
Yamaha MTX3 Helps Deliver Signature Sound At London's Royal Academy Of Music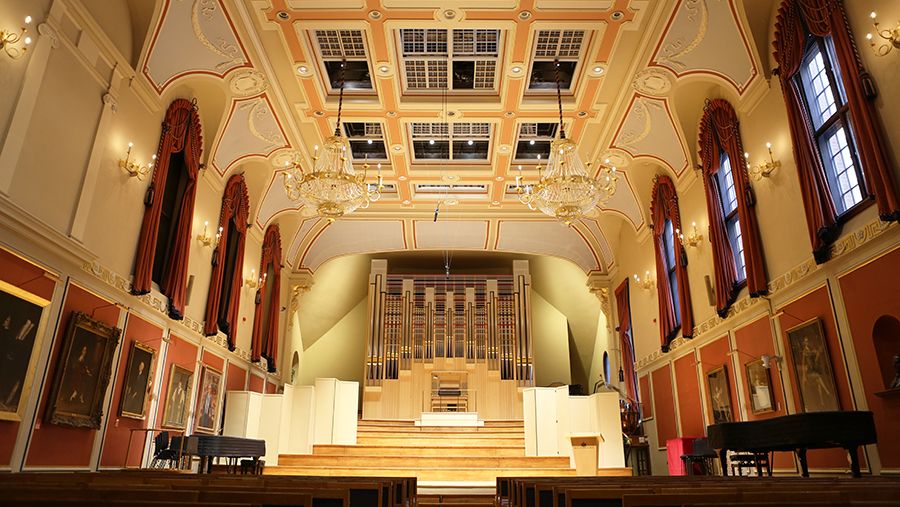 When Autograph Sales & Installations was recently commissioned to install a new audio system at the Royal Academy of Music's historic Duke's Hall, they needed a 'heart' that delivered a challenging combination of optimum audio quality, flexibility and comprehensive wireless remote control at a competitive price. A Yamaha MTX3 matrix processor was the answer.
Located on London's Marylebone Road, the Duke's Hall is the Royal Academy of Music's main performance space. As Britain's oldest degree-granting music school, with a list of alumni that reads like a Who's Who of the composing and performing industry, the Academy demands the highest standards. Autograph was asked to provide a bespoke sound solution which could be used for master classes, introducing orchestral concerts and various other performances, with the option for an operator to control the system remotely from within the auditorium.
The system needed to be easily activated, with basic control from backstage for two radio microphones, a lectern mic and DI for music. Also important was that it could tie into much of the building's existing cabling, data and audio infrastructure, enabling it to be patched in from an existing mixing desk on the hall's mezzanine level.
The MTX3's versatile i/o configuration, dual digital effects processors, onboard SD card slot (for playback) and ease of system setup (using MTX Editor software) meant that it was the ideal solution for both current and future Duke's Hall requirements. Wireless control was also straightforward to implement without the need for any extra networking equipment.
"Another thing we liked about the MTX3, which was key to the brief, was that we could install a DCP4V4S wall plate backstage for adjusting levels manually, which is a very straightforward control system for making rapid changes," says Chris Austin, project designer for Autograph Sales. "The building's historic architecture meant that the system had to be as visually unobtrusive as possible, so the compact size of the wall plate and Wi-Fi control were ideal."
Yamaha MTX3 Helps Deliver Signature Sound At London's Royal Academy Of Music