Biography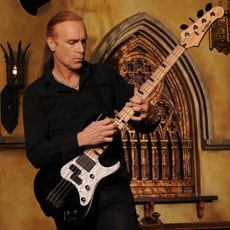 Billy Sheehan has played bass on dozens of records and toured all over the world for many decades. His unique and original style of playing has been celebrated and documented everywhere. His playing, singing, songwriting, and contributions to his many recordings have resulted in millions of records sold, Platinum and Gold status worldwide, reader's poll awards too many to list, number-one hits and videos, sold-out shows, and most importantly the mutual love, friendship and respect between himself and many millions of fans around the globe.
Starting in his hometown of Buffalo, NY in the early 70's with the now legendary hard rock trio Talas, he went on to join David Lee Roth in the summer of '85 when Dave quit Van Halen to go out on his own. Along with Steve Vai & Gregg Bissonette, the legendary Eat 'Em and Smile record and tour went on to Platinum status and sold out shows everywhere. Leaving in 1987 to start his own new band, he founded Mr. Big, who went on to achieve a number one hit in fourteen countries, staying number-one in the USA Billboard charts for three solid weeks. Along with Mr. Big members Eric Martin, Paul Gilbert and Pat Torpey, they recorded and toured the world for a decade more, till disbanding in 2002. During that time he found time to start "Niacin" a fusion/blues trio based around the Hammond B3 sound that featured drummer Dennis Chambers. He rejoined his old bandmate Steve Vai for several tours as well as Steve's "Real Illusions" record and tour. After he released several solo records and much more, Mr. Big reunited in 2009 and performed a sold-out world tour, and then recorded "What If…" in 2011 to rave reviews and another sold-out world tour.
Billy joined Mike Portnoy and Richie Kotzen to form The Winery Dogs. Their first release in July of 2013 entered the Billboard Top 200 Albums at #27 and has been received everywhere with spectacular reviews and sold-out shows.
In the Fall of 2014, Billy released the new Mr. Big album The Stories We Could Tell followed by a world tour. Mr. Big completed a world tour in support of that album that took them to the UK, Europe, Russia, Japan, Southeast Asia, South American and finishing with sold-out shows in the United States.
The Winery Dogs began recording a new album in Spring 2015 with world touring to commence in Fall 2015.
With his history of live performances and/or recordings with Talas, UFO, David Lee Roth, Mr. Big, Niacin, Steve Vai and now The Winery Dogs, Billy Sheehan has had a huge and undeniable influence on modern bass playing that has spread all over the globe, and will continue for many years to come.
Other Guitar & Bass Artists