Biography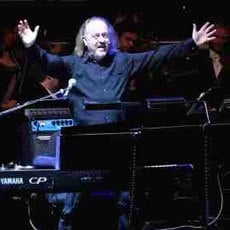 Raised in the West Country, Bill was once in a group called "The Famous Five" – an unsuccessful band with only four members. Although a talented musician, Bill always felt an urge to slip jokes into the music. This didn't work out so, harbouring theatrical ambitions, he spent the early 80s touring with a Welsh Experimental theatre troupe, and appearing on stage with the Workers' Revolutionary Party. He supplemented these with stints as a lounge pianist, and a keyboard player in a jazz trio. It was a John Hegley gig that finally inspired him to fuse the music, jokes and theatricality and become a stand-up comedian.
In 1989 he and Martin Stubbs formed double act The Rubber Bishops, using cassocks borrowed from a church in Edinburgh. They became well known on the club circuit for their off-the-wall musical comedy. Sometimes having to travel to several gigs in one night, Bill became something of an authority on motorway service stations.
After Stubbs quit the act, Bill teamed up with Sean Lock for 1994 Edinburgh show Rock, before going solo in 1995 with Cosmic Jam and earning a Perrier nomination. This led to a 1996 TV broadcast of the show, featuring a souped up X-Wing-esque keyboard, and a giant papier mache ant suspended from the ceiling.
In 1998 he wrote and starred in BBC Two show, "Is it Bill Bailey?"; a mixture of musical parodies, surreal sketches, and extended monologues on subjects such as the fine line between genius and madness, and existential biscuit aisles.
The turn of the century brought a starring role in award-winning sitcom Black Books as increasingly deranged ex-accountant Manny Bianco, and guest appearances in acclaimed comedy Spaced as Bilbo Bagshot - comic store owner and die hard Hawk the Slayer fan.
Bill's 2001 tour Bewilderness was a commercial and critical success, with The New York Times calling him "a treat for the funny bone, the brain and the ear", and The Telegraph pronouncing him "a hobbit with a wicked sense of humour".
Among other things, Bewilderness demonstrated Bill's wide range of musical knowledge, making him an ideal choice to take over from Sean Hughes as team captain on Never Mind the Buzzcocks in 2002. He has now appeared in 5 series, and the show is still going strong, despite the departure of long-time host Mark Lamarr.
Bill's next big tour, Part Troll, was met with equal acclaim and achieved success all over the world. Its beginnings were at Edinburgh Fringe Festival 2003, a year when Bill also branched out as a dramatic actor in an extremely well-received production of 12 Angry Men, as the restrained Juror 4. Two years later he assumed the vastly different role of the slouchy, unkempt Oscar in The Odd Couple, and received equally excellent reviews.
In 2006, Bill premiered his show Steampunk in Edinburgh, and appeared on our screens on Sunday afternoons hosting Wild Thing I Love You, a Channel 4 wildlife show calling for Bill and his team to come up with innovative solutions to animals' problems.
Since the beginning of the year, Bill has appeared in a new series of Never Mind the Buzzcocks, starred in Pinter's People - a collection of comedy sketches by Harold Pinter playing at the West End, and led the BBC Concert Orchestra in a Cosmic Shindig – a special concert for Comic Relief.
A big fan of Yamaha for many years now, Bill is currently using the CP300 Stage Piano extensively during his live performances as can be seen in the picture above taken during the Cosmic Shindig at the Queen Elizabeth Hall.