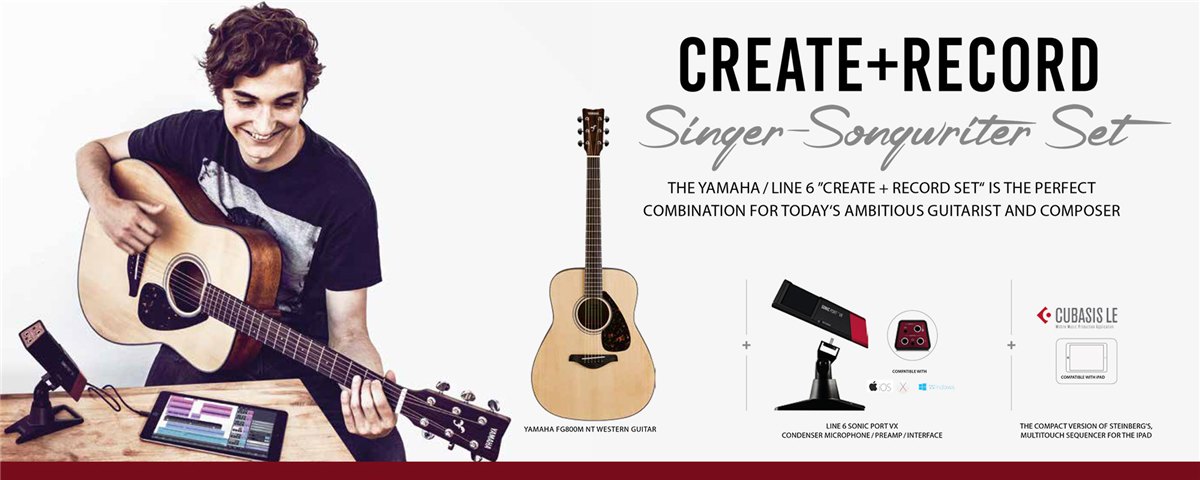 The Yamaha / Line 6 Singer Songwriter pack is the perfect combination for today's ambitious guitarist and composer. Featuring the Yamaha FG800M, an affordable guitar with simple and traditional looks and outstanding quality, and the Line 6 Sonic Port VX: the anywhere, everywhere audio interface with built-in mics.
The Sonic Port VX guitar/bass input features 120dB of dynamic range for incomparable tone and best-in-class dynamics, making it the ideal recording tool to accompany the FG800M.
Find out how to start with the Singer-Songwriter Set
In this video, DAVE GOODMAN demonstrates how easily you can record a song with the FG800M NT, Sonic Port VX and Cubasis LE directly after unpacking the products.
Check out how Mary Spender likes your new Set:
In this video, MARY SPENDER highlights the features of Sonic Port VX, playing on the FG800M NT guitar and recording her songs on the Sonic Port VX.