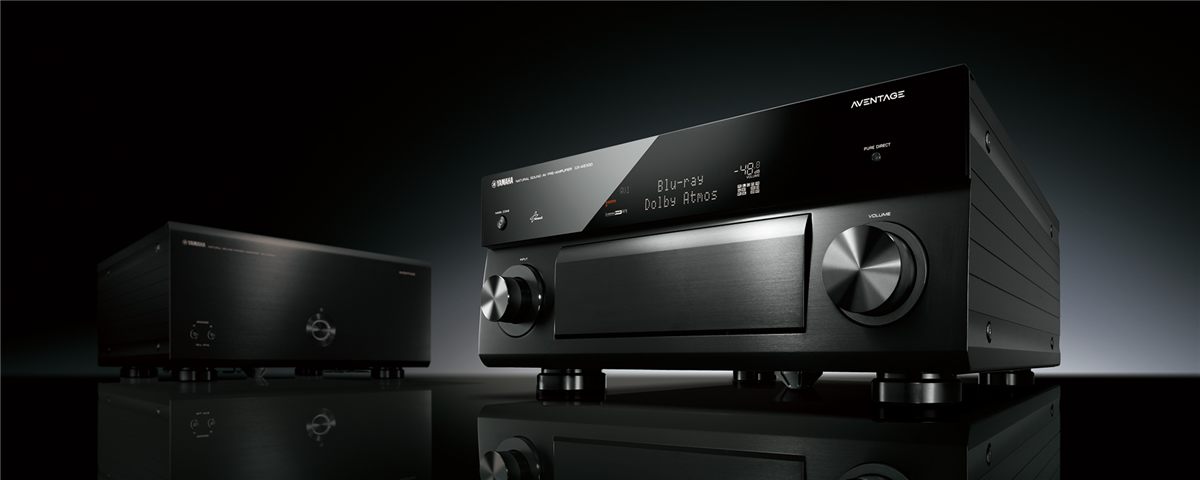 Stöd för det senaste surroundformatet, DTS:X™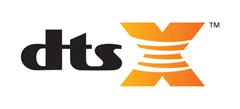 DTS:X™ is the next generation object-based, multi-dimensional audio technology from DTS.
Unbound from channels, DTS:X conveys the fluid movement of sound to create an incredibly rich, realistic and immersive soundscape - in front of, behind, beside and above the audience - more accurately than ever before. The combination of DTS:X and Yamaha AV receivers will fill the room with multidimensional sound that makes you feel as if you are right in the middle of the story unfolding on the screen.
*DTS:X™ playback capability will be available via future firmware update.
Stöd för det senaste surroundformatet, Dolby Atmos®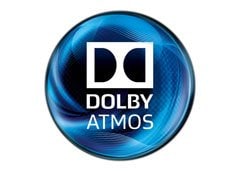 Kliv in i en ny värld av ljud med Dolby Atmos®. Det transporterar dig till en upplevelse utöver det vanliga. Fängslande, multi-dimensionellt ljud som fyller rummet med fantastisk detaljrikedom och djup. Musik, människor och föremål kommer till liv i med detaljer som exakt följer det du ser på skärmen – nu får en överlägsen närvaro, det känns som om du verkligen är där! Kombinationen av Dolby Atmos® och Yamaha receiver kommer att fylla rummet med flerdimensionella ljud som får dig att känna som om du är i händelsernas centrum.
Högtalarplaceringar med stöd för Dolby Atmos
Yamaha gir flere plasseringsmønstre for presenshøyttalere som støtter Dolby Atmos, og skaper et lydfelt som er ideellt for ditt oppsett. Enhver layout kan reproduseres, inkludert det tre-dimensjonale rommet av CINEMA DSP samt Dolby Atmos.YPAO ™ R.S.C. som optimaliserer lyttemiljøet og grunnleggende lyd av høy kvalitet tar full nytte av den detaljerte romlige lokaliserings evnen til Dolby Atmos.Kombinasjonen av Dolby Atmos og Yamaha AV-mottakere vil fylle rommet med flerdimensjonal lyd som gjør at du føler deg som om du sitter i midten av historien som utfolder seg på skjermen.
Furthermore YPAO R.S.C. which optimises the listening environment and fundamental high quality audio design takes full advantage of the detailed spatial localisation capability of Dolby Atmos.
The combination of Dolby Atmos and Yamaha AV receivers will fill the room with multidimensional sound that makes you feel as if you are right in the middle of the story unfolding on the screen.

Featuring the absolute latest technology.The 11.2 channel preamp that brings you new dimensions in sound reproduction
The CX-A5100 is our flagship AV preamp, featuring the latest versions of 3D surround formats, advanced network functions such as WiFi and Bluetooth® compatibility, and full 4K support with HDCP2.2 compatible HDMI for the 4K era. In combination with the MX-A5000 power amplifier, you can enjoy not only a premier 3D sound field CINEMA DSP HD3 11.2channel full-spec reproduction but also new dimensions of surround sound as found in the newest movie theatres — in your own home.

True sense of realism produced by the next-generation CINEMA DSP HD3, compatible with all the latest formats
The CX-A5100 supports the latest surround sound playback formats such as Dolby Atmos and DTS:X. In addition to conventional channel-based audio, it is possible to create a 3D space in which separate acoustic elements can move freely, giving a sensation of the motion of "objects" above the viewer's head that fully realises the filmmaker's intentions. What's more, the revamped CINEMA DSP HD3 features newly developed signal processing algorithms to increase their appeal even further. With three sets of high performance processors for CINEMA DSP, it is possible to maximise the theatre sound effect, accurately reproducing a new dimension of realism for a sound field with a rich sense of presence unlike any system you've ever experienced. And by supplementing the limited number of speakers in a home system with CINEMA DSP to create the effect of a movie theatre space with alarge number of speakers, you can experience a realistic cinema sound field with the sense of truly being immersed in a movie scene.
33 DSP Programmes, Including 10 Introduced in the Flagship Z11 Receiver
The broad array of surround sound programmes, including 10 featured in the flagship Z11 receiver, features six Movie choices, including Spectacle for movies with strong visual and audio impact, Sci-Fi for SFX movies, Adventure to emphasise the sound of action movies, and Drama. Seven Entertainment programmes match the audio characteristics of sources such as sports, music videos, action games and roleplaying games. Compatibility with the Dolby Atmos and DTS:X sound formats means you hear the full potential of every movie and music source.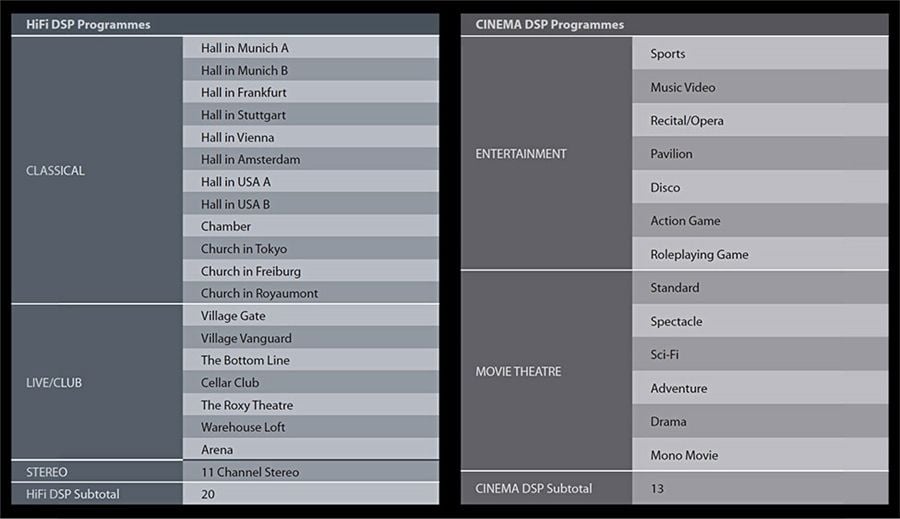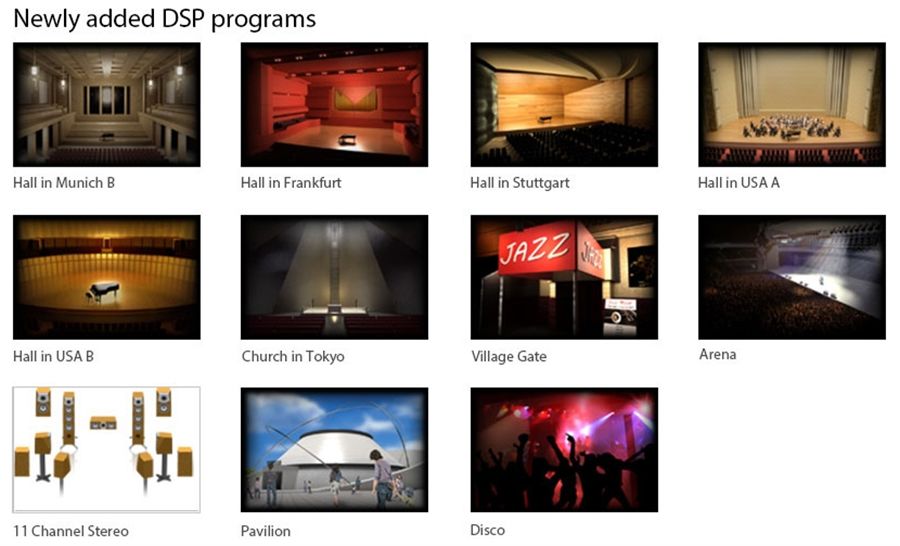 AVENTAGE AV Receivers: Designed to Deliver the Highest Levels of Audio Performance
The AVENTAGE line of high-performance AV receivers is based on the audio design concept of providing a massive, full-bodied sound for movie sound effects and the accurate reproduction of music sources. By expertly harmonising traditional and advanced technologies, every factor that affects sound quality, from materials and parts to construction, layout, vibration damping (unique foot) and "fine-tuning" the sound, is handled with no other thought than to achieve the best possible audio quality. As a result, every AVENTAGE model has the ability to reproduce the most subtle details of high-definition sound, so that listeners can enjoy a truly high-class sound studio experience at home.
High Density Presence and Richly Detailed Sound Ensured by High Sound Quality Parts and Design
All channels use ultra high performance ESS ES9016 DACs, which provide 192kHz/32-bit compatible superior SN ratio and dynamic range, ensuring faithful reproduction from Blu-ray and other players, as well as from high resolution sound sources input through networks. Matched to the design of the DAC circuit, which achieves stable ground potential (DAC on Pure Ground), they provide high precision D/A conversion. A new Volume IC realises low noise and superior sound orientation, and a superior low jitter clock circuit is used for clear and vivid network audio. In addition, the internal design separates the power supplies to the analogue circuit boards, eliminating high frequency noise interference from the digital circuits. The shielded power supplies restrict noise radiation and the large power transformer minimises vibration.

YPAO-R.S.C Sound Optimisation with High Precision 64-bit EQ Calculation and Speaker Angle Measurement
YPAO analyses room acoustics and performs speaker angle measurements, then calibrates audio parameters to achieve the best sound atany of several listening positions. The height of the presence speakers is also measured, to optimise the 3D sound field. R.S.C. (Reflected Sound Control) corrects early reflections for studio-quality sound. YPAO also uses 64-bit EQ Calculation for realising the most natural room acoustics possible.YPAO 3D provides automatic sound parameter optimisation that maximises the 3D sound field effectiveness of CINEMA DSPHD3 as well as Dolby Atmos.

AVENTAGE AV-receivere: designet for å levere lydkvaliteten på høyeste nivå
AVENTAGE serien er designet og konstruert for å gjengi en massiv lyd med mye ""kropp"", for å kunne gjenskape film og musikk på beste sett. Gjennom å kombinere og harmonisere tradisjonelle og avanserte teknikker kan vi få fram de detaljer som HD-lydformatet tilbyr. Hver lille faktor og detalj som kan påvirke lydkvaliteten har nøye blitt testet og valgt ut med omsorg. Alt fra material og komponentvalg til konstruksjon, kretsdesign og vibrasjonsdemping gir den ""soundtuning"" vi etterstreber. Resultatet er AVENTAGE modeller som gjengir HD-lyd med detaljer, realisme og trykk - så du kan nyte førsteklasses lyd av studioklasse i ditt hjem.
Specially Designed High Rigidity Chassis Eliminates the Effects of Vibration for Greater Sound Purity
As part of the no-compromise design policy, Yamaha created an advanced chassis with strong rigidity. Chassis stiffness is enhanced by an H-shaped cross frame that boosts mechanical strength, by adopting aluminium side panels that increase the stiffness of the housing, and by a three-ply structure with independent top cover and side panels. Any external vibration from the rack or other sources is damped by heavy insulators. The A.R.T (Anti-Resonance Technology) Wedge in the centre of the bottom cover acts as an additional vibration countermeasure and firmly supports the internal circuits and delicate parts. In addition, this model has a double bottom chassis and rigid bottom frame to further enhance chassis rigidity and reduce the transmission of vibration produced by the large power supply and other internal components.

Noise Resistant, Highly Reliable Balanced Connections and High Quality XLR Terminals for Long Subwoofer Cables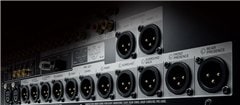 Electrical noise may be generated due to connection with other AV components and even to the connection between them, as well as from other sources of external noise. To ensure that the CX-A5100 is not affected by this distortion, it uses balanced connections that are highly noise resistant—the same type generally used in pro audio equipment. Even the RCA unbalanced connection uses a ground sensing transmission method that achieves simple balanced transmission. Even when each channel is used independently, the impact of noise flowing between the preamp and power amp is removed, minimising sound quality deterioration due to the connection. XLR terminals allow use of the long cables that may be needed to connect a subwoofer. The CX-A5100 also allows balanced audio input connection to high grade source components such as CD players.
Bluetooth - Trådlös musikstreaming
Denne hjemmekinoreceiveren er utstyrt med Bluetooth funskjonalitet. Det gir deg en smidig trådløs mulighet til overføring fra f.eks. smarttelefoner, tablets eller PC. Yamaha Compressed Music Enhancer er nå optimalisert for Bluetooth. Det gjør at din musikk spilles med mer dynamik og liv enn det du normalt hører fra komprimert Bluetooth lyd.
4K Ultra HD Full Support with 4K60p, HDCP2.2
Denne receiveren har full støtte for den siste HDMI® standarden. Med 4K video overføring med 60 bilder per sekund, kan du nyte høyoppløst videokvalitet i 4K uten tap av kvalitet. Den støtter også HDCP 2.2 som er en standard for opphavsrettbeskyttet 4K video. Støtte for HDR (High Dynamic Range) Video som gir bedre bildekvalitet gjenom å vise mer detaljer i både mørke og lyse deler av bildet. Videre støttes en større fargeskala, BT.2020.
Furthermore it supports wider color gamut of BT.2020 pass-thru.
*Firmware update is required to enable HDR, and Firmware update schedule is to be decided.

Stöd för 21:9 bildformat
Med stöd för bildformatet 21:9 kan man spela upp filmer som spelats in i Cinema Scope format. När dessa filmer visas i den "vanliga" 16:9-förhållande, ser du svarta fält längst upp och längst ner på skärmen. Med 21:9 slipper du dessa fält och bilden fyller ut hela skärmen. Med 21:9 stöd ger dina filmer och spel en bättre uppslukande närvaro. * Den här funktionen stöds inte på vissa skärmar som är designade för IT/PC bruk.
*This feature is not supported with some PC monitors with specific IT specification design.
MusicCast
MusicCast er en revolusjon innen musikk streaming. Du kan anvende alle dine MusicCast produkter sammen – eller separat, du bestemmer. Du kontrollerer alt fra en og samme app, designet for å være innovativ, rask og enkel i bruk. Om du velger en soundbar, en trådløs høyttaler, en AV Receiver eller HiFi komponenter spiller ingen rolle, du velger og setter sammen det som passer ditt hjem best. Du kan senere bygge ut ditt system. MusicCast gir alle, alt, overalt. For mer informasjon, besøk vår MusicCast spesielle side.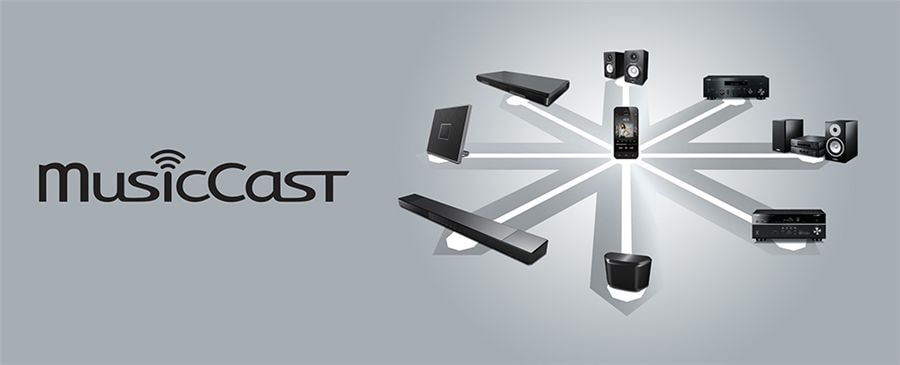 MusicCast utvider mulighetene for underholdning
Spill innhold fra en annen MusicCast enhet, eller fra en Blu-ray eller CD-spiller som er tilkoblet et MusicCast produkt – all musikk blir tilgjengelig i alle rom i huset. Om du har musikk lagret på en PC eller NAS kan du via DLNA spille den musikken også, alt som kreves er at det er tilkoblet samme nettverket. Du kan til og med spille ut eksternt innkoblede lydkilder som TV eller BD-spillere. Lyd du sender til enheten med bluetooth kan også sendes videre til en annen MusicCast enhet i et annet rom.

Skicka ut ljud via Bluetooth
YSP-1600 er utrustet med den seneste Bluetooth teknologien, som gjør det enklere enn tidligere å nyte trådløs musikk. YSP-1600 kan både ta imot Bluetooth og sende ut Bluetooth. Smidig om du vil streame musikk fra YSP-1600 til et par Bluetooth hodetelefoner eller til en Bluetooth-høyttaler.

Inbyggd Wi-Fi Built-in och Wireless Direct
Inbyggd Wi-Fi ger möjlighet till en trådlös anslutning till en router. Det gör det smidigare att komma åt och ta del av musik från nätverket eller från internet streamingtjärnster. Om det inte finns någon Wi-Fi-router går det med Wireless Direct att upprätta en trådlös länk direkt mellan din smartphone och receivern. Med Wireless Direct kan du trådlöst skicka över musik direkt från din smartphone eller surfplatta med MusicPlay eller Airplay. Du kan då spela upp musiken på receivern, utan att behöva ha ett nätverk eller någon kabel. Du kan dessutom kontrollera receivern via AV Controller Appen som finns att ladda ner gratis för iOS och Android enheter.

High-resolution Music Enhancer förbättrar musikaliteten

Oppsampling til 96 kHz / 24-bit kan brukes på losless material som 44.1/48 kHz innehold som finnes på en CD (2-kanals PCM) eller en FLAC-fil. Det gir en forbedring av musikaliteten på det opprinnelige materialet du spiller.
Network Funksjoner gir flere underholdningsalternativ
Du får en mängd intressanta nätverksfunktioner som gör att du enkelt och smidigt kan kan komma åt fler ljudkällor. Du kan ansluta receivern till en dator och spela upp musikfiler som ligger lagrade på den. Du kommer även åt ett stort utbud av musik genom Internet Radio eller Spotify. Ladda ner AV Controller app (från iTunes App Store eller Goggle Play). Med denna app kan du styra olika funktioner på receivern från din iPod, iPhone, iPad eller Android telefon/tablet. AV Controller är gratis att ladda ner.
*Musikktjenesters tilgjengelighet avhenger av region

AV Controller App för enkel och bekväm styrning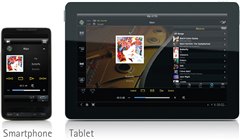 Med denne receiveren kan du bruke Yamaha AV-Controller app som kostnadsfritt kan lastes ned fra iTunes App Store eller Goggle Play. Med ""appen"" kan man styre power on / off, volum, inngangskilde, DSP program og styre andre funksjoner fra en iPod, iPhone, iPad eller Android telefoner . Du kan tilpasse appen gjennom å skjule ikoner eller døpe om innganger. AV Controller finnes på 23 ulike språk, der norsk er et av dem. Det finnes også en ""tablet"" versjon av AV Controller.
*As of spring 2014
DSP Parameter justering för enkel och detaljerad inställning
Denne receiveren er utrustet med et antall ulike lydprogram og Yamahas egene DSP-teknikk. DSP teknikken gjenskaper de lydfelt som finnes i riktige kinosaler og konsertlokaler i ditt rom, så du skal få samme opplevelse som på kino eller konserten. Nå kan du bruke AV Controller appen for å justere DSP-parametrene etter dine ønsker for å matche den typen av musikk/film eller stemningen du vil oppnå. Det finnes to moduser, Basic og Advanced, som du kan velge avhengig av hvilken type justering som du vil gjøre.

AV Controller App Provides Zone Control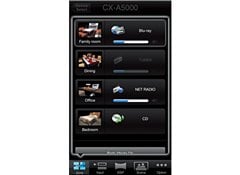 The AV Controller app is extremely useful for controlling various functions in multi-zone installations. Zone selection is easily done by choosing zone icons, which can be changed (bedroom, kitchen, etc.). You can control power on/off, input selection and the volume level in each zone, and also rename the zones. The app also shows when the Party mode is being used, and allows volume control of the Party function.
AirPlay for trådløs musikstreaming til AV receiveren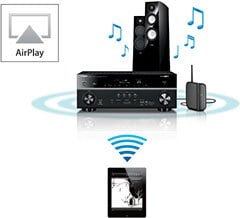 Denne AV-receiveren har mange interessante nettverksfunksjoner som gør at du enkelt og smidig kan få tilgang til flere lydkilder. Du kan koble receiveren til en PC pg spille musikkfiler som ligger lagret på den. Du vil også få tilgang til et stort utvalg av musikk gjennom Internett Radio. Last ned AV Controller app (fra iTunes App Store eller Goggle Play). Med denne appen kan du styre ulike funksjoner på receiveren fra din iPod, iPhone, iPad eller Android telefon/tablet. AV Controller er gratis å laste ned.
*Some models don't support album art display.
Streame musikk fra Spotify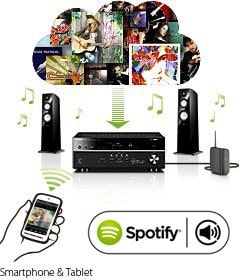 With the Spotify app on your smartphone, you've got instant access to millions of songs. And now you can stream those songs to your Yamaha system by using Spotify Connect. Just hit play to start streaming music. What's more, when you've been listening on your smartphone outside and come inside, the song immediately streams to your AVR—like magic, you enjoy uninterrupted music. You can also personalise playlists and receive phone calls while listening to music.
*The Spotify app and premium account are required. Visit spotify.com for more details.
Try Spotify Premium for free on your Yamaha Home Entertainment System for 30 days.
http://spotify.com/yamaha
*Spotify service availability depends on regions.
USB-port på frontpanelet for digital tilkobling av iPod og iPhone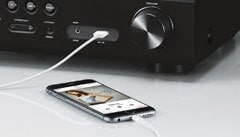 En USB-port på fronten gir en bekvem tilkobling av en iPod / iPhone /iPad, som også lader batteriet når den er tilkoblet. Ettersom det digitale signalet fra iPod / iPhone overføres direkte til receiveren, minimerer det risken for signaltap eller forstyrrelser, så du kan nyte den beste mulige lydkvaliteten. Dessuten kan du bruke receiverens fjernkontroll til å styre din iPod / iPhone / iPad og deres funksjoner for musikkavspilling.
Gapless playback - ingen uønskede avbrudd
Many live and classical albums have no gaps in the music. Gapless playback ensures that there are no pauses between audio files. This provides playback with no interruptions, the way it was meant to be heard.
* Compatible with WAV, FLAC and ALAC file formats, and input from USB / PC / NAS.

AV Setup Guide App gör installationen enklare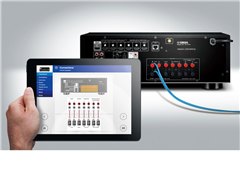 AV Setup Guide er en app som gjør det mye enklere å komme igang med installasjonen av din receiver. Med hjelp fra denne appen guider vi deg gjennom de ulike momentene ved installeringen. Du får hjelp med alt fra hvor kablene skal settes inn til mer avanserte innstillinger. Hvordan kobler man til TV og andre produkter i hjemmet? Illustrasjoner og tydlige bilder forklarer og hjelper deg å forstå. Guiden finnes på norsk og er designet for iOS og Android smarttelefoner/tablets.
Yamaha video processing optimerar bildkvaliteten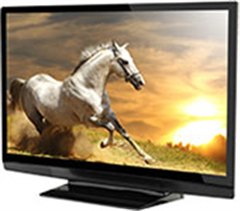 Yamahas ingeniørkompetanse innen bildeprojeksjon som tidligere er sett i high-end projektorer finnes nå isteden i denne receiverenr. Mange ulike avanserte bearbeidingsmetoder brukes for at du skal få ut et knivskarpt bilde. Et eksempel er Adaptive deinterlacing som jevner ut ujevne linger som ser utflytende ut pga forstyrrelser. Bildechipen kjenner om det er bevegelses bilder eller stillbilder for å kunne gjøre en eksakt pixel-by-pixel bearbeiding. Med rett behandling får du uansett videokilde eller innhold en bedre bildekvalitet med Yamahas egen bildebehandling.
Avancerad flerspråkig GUI On-screen Display
Yamahas seneste Graphical User Interface har en høy oppløsning med tydlige, enkle ikoner. Det er lett å sette seg inn i og bruke menyer. Det finnes også et ststusfelt som viser inngangskilden, volumnivå, DSP-modus og lydformat. GUI tilbyr et utvalg av åtte språk: engelsk, fransk, tysk, japansk, russisk, spansk, italiensk og kinesisk, og kan vises over både normale og 3D bilder.

Supersmidiga SCENE PLUS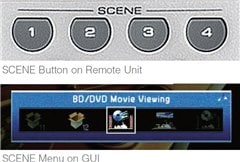 SCENE PLUS funksjonen forenkler håndteringen gjennom at du bare behøver å trykke på en knapp for å slå på strømmen, valg av ønsket kilde og passende DSP-program. SCENE PLUS tilbyr et utvalg av 12 SCENE valg, hvorav fire kan brukes til den andre sonen i et multi-sone-system. SCENE PLUS kan velges fra frontpanelet, fjernkontroll, GUI og fra iPhone app.SCENE PLUS funksjonen forenkler håndteringen gjennom at du bare behøver å trykke på en knapp for å slå på strømmen, valg av ønsket kilde og passende DSP-program. SCENE PLUS tilbyr et utvalg av 12 SCENE valg, hvorav fire kan brukes til den andre sonen i et multi-sone-system. SCENE PLUS kan velges fra frontpanelet, fjernkontroll, GUI og fra iPhone app.
YPAO Volume ger naturligt ljud även vid lyssning på låga volymer

Det menneskelige øret har mindre følsomhet for høye og lave frekvenser, særlig ved lavt volum. YPAO Volume bruker loudness EQ korrigering for å automatisk justere høye og lave frekvensnivåer som volumforandringer. Med hjelp av YPAO-måleresultat vil EQ korrigering optimere systeminnstillingene for ditt lyttemiljø så lyden blir naturlig og tydlig selv når du lytter på lavt volum.
Virtual Presence Speaker och Virtual Surround Back högtalare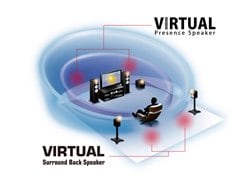 Virtual Presence Speaker funktionen använder center och surroundhögtalarna för att skapa virtuella närvarohögtalare. Upplev CINEMA DSP 3D, omslutande surroundljud även i miljöer där möjligheten till att ha många högtalare är begränsad. Denna modell har också en Virtual Surround Back funktion, med denna funktion kan du faktiskt kan höra 7.1 ljud med bara 5 högtalare och en subwoofer.
Virtual CINEMA FRONT ger surroundljud när alla högtalarna är placerade fram
Iblandt er det omstendig eller kanskje til og med umulig å installere surroundhøyttalere bak lyttepossisjon. Rolig, vi har løsningen. Med Virtual CINEMA DSP skapes en virtuell 5-kanals surroundlyd, med bare to fronthøyttalere. Med Virtual CINEMA FRONT, kan du nyte en virtuell 5-kanals surroundlyd med høyere kvalitet og med imponerende oppløsning og detaljerikdom gjennom å installere surroundhøyttalere framfor deg istedenfor bakom. Du får med Virtual CINEMA DSP større flexibilitet til å plassere høyttalerene. Så om du vil slippe å dra høyttalerkabel rundt om i rommet, med Yamaha Virtual CINEMA DSP får du en høykvalitativ surroundlyd uansett hvilket plasseringgsalternativ du velger.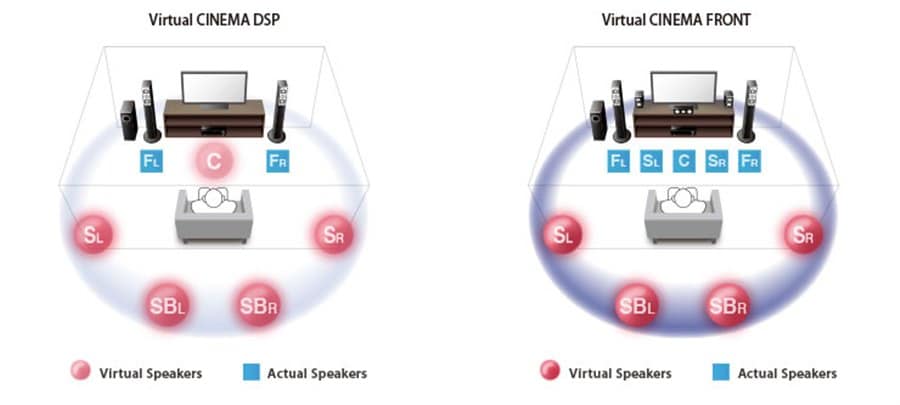 MHL (Mobile High-Definition Link)
Når musikk er kodet til et digitalt komprimert format som MP3, blir frekvensgangen lidende. Yamahas Compressed Music Enhancer bruker sofistikert digital signalbehandling med eksklusive algoritmer for å gjenskape det som tapes, aå musikken alltid lyder som den skal.
Bytte AV inngang i HDMI Standby Through modus
Standard HDMI zonväxlar kan endast sända HD-video till "Main Zone" eller till någon av de och andra zonerna. Med Yamahas avancerade HDMI Zone Switching kan du välja bland alla ljud-och videokällor som är anslutna och spela upp dem i vilket rum du vill. Ett on-screen grafiskt användargränssnitt gör det enkelt att bläddra och välja innehåll från den andra zonen, oavsett vad som spelas i huvudrummet.

Handy Trigger Control

The CX-A5100 provides two Trigger Out jacks that enable control of connected component functions such as power on/off and input selection. The MX-A5000 or another amplifier or subwoofer with a Trigger In jack can be connected to allow use of the convenient Trigger function.