Awards for the Yamaha RIVAGE PM7 and CL/QL StageMix
Awards for the Yamaha RIVAGE PM7 and CL/QL StageMix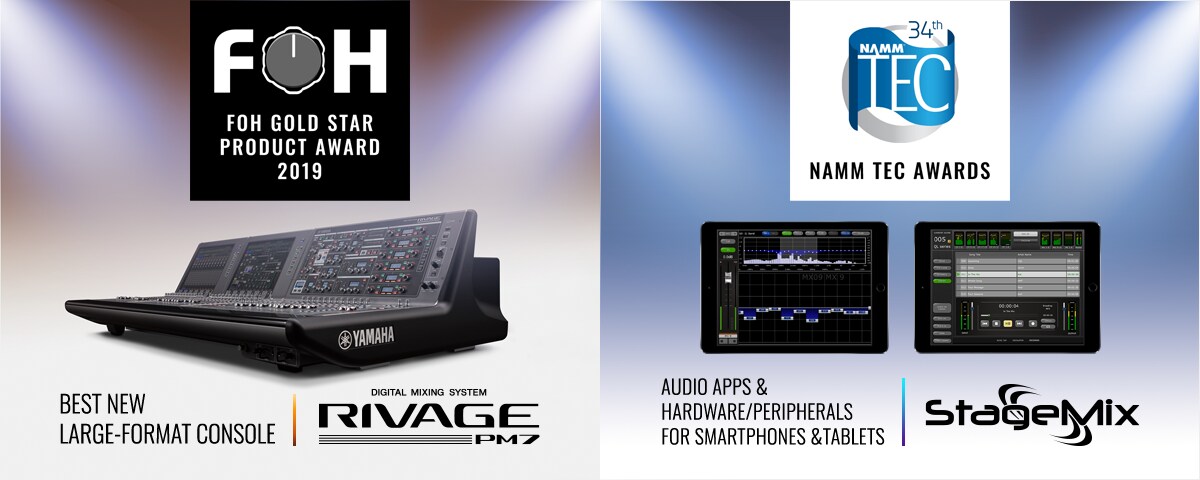 Yamaha pro audio products have been honored with two prestigious awards. The RIVAGE PM7 has received the FOH GOLD STAR PRODUCT AWARD 2019 for "Best New Large-Format Console," and the CL/QL StageMix app has received the 34th ANNUAL NAMM TEC AWARD in the "Audio Apps & Hardware/Peripherals for Smartphone" category.
The RIVAGE PM7 is highly regarded for its unparalleled sound quality, functionality, and operability, and is being adopted by a rapidly growing number of large-scale concert tours, musical theaters, halls, and other applications worldwide. Our gratitude for the Best New Large-Format Console award is heartfelt, and strengthens our determination to pay close attention to feedback from the field in order to give sound engineers the tools they need for advanced efficiency and expression in live sound applications.
The CL/QL StageMix app has redefined the concept of remote control for live-sound mixing consoles. With an intuitive iPad user interface and Wi-Fi communication, CL/QL StageMix allows engineers to move away from the console and make adjustments while listening at audience seating or onstage locations. Numerous updates have expanded the number of functions available, while also providing important control refinements. This award is a great honor, and we are most grateful to the many sound engineers who have contributed to and supported the development and growth of CL/QL StageMix.
Awards for the Yamaha RIVAGE PM7 and CL/QL StageMix