Biography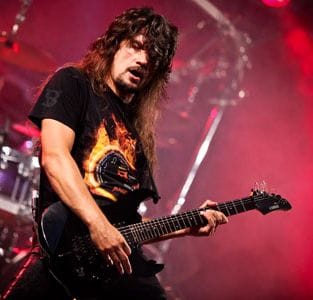 Victor Smolski, the son of Professor Dmitry Smolski, one of the leaders of the Russian composers of the present time, was born on 01.02.1969 in Minsk (Belarus). He was 6 years old when he began studying the piano and cello, the guitar followed and at the age of 11 years he was professional already. He played together with the Belarussian rock band "Pesniary" when he was 14 years old. "Pesniary" sold about 10 million(!) records, being a band, which can be compared with the German band "Scorpions".
Smolski awarded diplomas on playing rock and jazz guitar as well as on composing and arranging music. In his early days of life Victor studied everything possible for a musician.
1988 Victor Smolski founded the band "Inspector" and they came to Germany for concerts for the first time. During a concert Frank Bornemann (Eloy) was very interested in the band and offered a contract to "Inspector". Due to some visa problems a tour became complicated, but even than "Inspector" played lot's of shows in Germany. In 1993 they released their CD "RUSSIAN PRAYER" (ARIS / ARIOLA).
1993 Victor Smolski decided to stay in Germany. He worked as a studio musician and produced his EP "Destiny" in 1996.
In 1995 Victor Smolski joined the progmetal band "MIND ODYSSEY" being successful soon. Europe tours with "Vicious Rumors" and "Savatage" were played and their video was regularly shown on MTV. On the successful "MIND ODYSSEY" album "Nailed To The Shade" and "Signs" most of the songs were composed by Victor Smolski. He played all the guitar, sitar and keyboard tracks. In arrangement of both CD's Victor worked together with the "Symphonic Orchestra Belarus". In cooperation with Ingo "Charly" Czajkowski "Nailed To The Shade" and "Signs", as well as "Ghosts" and "Welcome To The Other Side" of "RAGE" were produced in VPS Studios / Hamm.
His father Dmitry is convinced of his son's work. Together they composed symphonies for electric guitar and classical orchestra, which they presented live during an European tour in 1999.
In June 1999 Victor Smolski became new guitarist of RAGE, presenting their new line up on the "Wacken Open Air" 1999 for the first time. A tour across Europe and Russia followed.
In the beginning of 2000 Victor Smolski composed and produced his first solo CD, which was recorded in co-operation with the Belarusian Orchestra and his colleagues from RAGE.
This Symphonie, a perfect mixture of classic and metal, entitled "The Heretic" deals with the time of burning witches. On this CD you cannot only find inspired guitar solos like the 7 minutes long "Hex of the Six Strings" but also historical deliveries, which were narrated in three languages by Victor, Peavey and Mike. "The Heretic" was released on 19th of June 2000. Noticed by the international press parts of this exceptional "Metal meets Classic" album "The Heretic" were presented live during a few concerts together with the Belarusian Orchestra in the same year.
From August up to November 2000 the "RAGE" album "Welcome To The Other Side" was recorded in the VPS Studios in Hamm/Germany. Half of the songs were composed by Victor, who was also responsible for the production.
His greatest success Victor Smolski registered in 2001, as the song "Straight To Hell", composed by Victor for the RAGE Album "Welcome To The Other Side" was used for the soundtrack of the most successful German movie production called "Der Schuh des Manitu". About 15 million spectators saw this movie up to now! In 2004 the same song was again used for another movie of german producer Michael Bully Herbig called "Traumschiff Surprise". "Straight To Hell" was released on both soundtrack CD's of the movies and on the "Best Of - All G.U.N. Years" CD, which contains a cross-section through the last 6 CD's of the band RAGE.
In 2002 RAGE combined their long-term experience to produce their next album called "Unity". "Unity", a first-rate metal firework, is an impressive document of the high technical level, Victor Smolski (guitars, keyboards) and his two colleagues have achieved, while embedding their virtuoso instrumental abilities cleverly into a homogeneous corset of songs. A video clip to the song "Down", produced by director Yankovsky in Belarus capital Minsk, was shown at musicchannels like VIVA regulary. On concert journeys through Europe and Japan RAGE again gave a proof of being one of the best Metalbands.
The RAGE album "Soundchaser", released in October 2003 sounds more compact and is even more diverse than its predecessor. Beside hard-as-nails metal staples and another strong semi-ballad they continue up their orchestral past with "Secret In A Weird World". Guest appearances included Andi Deris (Helloween) on "Falling From Grace" lending particular appeal to this song. Beside lot's of concerts on festivals all around the world RAGE was touring for months together with Helloween at the end of 2003.
In January 2004, on the occasion of the 20 years band jubilee of RAGE, the band played some concerts, presenting an acoustic set and an extensive "Best Of" program to their fans, which was recorded for producing the first Live CD and a DVD of RAGE. On 15th of November 2004 the recorded show from Bochum which was released in 3 different configurations at the market.
In November 2004 Victor Smolski's new solo CD "Majesty & Passion" was released by "Drakkar Classic". Victor has arranged songs of the "Old Master" Johan Sebastian Bach into some harder versions. Together with lot's of notable international musicians and the Inspector Symphony Orchestra they have recorded these songs. Twice, songs of this album were presented live: First at the "International Bach Festival" in Leipzig and also at the "Rock Meets Renaissance" festival at "Schloss Beck" in Bottrop, organized by Uli Jon Roth.
In March 2006, the new RAGE album "Speak Of The Dead" was released by Nuclear Blast and presented live during a European tour by the band. In May, RAGE played some concerts in Russia, which were recorded for a new live DVD. Also Kipelov shows, where Victor Smolski played lots of concerts as guest guitarist, were recorded and released as a live DVD end of 2006. It was a great honor for Victor, working at a large contract, a compilation CD for the 20. Anniversary of Nuclear Blast. It is an album with songs of 10 of the best metal singers like Hansi Kürsch / Blind Guardian, Andy Deris / Helloween, Tobias Sammet / Edguy, Tarja Turunen / Ex-Nightwish and many more of Nuclear Blast history, including a new RAGE song, for which Victor composed, produced and recorded all guitars, keyboards and bass. The anniversary CD "Into The Light" was released in spring 2007.
In February 2007, the RAGE live DVD/CD, entitled "Full Moon In St. Petersburg", was released by Nuclear Blast, including a lot of bonus material from the European and Russian tours. In cooperation with Jen Majura (live / studio singer and teacher for guitar), the doors to Victor Smolski's UNITY MUSIC SCHOOL in Hamm were opened in spring 2007.
In 2007, Victor did so many workshops worldwide, like he never did before. On these workshops, presented by Yamaha and ENGL, Victor played together with lots of famous musicians, like bass legend Billy Sheehan (Mr.Big, Steve Vai) at the Frankfurt music fair (Germany). With his guitar performance, Victor was invited to be special guest at the Red Dot Design Award gala presentation in the worldwide biggest museum for graduated design products in June 2007.
The most impressing events in 2007 were RAGE concerts together with the "Lingua Mortis Orchestra" (Minsk/Belarus), touring from Russia, Ukraine to "Masters Of Rock" in Czech Republic and finally to the "Wacken Open Air" festival in Germany, where the show in front of 100.000 people was recorded. This material was used to become a bonus DVD for the upcoming RAGE studio album entitled "Carved In Stone. With a lot of positive response, the RAGE "Wacken Open Air" concert with the "Lingua Mortis Orchestra" was already successfully presented on television channels Premiere and WDR.
During Febuary 2008, Rage released their new CD "Carved In Stone" as well as to promote the world tour "Carved In The Road", heading from Europe to Japan and Russia.
Right afterwards, the guys shot 2 videoclips for the songs "Lord Of The Flies" and "Open My Grave", which was used as bonus material. Especially for the new computer game "Windchaser", Victor arranged the Song "Lord Of The Flies" into an orchestra version.
The year 2008, there was the official comeback of Victor's former band Mind Odyssey as a side project, releasing an "Best Of" Album.
In 2009, Mind Odyssey signed a contract with Napalm Records for the release of the new album "Time To Change It" as well as the re-release of the complete back-catalogue. For Mind Odyssey it was a great chance to celebrate the reunion after joining the Rage-Jubilee-Tour as support-act. With the release of the EP "Never Give Up", Rage celebrated their 25th anniversary. Not only on tour, but with the live performance on german television. For great shows at "Maters Of Rock" festival in CZ and for Wacken Open Air, Rage invited several guest musicians. An incredible event was the release of Victor's very first instructional DVD "School Of Metal". The DVD was presented in spring at the music fair in Frankfurt. On this DVD Victor leads through the history of metal-guitarist heroes - from Classic Heavy Metal to Thrash, Speed and Progressive Metal.
2010: RAGE released their new CD "Strings To A Web", which was real successful on the market (3 weeks in Media Control Charts - #27, even 1 year at the readers charts of Rock Hard magazine). In Europe, Russia and Japan RAGE presented their album at numerous concerts; the highlight was the legendary headliner-show together with the Lingua Mortis Orchestra at the Rock Hard festival in the sold out Gelsenkirchen Amphitheater. There was also a lot of positive feedback for the many workshops, Victor played around Europe.
Since his early days Victor has trusted in Yamaha RGX guitars. That can take the extensive touring and deliver the tone, Victor needs!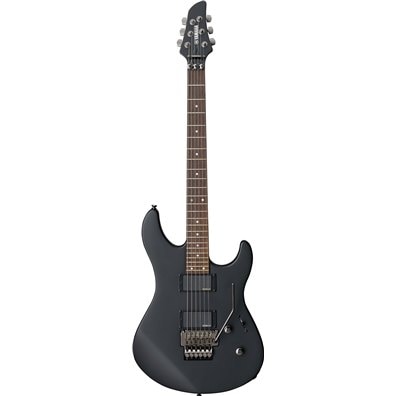 RGX420DZII is equipped with EMG HZ to deliver clear, powerful, modern tone.

Tilgjengelig i andre farger
Other Guitar & Bass Artists